Will A Home Warranty Bring You Peace Of Mind?
PUBLISHED: May 7, 2020
•
4 MINS READ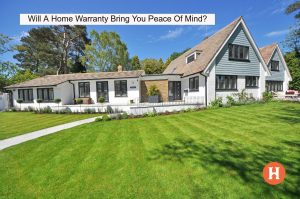 A home warranty is an annual service contract that provides discounted repairs and replacements for home systems and appliances that undergo normal wear and tear with time. The service provider sends out repair contractors upon filing a service request. When your real estate agent or a salesperson pitches you a plan, you may wonder, will a home warranty really bring you peace of mind?
A Conditional Yes
A home warranty can bring a lot of benefits which will provide you peace of mind. It is pivotal upon your careful reading and interpretation of the service contract. If you do, then you can use the home warranty to your tremendous advantage. 
Cost Savings
Appliance and systems repairs can be incredibly expensive. If we consider an example of kitchen appliance repairs like an oven or dishwasher, then the cost can run upto $1000 and that's excluding the service fee charged by electricians. Hiring an appliance repair firm can take out an additional $50-200 from your pocket.
Similarly fixing HVAC systems can be even pricier. Replacements can leave you broke if you didn't factor them into your monthly budget or you don't earn enough to spare cash for such expenses.
A home warranty plan can help you maintain your household budget by facilitating repairs and replacements at a reasonable cost. Home warranty company premiums cost an average of $500 (based on coverage level) for the entire year. Then, there is an average $80 trade service fee for each repair visit. Clearly, a home warranty can help you save hundreds of dollars on repair costs of the afore-mentioned example of kitchen appliances.
Rather than pay full price for a replacement, you would have to pay only the difference amount between the depreciated price of the new item and the coverage limit of the warranty. If your refrigerator replacement were to cost $1500 and the coverage limit was the same, you would perhaps not have to pay anything.
There are usually no limitations upon the number of service requests you can make during your contract period for all your covered items. You can always find a company that suits your budget and thus keeps your mental state cool.
Hassle-free Claims Process
Some people are great at DIY repairs but for the rest of us, a trusted handyman is a blessing. But what can we do if we don't know a good technician? So many people have jobs requiring them to move frequently, making it hard to find a trustworthy service person.
Going through tons of local ads and negotiating a repair price and service charge can be another great headache. This is where home warranty companies win at bringing mental peace.
When a covered item breaks down, all you have to do is file a service request over the phone or online. The company schedules a service visit with a repair contractor on their roster, who would be verified and skilled. The customer service representatives are available 24/7 to take claim requests.
Better Sales Deals
A home warranty can also bring peace of mind for real estate professionals and home sellers. Buyers are more likely to choose home-warranty-covered property over non-protected homes, according to the National Home Service Contract Association. They are also willing to pay more for protected properties if they know that they won't have to invest more in repairs or replacements later.
No one wants to purchase a home spending a large amount of money with a mortgage payment, only to find out later that more money will be needed for repairs and replacements. A home warranty can reduce seller liability and bring reassurance to a buyer.
Some Caveats About Peace Of Mind
As mentioned before, many home warranty buyers are disappointed to find out that home warranties don't cover everything. They only cover major conditions and there is also an upper limit to the value of repairs and replacements you can get per item. 
It's also important that you maintain your systems and appliances in good working order as warranties will obviously not cover malfunctions due to improper handling (unless specified otherwise).
If you have an emergency breakdown, the company will try its best to send a service technician as quickly as possible. However, most companies clearly state that it would take at least 24 hours to process a claim and schedule a service visit.
If you want to find the best warranties in the market, look no further than homewarrantyreviews.com. Not only do we host tens of thousands of customer reviews, but we also get you free quotes from the top companies, so that you know what you will be getting into. You can also get some exclusive offers from our platform as companies appreciate our valuable user base.