Will A Home Warranty Replace A Water Heater?
PUBLISHED: July 2, 2020
•
4 MINS READ
A home warranty company provides coverage services for home appliances and systems. This helps in reducing the cost of repairs, out-of-pocket expenses, and inconvenience. However, it must be noted that home warranties do not cover for all systems and devices. They provide coverage only to those home items that have been mentioned in their various plans. So, if you are wondering that, will a home warranty replace a water heater?, then this post will help you out.
A home warranty replaces a water heater, provided it is not repairable. When the device breaks down and you file a claim, the warranty company will assign a technician who will inspect the device. If the technician reports to your warranty provider that the parts and components of the device are beyond repair, the company will offer you a replacement.
Here is a list of companies, providing exhaustive information about their water heater coverage.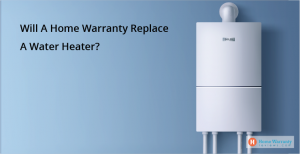 American Home Shield
American Home Shield covers water heaters under Systems Plan and Combo Plan. They replace a water heater, provided it malfunctioned due to regular wear and tear. The coverage includes circulating pumps and tankless water.
Although they provide coverage on water heaters, they are limited to certain exclusions and terms and conditions. They do not cover the water heater's energy conservation units, auxiliary holding or storage tanks, fuel storage tanks, and noise.
Choice Home Warranty
Choice Home Warranty offers water heater home warranty coverage in Basic Plan, which is the standard plan and in Total Plan, which is comprehensive coverage. Water heaters for which they provide coverage can be either electric or gas and for all parts and components, excluding vents, flues, storage tanks, thermal expansion tanks, etc.
The home warranty plans for water heaters are available for homeowners, buyers, and sellers.
The Home Service Club
The Home Service Club has Standard Coverage and Comprehensive Coverage, both under which the water heater is covered. The types of water heaters they provide coverage on are power vent water heaters, gas water heaters, direct vent water heaters, electric water heaters, indirect water heaters, and tankless water heaters.
Select Home Warranty
Select Home Warranty covers water heaters under the Gold Care Plan, Bronze Care Plan, and Platinum Care plan (which is the most popular among the three plans). Select Home Warranty offers water heater coverage to homeowners, buyers, sellers, and realtors.
ServicePlus Home Warranty
ServicePlus Home Warranty replaces water heaters under three different plans that are designed to cater to different categories of customers. The three plans are as follows: Gold, Platinum, and Optional. They provide water heater coverage to homeowners and real estate professionals.
Home Warranty Of America
Home Warranty of America provides water heater coverage only in Platinum and Diamond plans. Not in the Gold Plan. The plans cover components and parts of electric, tankless, gas, and oil water heaters, including circulating pumps. The coverage cap for repairs and replacement of the water heater is $1000 during the coverage period.
The plans do not cover holding or storage tanks, solar water heaters, energy management, flues, vents, fuel, damage caused by sediment, drain line components, drain lines, and units that are more than 75 gallons.
It is only under the Premium Upgrade option, that Home Warranty of America covers damages due to sediment. Under the Greenplus Upgrade option, if a water heater malfunctions and is unable to be repaired, then Home Warranty of America will replace the water heater with a tankless one.
Conclusion
Water heaters are integral appliances in our daily life without which it is difficult to have warm showers in the chilly winters. A broken water heater is a great inconvenience to homeowners, and so it is best to protect it with a home warranty coverage.
If you have plans to cover your old and pre-used water heaters, then start your search at HomeWarrantyReviews.com. Ensure that your water heater is well-maintained as warranty companies do not replace water heaters if they break down due to lack of maintenance.