20 Easy DIY Bird Feeders For Your Garden
PUBLISHED: March 19, 2018
•
6 MINS READ
Bird feeders bring life to your garden. There are so many of your feathered friends that would love to visit your lush garden and enjoy a pleasant bird bath.
You should know that you are helping so many birds that are braving the summer heat and helping them out with water, and this will really go a long way.
The best thing is that you can enjoy these birds up close and there's no better feeling when they make nests in trees and hedges. You do not even have to go out and buy an expensive bird feeder as you can make one with a small budget.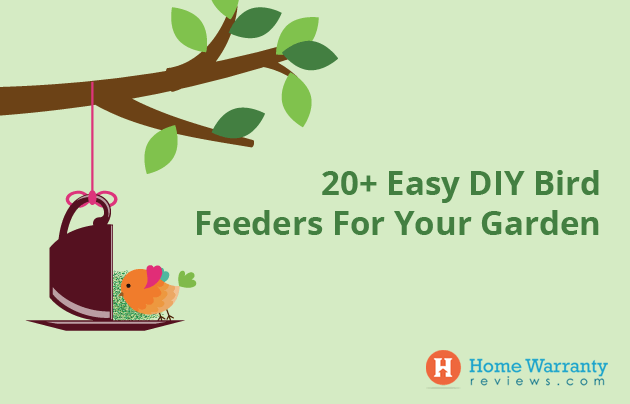 Here, you will tend to take more care of something that you made with your hands and it's the perfect gift for wildlife and bird lovers alike. Since the holiday season is approaching soon, you should get those DIY projects finished in time so that you can use them as gifts.
It's a great summer gift and the more you make, the better it will be for the birds in the area that need a break from the summer sun and to quench their thirst when water sources are scarce.
All you need to do is find the right spot to set up your bird feeder and this will instantly beautify your porch and backyard. You will be so excited to see birds and squirrels nibbling at your bird feeder in no time. Here is a list of easy bird feeders to make:
1. Plate and Bowl Bird Feeders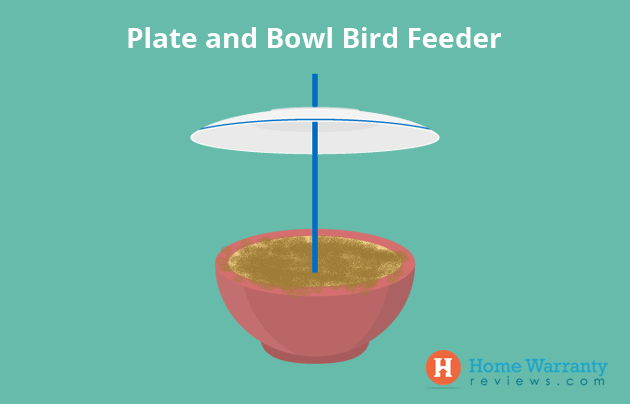 Make a beautiful bird feeder with a saucer and a matching bowl. You can also choose one that does not match to break the monotony of the colors.
All you have to do is drill a hole in the saucer and attach both objects together. This can be a little more complicated than it is, so be careful.
Once complete, this bird feeder not only looks great, but it will protect birds from the rain, cold and sun, and shield them like an umbrella.
2. Tea Cup Bird Feeders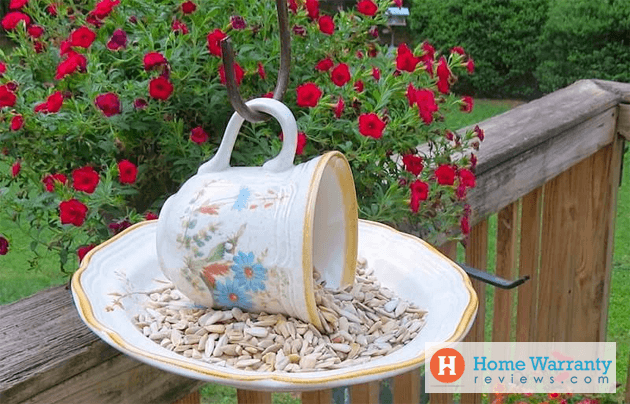 A teacup works well to make a beautiful bird feeder that serves for several birds that can bring life to your garden. Wouldn't it be great to hear some pleasant chirps right through the day?
Then all you need to do is to glue a teacup and a saucer sideways. You can add a ribbon or string to this adorable feeder and hang it anywhere where you can hope to see some pretty birds come and feed. Moreover, you need a really strong glue that will hold the two together.
3. Wine Bottle Bird Feeders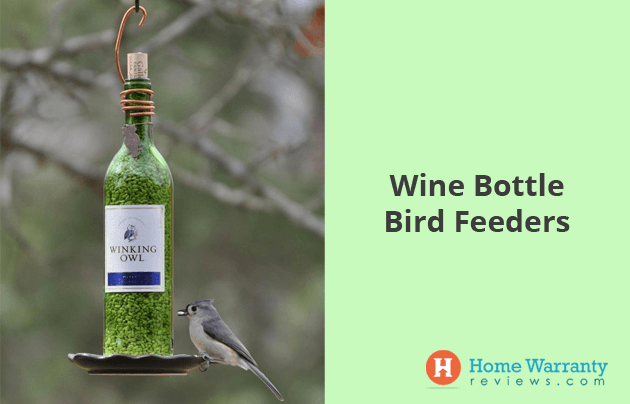 Use old wine bottles and turn them into bird feeders. All you have to do is create a base and a small saucer will do the trick.
Carefully drill holes in the sides of the bottle to allow the bird food to come through and hang. Aditionally, simply fill the bottle through the lid and hang it with a wire or rope at a convenient location in your garden.
4. Mason Jar Bird Feeders
A fantastic DIY project for a bird feeder can be made with a mason jar. Buy metal chick feeders at any farm supply store as they are inexpensive.
Then, you need to fix them to your mason jar and choose a way to a place to hang it. Moreover, these are great feeders that look amazing and you can make them in so many different styles.
5. Recycled Material Bird Feeders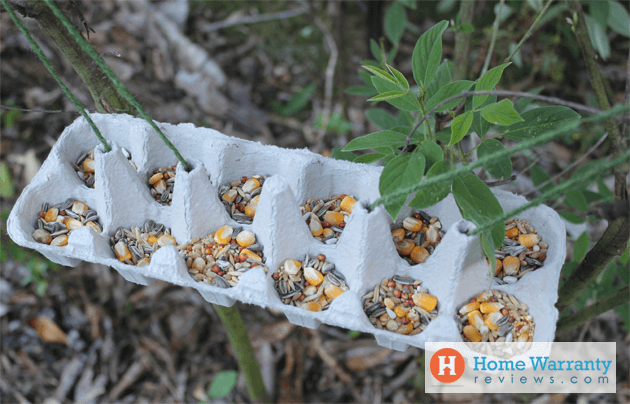 Even things that are simply lying around your home can be reused and turned into a bird feeder. All you have to do is find a way to hang it and attach it to your wall outside.
This should be good enough to hold the bird food. Use anything from old license plates or discarded frames that seem flimsy but they can be effectively used to put out bird seed. Additionally, you can see the birds better without any unnecessary objects that come in the way.
6. Shoe Bird Feeders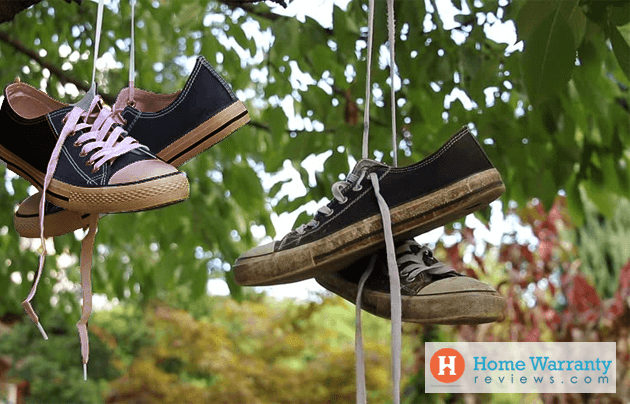 Try this one out! You can fix a shoe to a tree or your home and put bird feed in there. Similarly, not only will the birds love it, but it's a great way of reusing old items which would otherwise land up in landfills.
7. Wooden Spoon Bird Feeders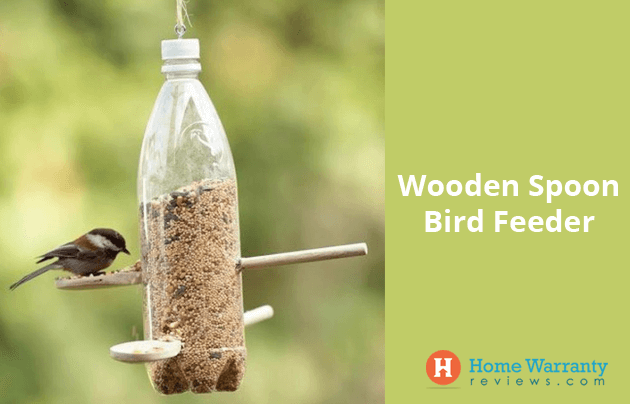 All you need is a plastic soda bottle and a few wooden spoons to make your bird feeder. Just make a couple of holes in the bottle for spoons to be attached and ensure that you get the angles right as you fix the spoons downwards into the holes.
This will make sure that the bird feed will drizzle onto them. You can get your kids to help and it's a fantastic way to get the family involved.
Bonus Video
8. Milk Carton Bird Feeders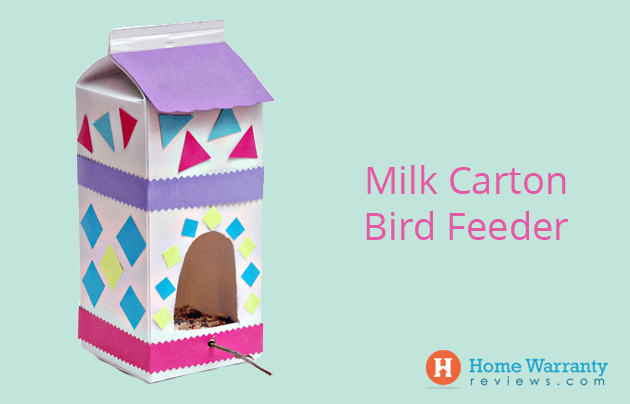 Use an old milk carton to make a bird feeder. Simply paint the outside and then cut a hole for the feed.
Add a wooden dowel or even a wooden spoon so that the birds have somewhere to perch and a place to eat. Additionally, this is a quick and easy project that you can make with your kids.
9. Teapot Bird Feeders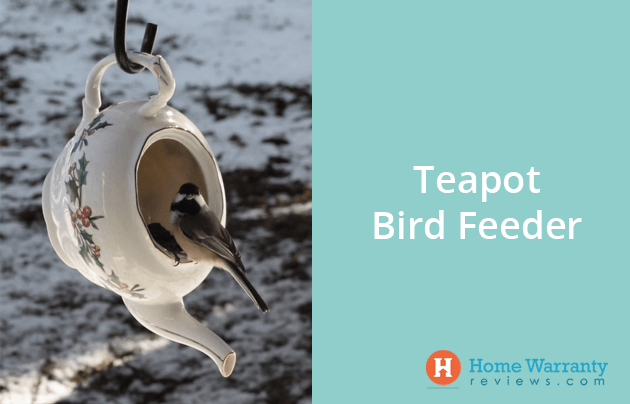 This a really cute way to make a bird feeder. Simply attach a teapot to a tree and to the side of your home.
This can be used as a feeder or a nester. Since birds can enter inside and build nests, this can work as a nester. Moreover, as a feeder, it is a really unique idea on the whole.
10. Log Bird Feeders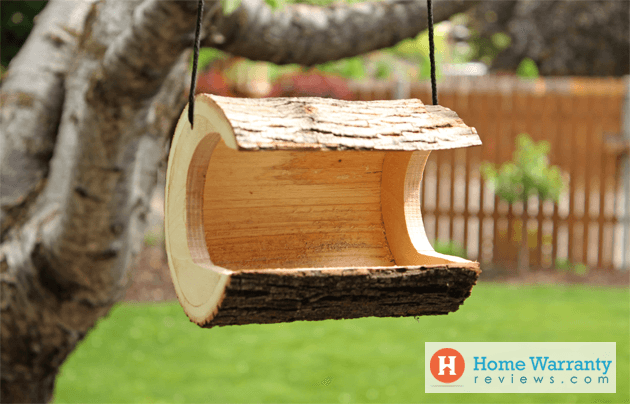 With a small log, you can create a bird feeder by carving out a piece of the wood. You can use one of the firewood logs that you have stored for the winter.
Just hollow out the wood, add enough room for the food, fix a chain to the log and hang it on a tree. Birds will flock to it in no time and feel like they are perched on a tree branch while enjoying a good feed.
11. Tea Cup Tower Bird Feeders
If you love teacups and find them adorable then you can create a small section in your garden where you can put them on poles and decorate them.
Simply attach the teacups to saucers and then tie them to poles. This is great for sitting out in your yard and you will have a lot of birds that you will enjoy and gaze at.
12. Pinecone Bird Feeders
Though Pinecone Bird Feeders are traditional, you can fill them with peanut butter or lard and add birdseed. Based on what you choose, you can decide to set up a number of them all over your garden.
These are great small projects for the kids and helps them make the most of their time. Just make a ton of them and decorate the outdoors of your home with these little feeders everywhere.
13. Window Bird Feeders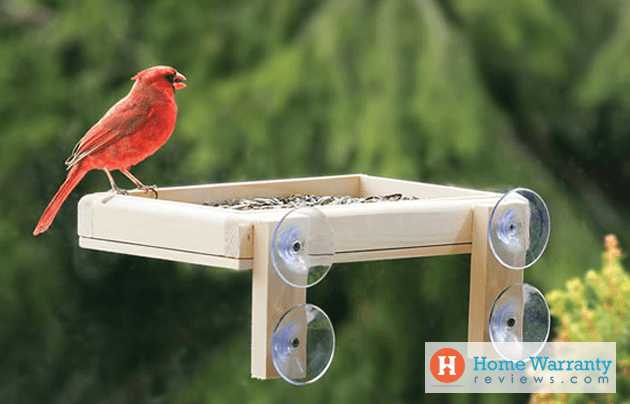 Why enjoy birds coming to your garden only during the summer and spring months. Let these birds fly up to your window and you can still enjoy them in the winter.
All you need is a few scraps of wood and a glass-safe hanger. Create a sort of small house and then fix it to your window. Whenever you like, you can sit inside your warm house and watch the birds all day, every day.
14. Clay Bird Feeders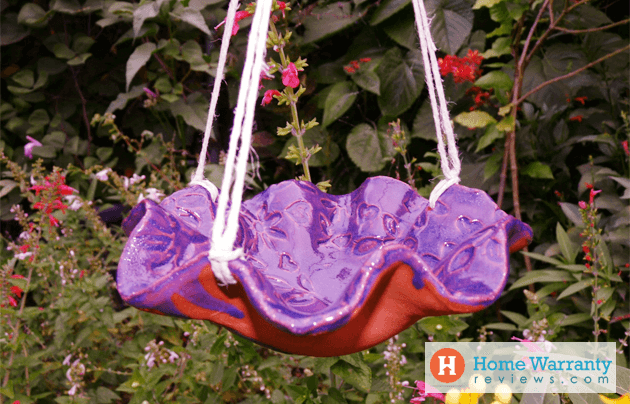 Why not make a clay bird feeder? It's really simple to make and all you need is the right materials to make it work.
You should create a beautiful clay bowl to feed all the birds around. Also, since kids love working with clay, it will be a great project to get them involved. Finally, simply add rope or something to hang it up and paint the feeder just to add color.
15. Monogrammed Jar Bird Feeders
Create a cool and personalized bird feeder with a mason jar. It's the perfect bird feeder to give your special friends a place to eat.
Simply decorate the jar with a vinyl monogrammed letter, add a beading and other things that would compliment the design.
This is a fantastic project to gift someone that really loves bird feeders and you can consider this as a holiday gift.
16. Flower Pot Bird Feeders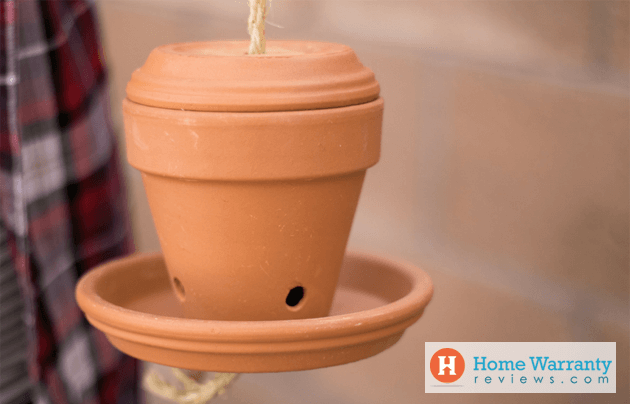 Use an old flower pot to help you make a beautiful bird feeder. Just drill a few holes in the pot so that the birdseed will come out.
You will also need a plastic bottle with the top cut off and the holes drilled in. Bring out your creative juices after you add the two together and make a pattern that will make it both functional and decorative.
17. Open Bar Feeders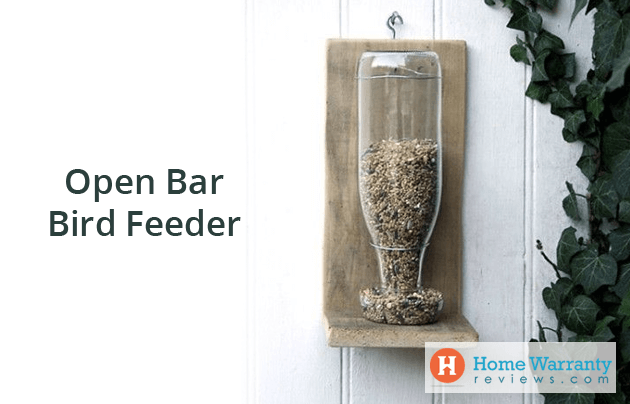 Take an old bottle and a plank of wood and simply make a lovely open bar bird feeder that dispenses birdseed around the clock.
All you need is a bottle that has a screw cap, something to hold the food and to find a place where you can hang the feeder. Moreover, add something to the bottle to hold the food in place.
18. Sisal Rope Feeders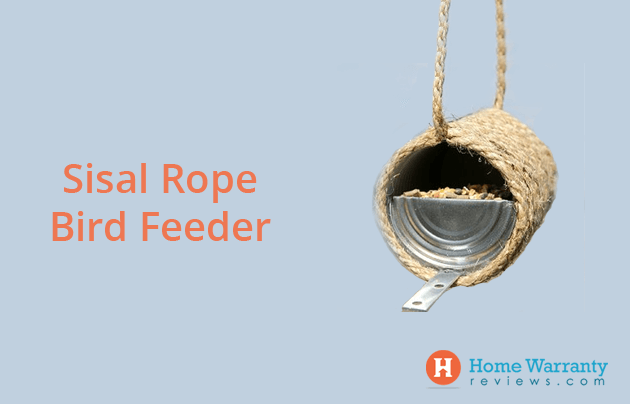 With an old tin can and a sisal rope, you can make a beautiful feeder by combining the two for your birdy friends.
All you have to do is wrap around the can and bend the lid in half so that the birds can get at the food. Also, add something to a ledge so that the birds have something to stand on when they are eating.
19. Cookie Cutter Bird Feeders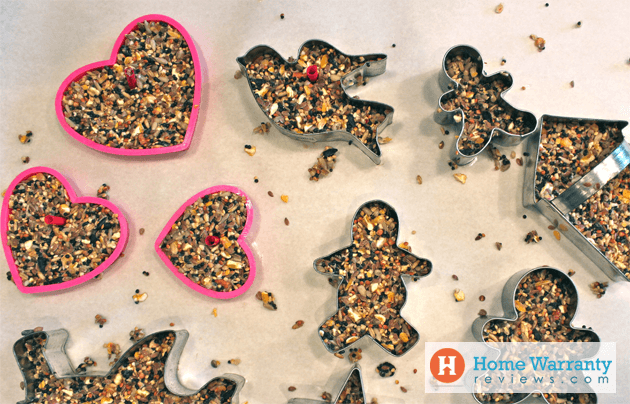 Create a bird feeder in all shapes and sizes by molding them together. Use a cookie cutter, a mix of gelatin and water to make a base and then add birdseed to mold it in the cookie cutters.
When the mold sets in, you can hang these little feeders anywhere with a string. Moreover, you can let your kids in on this project and if you do not have a lot of cookie cutters then you can simply use a mason jar lid or anything else to make a mold.
20. Popsicle Stick Bird Feeders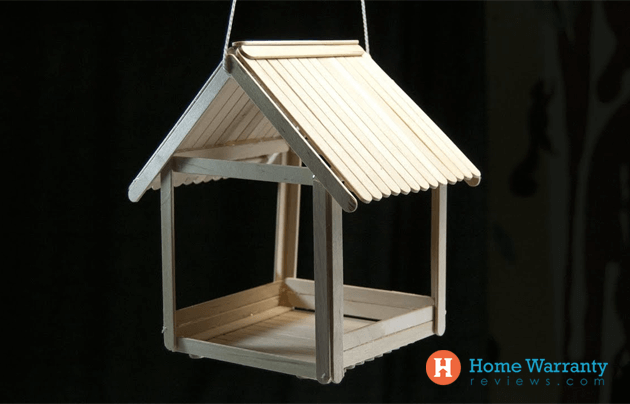 Here's a great DIY project that you can get the kids involved in too! Why not create a cool popsicle stick bird feeder?
All you need to do is use sticks that you have on hand and buy some at a craft store. Layer the sticks and add other things that will hold the birdseed in.
A touch of color will bring it alive and you will have a ball creating different feeders for all the trees in your garden.
21. Outdoor Wedding Décor Feeders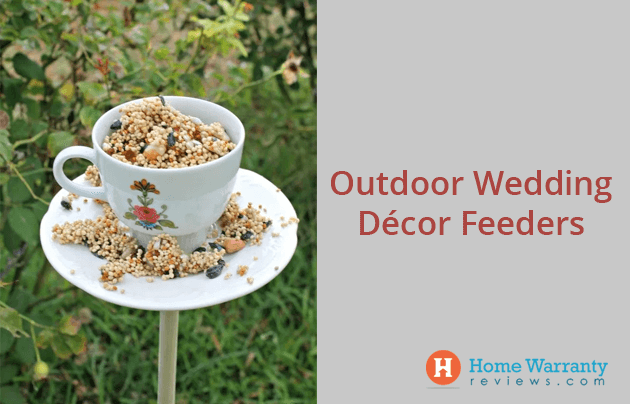 Is there a wedding around the corner?
Then you can decorate your lawn with beautiful vintage teacups and make bird feeders with them. Bamboo sticks can be used to hold these vintage teacups and saucers in place.
Similarly, they look really beautiful together and make wonderful gifts that hardly cost more than $5 each to make. Just imagine how many people you can make happy with these gifts.
22. Orange Cup Bird Feeders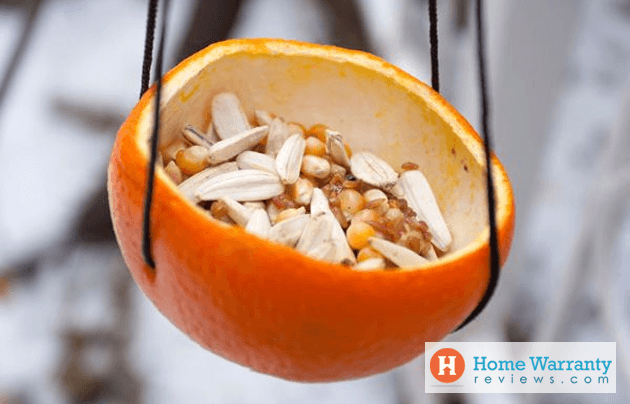 Make a beautiful and aromatic bird feeder by simply slicing an orange in half and removing the inside. Fill the inside with birdseed and hang them up.
Simply poke holes in the orange and tie twine to enable it to hang. These are great feeders and are super easy to make. Additionally, you can make two bird feeders from each orange and enjoy the fragrance.
More Bird Feeder Ideas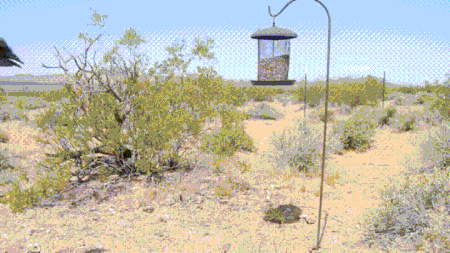 Visit your nearest local craft store and buy a few twig spheres. Add pinecones and have them at your home. They hardly cost much. Add peanut butter to the spheres or cones and then coat them with birdseed. Also, you can fit old fabric or lace to hang it. Once the birdseed is eaten up, then you need to recoat it and hang it up again.
Pinecone bird feeders are easy to make and all you have to do is collect several pinecones and you are all set for your next batch. You can find the materials in your pantry cupboard to make this an edible cone bird feeder.
Bread bird feeders are amazing to add stale loaves or crusts that no one eats. Simply turn a paper plate into a bird feeder in a jiffy. This is great for fine motor skills and doesn't require special tools to put it together.
How about using second-hand bowls or vases, not only will it look beautiful and sparkling in the sun, angle it perfectly and make it hang in a teacup bird feeder from a branch in your yard. Use mesh produce bags to make simple suet feeders for your neighborhood birds.
Even More Birdfeeder Ideas
Cheerio Bird Feeders are super easy to make and all it takes is a little fine-motor skill. Bagel Bird Feeders are simple enough for even your tiny tots to help you make.
A Lego enthusiast can try out some of their skills and make some cool bird feeders. An orange cup bird feeder will bring life to your garden. Just make freshly squeezed juice and use leftovers to make this orange cup bird feeder.
Also, you can transform recyclables into a colorful set of tin-can bird feeders in your garden. Add some color and a ribbon and you're good to go.
With a fruit and grain bird feeder, you can have a great way to use up fruit that's past its prime and let birds simply devour it. These rainbow ice bird feeders are super cool and you can do this with a twig and toadstool.
Use the last of your pantry scraps to make a gorgeous ice wreath bird feeder. Put your recyclables to good use with a simply juice carton or owl bird feeder. This simple plastic jug bird feeder keeps birds and squirrels happy all through the winter months too.
Additionally, other bird feeder ideas include twig and toilet roll bird feeder, road map birdhouses, corn kernel and chestnut feeders, and a simple cardboard roll bird feeder. Another novel method is by using spoons, a soda bottle or a glass jar bird feeder.
HomeWarrantyReviews.com – Reviews, Tools and More
These are some innovative ways to spruce up your garden and let you enjoy a flock of birds gathers all around your garden. It's a great way to invite some wildlife like squirrels to your home.
Also, it is really pleasing to get an up close and personal view of your neighborhood birds with these simple and inexpensive DIY bird feeders.
Since it's spring, you will have to look at some spring maintenance tips and ensure that all your appliances and systems are working well. Also, this is the perfect time to start your own micro-garden.
However, with HomeWarrantyReviews.com, you will be able to determine a simple, reliable and quick manner to escape all the home issues that plague appliances and systems.
Use our vast knowledge base of research, ratings, and free tools to ensure that your home has the best home warranty plan in place.
Moreover, try the Home Maintenance Calculator and you will be amazed by the money that you would have to shell out if you didn't have a home warranty.
The Rule of 2s is that it might take 2 seconds, 2 minutes, 2 hours, 2 days, 2 weeks, even 2 months for birds to use a new feeder! It depends on many things such as feeder placement, the type of feeder, the quality of the food, bird population in your area, weather, predators, and more.
Milk Carton Bird Feeder
Clean and dry an empty milk carton.
Cut a hole big enough for a bird to fit.
Punch a hole in the top of the feeder and thread a string through. Tie at the top and secure.
Let your child decorate as she wishes.
Once the bird feeder is dry, fill with birdseed and hang.
DIY Winter Bird Feeders. To make an Ice Ornament Feeder, pour ½ cup of water into a plastic bowl (I used Green Eats bowls). Add about 1 cup of seed to the water and mix well. Next, cut 2 strips of ribbon and tie them together on one end.