Decorating Your House With Plants
PUBLISHED: June 22, 2014
•
5 MINS READ
Are you longing for a home decorated with our green friends? You want a home that is eco-friendly and looks pretty at the same time? You have come to the right place!
Over the years plants have become much more than just a source of food. While being a very nutritious edible species, members of Kingdom Animalia are also very visually appealing. Even the prickly cacti are never an eye sore.
For all you homeowners out there who wish to add a hint of green to your home, this article shall give you all that you have to know about before you decorate your house with plants.
Benefits of Green Life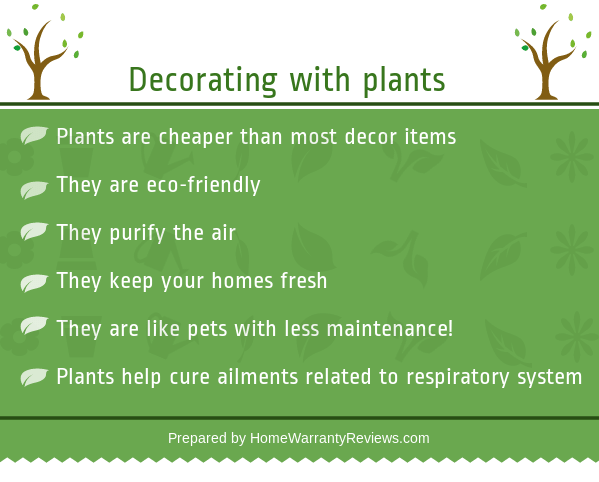 There are indeed a lot of benefits associated with gardening and using plants as decor. Let's discuss about them.
Plants are cheaper than most other decor items.
They are eco-friendly. Read further about Bringing Nature Into Your Home!
During mornings, they release oxygen as a bi-product of photosynthesis. This means that the area around a plant has pure and oxygen rich air.
Growing flowering plants can help you save money when the need arises to gift/ make decorations with flowers. Did you know? Some of the best center pieces for dinner tables are made out of fresh flowers and T- light candles?
Spending time in a space filled with plants lifts your mood.
Plants come in a wide range of varieties giving you unlimited possibilities to use them as decoration.
Makes your house look fresh!
They are like pets that you can love and care for but don't move around and litter your home!
Living in an environment filled with healthy plants, help cure disease. Ailments like Asthma and other respiratory diseases can be controlled by placing plants in our homes, so that we can breathe fresh air!
Common indoor plants
Norfolk island pine, peperomia, aloe vera, English ivy, peace lily, snake plant, spider plant, bamboo palm, golden pothos etc are the most common varieties of indoor plants. Among them, aloe vera is known for its moisturizing properties and so it can double as an ingredient for homemade face packs. The English ivy is said to be a plant that purifies air effectively, while the most common indoor plant is the spider plant, which is also known for its air purifying properties.
Did you know, the golden pothos has the ability to remove formaldehyde from the air, if you thought plants simply stood lazily in a corner?
You can visit a local nursery or look up on the internet to identify the plants that best suit your lifestyle and home decor.
Where to place your green friends?
Window sills, kitchen counters, living rooms and balconies make ideal locations for plants. You can even use an assemblage of different plants to create a great ambiance.
Most indoor orchids require humid atmosphere to thrive well. They'll make excellent additions to your kitchen or a sunny bathroom.
Bedrooms are not really recommended because, as you know, plants release carbon dioxide at night. This leads to reduced amount of oxygen in the air and that is most certainly not good for health.
How to place them?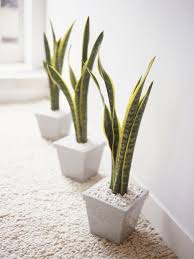 Pots and containers for these plants are also decorative pieces themselves. So make sure that the pots you use are not only functional but also visually appealing. If you don't want to spend loads of cash on fancy clay pots, you can simply buy some normal brown ones and paint them in a variety of colors.
If you have enough space, use big terracotta pots and paint them in a bronze or copper color. It adds a certain old world charm to the whole area. Although metal planters are ideal for this look, they are a wee bit expensive.
As much as possible, place your plants in sunny areas and avoid keeping them in places that are not frequently visited. plants like cacti can be kept in tea-cup sized pots and placed in smaller spaces.
Caring for indoor plants
This part is vital. Even though indoor plants require less maintenance as compared to their outdoor counterparts, they will still wither and die if you don't care for them. Here's how you should care for your indoor plants.
Ensure that they get sufficient light. This does not mean that you should keep them in direct sunlight always and get them burnt in the afternoon sun. Few hours of sunlight per week would do. If your plants are big, place them in wheeled pots. This way you can push them around to locations where they receive light.
Water them regularly. Water requirements of each species of plants are different. Hence do sufficient research to find out exactly how much water is needed for a plant. Also plants should never be stored in pots that lack even a single hole. Excess water should never be allowed to collect beneath a plant as it causes the roots to rot.
Keep pests at bay. Vegetation is bound to attract insects. Hence you should make sure that such pests don't cause harm to your beloved plants. A mild pesticide should do the trick.
Plants are indeed a joy to have around living spaces. Having them in your home shall freshen the air and also lift the moods of people occupying that space. If you are someone concerned about environment, you should know about how green landscaping benefits the environment. Hope you found this article informative. Cheers!