Tips to consider when refinishing your hardwood floor
PUBLISHED: May 31, 2018
•
6 MINS READ
The appeal of a shiny and polished hardwood floor is welcome in almost any home. But after years of wear and tear the allure of your floor may fade with the wood looking bare and full of scratches. In order to bring back your floor to its former grandeur, you as a homeowner must be willing to sand and finish your hardwood floors on your own. But before you do so, there are a lot of factors to consider. So here are some important tips that could save you a lot of money when you intend to refinish your floor.
As we mentioned above, there are a lot of difficult steps involved when it comes to refinishing your hardwood floor. Not to mention that it is quite expensive to buy the equipment and materials needed. With that being said, it's advisable that you don't go about refinishing it on your own, as it could be setting yourself up for disaster. You may have heard that buying all the components and equipment to refinish your floor is much cheaper than hiring a professional. You as a homeowner need to consider that you are not experienced in this area and are more than likely to mess up somewhere in the process. Hiring a professional to fix the mess you've created will cause you double the expenses. Hence opt for a professional who can give you the best possible choices for your home.
Now that you are duly informed, here are a few more important tips to consider when it comes refinishing your hardwood floor.
Observe the Colour of Your Hardwood Floor
The first step to knowing what kind of finish you want is to observe the paint job and color of your hardwood floor. If your floor has a deep rich color, it mostly isn't the natural color of the wood. This deep rich color mostly is a product of a satin finish on your floor. When you have a satin finish, you could be exempted from having to do a complete refinish.
The beauty of a satin finish on your floors is that all that needs to be done is a light session of sanding and then a new coat of finish can be applied directly above the stain coat. This saves a lot of time and money.
Plan Ahead to Vacate Your Home for Hardwood Refinishing
Refinishing your hardwood floors is a long and arduous process. Since it's the floor that you are dealing with, you will have to plan ahead and consider vacating your home for a few days. In order to completely refinish your floors, you will have to move out all the articles in your home (sofa sets, tables, chairs etc) to another location while the professionals sand your floor and apply the finish. Your floor after the sanding process will require multiple coats of finish, which takes a lot of time to dry.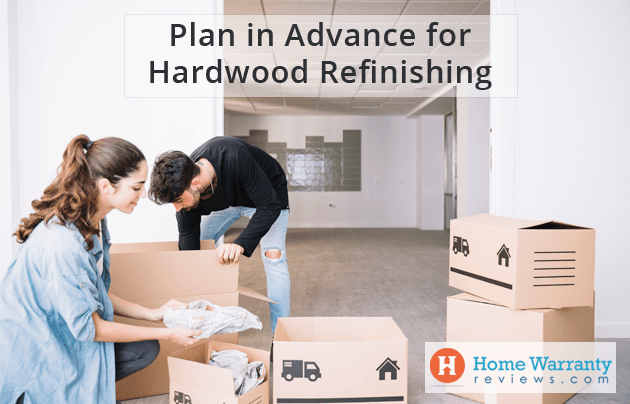 You need to consider the weather conditions to gauge how long it would take for the finish to dry. Another factor is the type and density of the finish that you intend to use. A thicker coat of finish would considerably take more time to dry when compared to a lighter coat.
Gauge How Worn out Your Hardwood Finish Is
Sometimes, you might not have to splurge on a complete refinish overhaul for your hardwood floor. If there aren't any deep gouges and the old coat hasn't completely worn off, you could opt for a screening finish which costs much lesser. Screening refers to the process where the professional sands the existing coat of finish and then overlays it with a new coat of finish. This process is much more pocket-friendly.
If you have deep gouges or scratches and your finish has completely faded, you will need to refinish your complete home. When refinishing your floor, you will have to take into account the thickness of the wood as well as how deeply it is nailed to the bottom. A usual refinish will cost you from $3-7 per square foot depending on the thickness of the wood and the type of finish. So you would be spending around $2,000 at the least if you want to refinish your whole home.
Dirty Hardwood Floors
Another factor that you need to consider before refinishing your hardwood floor is dirt. Dirty and muddied floors tend to coat up all the sheen and beauty of your wooden floors. Before landing on the assumption that you need to refinish your floors with a new coat, give them a deep clean.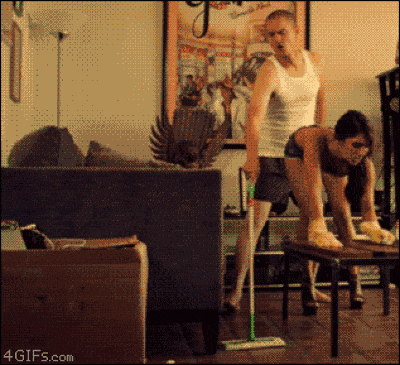 You can do a deep clean with your usual mop and bucket of water. A thorough scrub all over your home may bring back the sheen that was hidden underneath the coat of dirt. You could also use a vacuum cleaner to suck up all the residual dirt that sticks in the corners of the rooms. Coats of dirt are notorious for feigning marks and scratches on your floor making it look less lustrous than it actually is.
If you aren't convinced by the look of your hardwood floor after a good scrub, then you could proceed to have your floors refinished. In terms of high traffic areas of your household, you may have to consult a cleaning professional. In these areas where there is a lot of movement by members of the family, the level of dirt carried in is immense. You will need to use a scrubbing machine in order to exfoliate the deep coat of dirt.


Satin or Glossy Hardwood finish?
Another thing to consider when it comes to refinishing your floor is the visual appeal. Currently, the glossy finish is the most desired look for a hardwood floor. Glossy has its downsides as well. These finishes tend to be quite slippery and aren't durable in comparison to a satin finish.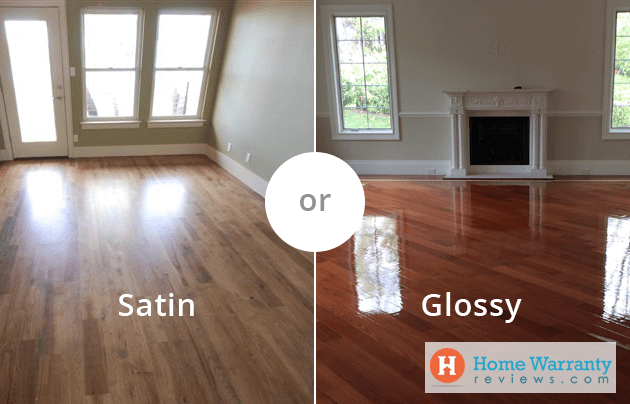 Satin finishes are quite durable and ensure that you or your family members don't slip and fall. Satin finishes are mostly created using water based polyurethane. The main feature of this finish is that it does not leave behind any foul odor or noxious gases, which would force you to leave the room. This ensures that your children and members of the household do not get affected by any respiratory disorders.
Satin ensures a darker look to your wood, one might think that it is an excellent choice to cover up dirt. But on the contrary, a darker finish would reveal more dust and dirt than camouflage it.
Ensuring Future Protection of Your Hardwood Floors
Now that you're spending a good amount of money on refinishing your flooring, you need to think long term. You need to keep a lookout for how old your flooring is. If it is a hardwood floor made in the 1970's (made from vinyl or linoleum) it might be embedded with asbestos. Keep in mind that you just shouldn't attempt to sand this flooring on your own. It is best you call a professional to handle the sanding and refinishing in this case.
Having your floor refinished would ensure it stays lustrous for around 10-12 years, but would you be able to maintain all your appliances and components of your home the same way? Sounds hard, doesn't it? If you want a ballpark figure as to how much you would be spending on maintenance for a year, you can always try out this handy home maintenance calculator. Better yet! Seeing as you won't be thinking about refinishing your hardwood floors for the next decade or so (after you refinish them of course), you could gauge and see how much you would be spending on your home maintenance for the next twenty-five years!
Speaking of professionals, in order to ensure maintenance of your flooring and the other components of your home, why not opt for a home warranty? A Home warranty could be the key to maintaining your home and its appliances whilst saving a lot of money. This service involves relatively a small amount of money paid up front for a year-round service that will ensure most of your covered home systems and appliances will be repaired/replaced when they break down. The price of a home warranty is minuscule in comparison to how much you would have to pay for individual repairs and maintenance in your home without a policy.
But now, how do you gauge a good home warranty from a bad one? Which is the best home warranty in your area? Are the services provided worth the money? Don't ponder over all these questions, thanks to the articles and guides provided by HomeWarrantyReviews.com. On our website, you can filter and compare the top home warranty companies in the United States. To help you gain a clear picture of each home warranty company's performance, we have a composite review score and a rating timeline based on their performance over the last five years. Furthermore, every company listed is reviewed by home warranty users, giving you utmost clarity about the service provided by the company.
Once you've compared and settled on your choice of home warranty, you can go ahead and ask for a quote, and start negotiating with the home warranty company of your choice.