Home Warranties – A Potential Benefit For Buyers And Sellers Alike
PUBLISHED: May 26, 2020
•
4 MINS READ
Apart from just helping in minimizing expenses, a home warranty provides additional benefits that one cannot simply ignore. These benefits are not just for the buyers but for the sellers as well. Peace of mind, ease, and the time-saving aspect are just some of the advantages that one can expect from using a home warranty. Here are some other perspectives on how can home warranties be a potential benefit for both buyers and sellers alike.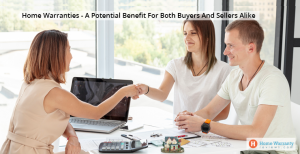 Home Warranties for Buyers
Protects Home Appliances and Systems of Your Choice 
A home warranty helps you mitigate the expenses incurred due to the breakdown of home appliances. A variety of home warranty plans are tailor-made to satisfy every requirement, and some companies even let homeowners choose specific appliances and systems to be included in the coverage plans. 
This way, homeowners can avoid paying premiums for home devices, which they think are not necessary, and invest only on the ones that are on the verge of damage.
Home Warranty Transfers are Beneficial for Future Sale
If at all homeowners have plans on selling their home-warrantied homes, the coverage plan can be transferred to the next homebuyers, instead of letting years of investment go waste. The homeowner's investment in a home warranty can result in the quicker purchase of the house.
Home Warranties Offer Various Discounts for Buyers
Buyers can leverage the many discounts that are offered with a home warranty. Home warranty companies promote numerous money-saving deals for buyers such as discounts on new brand appliances, discounts on warranty plans for second homes, referrals rewards, etc.   
Home Warranties for Sellers
With Home Warranties, Sellers can be Stress-Free
Sellers like real estate agents find home warranties very useful. They can opt for listing coverage that protects them from the unexpected breakdown of home appliances when the house is on the market.
This relieves them of immense stress as the home warranty coverage guarantees the immediate support of professional contractors who would fix their broken appliances in no time. This is how a home warranty can be a potential benefit for buyers and sellers alike.    
Prevents the Delay of Closing a Home Deal
When appliances get damaged when the house is on the market, it delays the sale of the house. Without a home warranty, the seller would have to undertake extra efforts in finding a professional, and it would take days until the appliance is fixed. 
In contrast, a home warranty can speed up the repairs, resulting in the house's speedy sale. 
Home Warranties Fetch a Higher Price During a Sale
For sellers, a home backed up by a home warranty commands a higher price compared to homes without the protection of home coverage. New homebuyers when on a house hunt, choose homes that bring them greater value, and a home with coverage is one such. 
Since the demand is high for a warranty-protected home, sellers can leverage this fact and quote a price higher than most homes (usually the ones without a home warranty coverage). 
Keep Buyers Happy When They Move into a Pre-Used Home
Home sellers can keep their customers happy with home warranty coverage. Whenever an appliance or a home system fails immediately after closing a deal, these customers would have nothing to worry about as they would have a home warranty plan to bank on. 
    All in all, home warranty plans are a potential benefit for both buyers and sellers alike. Not only do they help reduce the financial burden of damaged appliances, but they also help in getting fantastic discount offers, a higher sale value, transfer facility benefits, immediate sale of homes, and reduced mental stress.