Should You Buy A Home Warranty For A New Home?
PUBLISHED: April 9, 2020
•
4 MINS READ
You might have invested a lot of money on appliances & systems for your new home. Despite buying the best products, sometimes specific items may break down or begin to malfunction. Fortunately, a home warranty can protect your investment. So what is a home warranty for a new home? What are its pros? Read through the article to know more.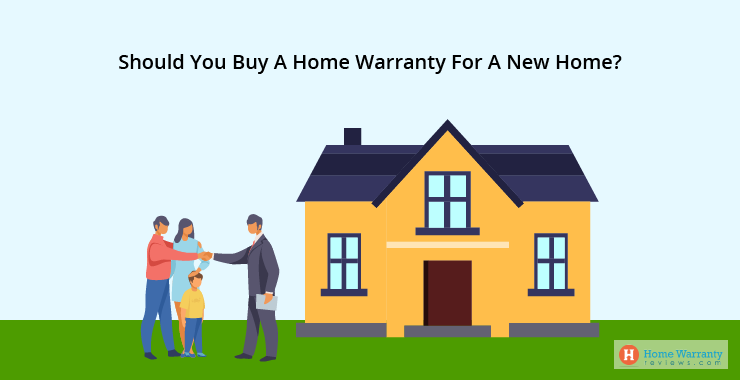 What is a home warranty?
Home warranties are service contracts that cover home appliances and systems. Warranty plans, unlike homeowners' insurance, do not cover structural damage due to fire accidents, hurricanes, or other natural calamities. Home warranties usually last of a year and can be renewed upon expiry. 
Home warranties for a new home
One common type of warranty plan for a new home is the builder's warranty. A homeowner can buy a builder's home warranty and protect the appliances & systems for 12 months from the closing date. The price of such warranties is included within the purchase cost of the homes. 
Another type of home warranty is the one provided by third-party companies. The companies cover appliances and systems for 2 to 5 years. Since the manufacturer's warranty covers the equipment of newly built homes, it is wiser to opt for plans that protect you for a long time upon the expiry of a manufacturers' warranty.
What do home warranties? 
The coverage for a new home depends on the plan purchased. At the basic level, the appliances and systems covered include refrigerator, air conditioning, dishwasher, built-in microwave, garbage disposal, electrical & plumbing systems, to name a few. 
Some home warranty companies may also give their customers an option to cover items such as the pool/spa, septic pump, sump pump, etc. at additional cost. Depending on the state, homeowners can upgrade their warranty plans to include no-fault coverage, which includes extra plumbing protection.
How much do warranty plans cost?
The price of a home warranty depends on the plan purchased and the number of the systems & appliances covered. Generally, the cost of warranties ranges from $300 to $600 per year. If you are covering additional items, then $100 to $200 will be added to your standard plan annually. In addition, you also have to pay the service call fee or trade fee and deductibles.
Why do home warranties matter for a new home?
A warranty plan for a new home has several advantages. Some of them include:
1. Protects your pocket
This is one of the major benefits of buying a home warranty. A warranty plan covers your major appliances & systems and protects your pocket from undesired & expensive repairs or replacements.
2. Lets you run your equipment continuously  
When appliances and systems run continuously, especially in extreme weather conditions, they may become faulty. When the items are protected, you can run them continuously and need not worry about any breakdown. 
3. Provides access to contractors 
With home warranties, you will have easy access to insured and licensed contractors. When you file a claim, the company will assign you a licensed technician regardless of location and time.
4. Guarantees peace of mind
Knowing that a top warranty company protects your appliances and your pocket, you can have your peace of mind. 
5. Adds value to your home
The home warranty increases your home value in the market. If you are moving to a new location and are planning to rent your home, then a protected home can attract tenants at a faster rate. If you are considering selling your home, then a warranty plan can help you discourage downward price negotiation. 
How to file a claim if your new appliance breaks down?
Did your brand new appliance become faulty? Want to file a claim and fix the issue? Follow the simple steps.
Step 1
Read your service warranty and check if your broken appliance is covered.
Step 2
Follow the instructions given in your contract and file a claim. If the appliance is covered, your warranty provider will approve the request and send a contractor to fix the issue.
Step 3 
Request a receipt, and maintain a record of repairs or replacements and conversation with the customer representatives to avoid any future dispute. 
Final thoughts 
A home warranty is worth it, provided you invest in the best fit plan and niche company. Read through the fine print before signing the deal and make sure you get maximum coverage at minimum price.