How to Survive Home Renovation & Not Annoy Your Spouse?
PUBLISHED: March 22, 2017
•
6 MINS READ
Home renovation, remodeling, and home improvement, in general, are times that are full of excitement. You get to plan and source all the materials and surface finishes you always wanted. You get to upgrade appliances and alter layouts to best suit your needs – but the process of home renovation can be taxing.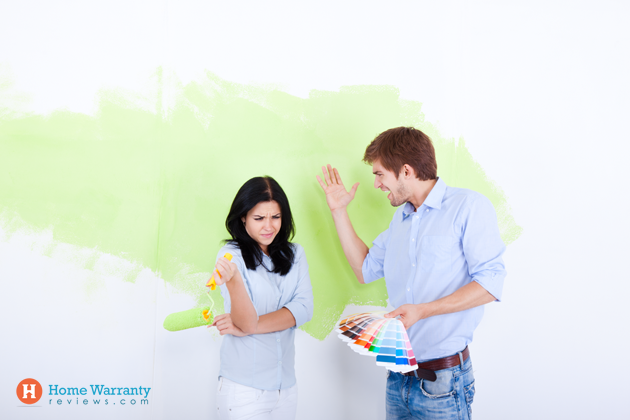 Days and sometimes months of work go into refurbishing and refitting your house, and this duration can be extremely tiring. The home renovation is unavoidable, but the stress certainly is avoidable. Follow these simple tips that will help you breeze through the home renovation:
1.
Move Out if Necessary
If you are renovating your house entirely, you're left with no option other than moving out. It's best to move to a nearby location so your daily routine and conveyance are not affected. This way you also have the liberty of having a look into the home renovation for supervision when you feel like. If it's a part renovation or a smaller fix, you could still stay at home, but ensure that the area being renovated is cordoned off with plastic sheets to keep the dust away.
2.
Protect and Preserve
If you intend on preserving portions of the house, ensure that it is well protected from damage. Keep aside rugs, drapes, and the likes, in vacuum-sealed plastic packaging to keep them away from dust. Hardware fittings should be removed and preserved if you intend on reusing them post home renovation. Designate a space which will be out of bounds, and use this as storage space for all the features you wish to retain.
Sealing off doorways with plastic is a good way to keep dust from traveling from room to room. It is also a good idea to mask tiles and flooring when bathrooms are being renovated, to avoid chips and cracks.
3.
Brief Your Home Renovation Team
Sit down with your architect, consultants, and contractor and brief them on how soon you want the home renovation to be done, and give them details of your vision. It's always best when the entire team works as one unit with a shared vision. Be available to answer any and all queries that your team might have. Conduct regular site visits – this way you not only have a clear image of how the work is progressing but also gives your team the confidence that you are as involved in the project as they are. Remember that the best outcomes are always a result of great collaborations.
4.
Stash Aside for the Unexpected
As helpful as planning is, you can never plan too much. Unforeseen circumstances always pop up and can be quite a surprise not just physically but also financially. Maintain a contingency fund and keep that cash aside just to combat these surprises. Keep a minimum of ten percent of the total cost of home renovation as a buffer amount – if the money isn't completely spent on contingencies, you are left with it as a bonus after the renovation.
5.
Stay on Track
Plan your home renovation well before it actually begins, and keep your team aware of the plan. Once the work has begun, as much as possible try not to change the plan. Having a clear vision with minimum amendments not only guarantees a clean and smooth flow of work but also reduces stress. Planning always prevents chaos.
6.
Keep Everyone Prepared
Keeping everyone at home prepared for the renovation is a wise thing to do. Keep your spouse and children in the loop. This way they will be aware of what work is happening and surely have their own inputs to give!
7.
Have a Plan B
While planning, know exactly what the scope of home renovation is and what is possible on site. That said, you must be prepared and equipped with as many options as are available. If during the fit out, there is a hold up at any point, be prepared to switch to the secondary option and avoid wasting time.
8.
Manage Waste
Renovation and remodeling is an intensive process. Do not be surprised by the piles of waste that will continually form throughout the entire process. Plan with your contractor the logistics of waste management and ensure that the work site is cleaned regularly and remains as rubbish free as possible. Outline a plan for waste removal and see if regular hauling of waste can be arranged.
9.
Keep the Show Running
Plan for daily life. Do not allow the remodeling to hamper your daily routine and prevent you from going about your day to day affairs. Plan beforehand for how you will manage the schedule change and inconveniences of the home renovation. Keep track of the extent to which it will it overlap with your daily schedule, and what you can do to not get completely lost in the process.
Try as far as possible to keep your kitchen and washrooms running, assuming that you are getting the renovation done while you are living in the house. Kitchen renovation can be one of the most taxing processes, considering it is essential to keep it in pristine and hygienic condition both before and after.
Home Warranty as an Integral Part of Home Renovation
A part of the renovation process must be to assure that your home is not only free of old flaws but safe and secure from new ones. Once the process of repair and renovation is complete, there is very little chance that you will want to spend more money and time in fixing damages in the near future.
Here is where researching your Home Warranty becomes extremely relevant. A way to outsource maintenance and repair costs as well as the actual task of keeping home appliances and systems up and running, Home Warranty policies take charge of all damage due to daily wear and tear. In fact, most companies provide you with repairmen and expert mechanics as well, cutting your involvement down as much as possible when it comes to both sudden need of funds and time spent in finding the right skill.