What does a home warranty cover when buying a house?
PUBLISHED: March 31, 2020
•
4 MINS READ
Whether you have inhabited your home for years or are moving into a new one, home warranty plans can be purchased anytime. Home warranties are of two types: homeowners' warranty and buyers or sellers warranty. In this article, we will have a detailed look at what a buyer's home warranty plan is and what does a warranty cover when buying a home.
What is a buyer's home warranty?
A buyer's home warranty is a service contract that protects the home buyer from costly repairs and replacements of appliances & systems. This type of home warranty focuses on shielding older appliances and systems that have been replaced or repaired before closing. The warranty plans can be purchased until 30 days following the transfer of the property.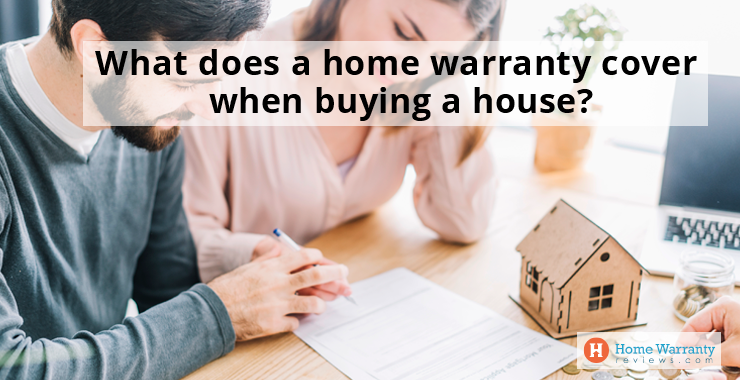 What do home warranty plans cover when buying a home?
Similar to homeowners' warranty, a buyer's home warranty covers appliances and systems that break down due to normal wear & tear. Some of the items covered include:
Refrigerator 
The home warranty plan covers all mechanical components such as ice/water dispenser & ice maker that impact the operation of a refrigerator. Parts like light bulbs, shelves, ice crusher, racks, hinges, drawers, multi-media centers, interior thermal shell, insulation, and filter are not covered.
Dishwasher
All mechanical components except rollers, racks, baskets, and hinges are covered.
Built-in microwave
All mechanical parts except interior linings, door glass, detachable accessories, shelves, and countertop or portable units are covered. 
Air conditioning & heating system
Electric central air conditioning systems, gas or electric central heating systems, evaporative coil, ducted electric wall air conditioners, heat pumps condenser, air handler & detached drain lines, metering devices are covered. 
Plumbing system
Parts like wax seals, basket strainers, valves in tub and shower, angle stop and gate valve, etc. are covered. The buyer's home warranty also covers leaks or breaks in water, gas, drain, sewer or vent lines, toilet bowls and tanks, mechanisms, and built-in interior sump pump.
Electrical system
Outlets, wiring, switches, conduit, panels & sub panels, fuses, circuit breakers, GFCI circuit breakers, and junction boxes are covered.
Water heater
The warranty plans cover water heaters such as tankless water heaters, etc. and  their components such as heating elements, gas valve, burner assembly, drain valve, thermostat assembly parts, relief valve, and circulating pumps.
Garage door opener
Wiring, switches, receiver, capacitor, rail/trolley assembly, motor, push arm and carriage
Ceiling & exhaust fans
All mechanical parts except attic fans, light kits, remote controls, whole-house fans, and heaters. 
Listed above are a few appliances and systems covered by home warranty plans. Check with your warranty provider if they include additional items under the coverage.
How much does a buyer's home warranty cost?
Buyer's home warranties are less expensive than homeowners' warranties. The price varies among the warranty providers and the states. Generally, a buyer's home warranty plan may range from $300 to $600. You may also be required to pay a service call fee of $50 to $100 when you file a claim. Check with your warranty company if they include any deductibles and any other charges.
Benefits of buying a home warranty when buying a house
Home warranty plans offer several advantages, such as:
Peace of mind
Every appliance and system has a definite lifespan, beyond which they begin to break down. With a home warranty plan, you need not worry about appliances or systems malfunctioning. 
Budget protection
After investing in a home, you don't  want to spend on appliances or systems at least for a few years. A home warranty shields you from expensive repairs or replacements. 
Easy access to a licensed technician 
When your appliance or system breaks down, you won't have to  search for a licensed and insured technician. Home warranty companies have a network of contractors. When you file a claim, a licensed, local, and skilled technician is assigned to fix the issue.
Continuous assistance
Regardless of the time, location, and weather conditions, home warranty customer representatives will offer you end-to-end, uninterrupted services. 
For a home buyer, a warranty plan is worth the investment. They protect your investment while bringing you peace of mind.