Why Should You Consider Buying A Home Warranty In Connecticut?
PUBLISHED: June 22, 2020
•
4 MINS READ
The Nutmeg State of Connecticut has several exciting properties a new home buyer can consider purchasing. Depending on your family's needs and budget, you could opt for a bungalow, townhome, saltbox home, or a ranch. Once you have finalized your preferred property, you should also consider protecting all the critical devices in your new home.
Major systems and appliances in your new asset are vital for the smooth functioning of essential daily tasks. They make sure every family member goes about his/her daily activities with ease. To preserve these devices for ultimate comfort and convenience, you should opt for a home warranty package.
This detailed post will look into reasons to justify your need for a home warranty while buying a brand-new home in Connecticut.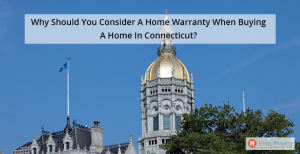 Reasons Why New Homeowners Should Consider Home Warranties
1. Weather in the State
The weather in the Land of Steady Habits can get freezing in winters, and quite warm in summers. To make sure vital devices like your HVAC and air conditioners don't let you down, when you need them the most, opting for a home warranty plan is a good idea.
Home warranty plans protect a range of systems and appliances for one year. They are not at all expensive and make sure customers get the best service when it comes to repairs and replacements for your essential devices.
 2. Save a Lot of Money on Repairs
Repairing or replacing your devices in Connecticut is an expensive affair. Fixing a single device can cost you thousands of dollars just for a single item, plus it can get quite tricky to get hold of an experienced technician to do the job.
With home warranty plans in place, all you need to pay is a service call fee, which ranges from $50-$125 depending on the company you choose. Customers need to pay the annual premium, which ranges from $300-$700. It can be paid annually or monthly, depending on your choice. This amount fluctuates from company to company but usually does not exceed $700.
3. Various Devices Protected Under A Single Plan
A home warranty plan in Connecticut does not just cover one device under its policy. Several of your home's essential systems and appliances get protected under a single plan.
Customers could opt for a systems plan or appliances plan, that covers a variety of your home's devices. Top home warranty companies also provide the option to build-your-own plan, depending on what devices you want coverage for. New home buyers can benefit from this option, as they may not need coverage for all their devices.
4. Help is Always at Hand
New home buyers may not be well versed with the different intricacies when it comes to home warranties. To help you out with any of your difficulties, companies have set up 24/7 customer care teams. They assist you with any of your troubles or questions about your devices. Customer support is also a straightforward way to file a home warranty claim.
5. Transparency and Flexibility
Home warranty packages are extremely transparent; customers only pay for the amounts mentioned in their contract. There are no hidden charges that one needs to pay. Usually, the premium and the deductible are the only amounts specified in the contract.
Another super advantage for new homeowners is the flexibility that warranties provide them with. They can transfer, cancel, or get a reimbursement if they are not happy with the company's services. This assures convenience and a lot of freedom for homebuyers in the state.
Final Words
A new home buyer in Connecticut must only buy a homebuyers home warranty. This warranty meets the needs of people moving into new properties. It must be purchased anywhere between 30-90 days of the deal getting finalized by the home buyer.
Customers should also know some of the top home warranty companies operate in the state. But before selecting one, it is essential to compare plans, premiums, deductibles, contractor networks, and read reviews before going ahead with a company. Never make a hasty decision and always choose a company that suits your requirements only.