10 Reasons Why You Should Hire a Professional for Appliance Repairs
PUBLISHED: May 15, 2020
•
4 MINS READ
The devices in your home are subject to damage due to wear and tear. For maintaining the optimal efficiency of your devices you will need a trained technician to repair them. Hiring a professional technician to get the job done is your best bet, as they are well trained and get the job done efficiently without any hiccups.
Buying a Home warranty is useful as they tie-up with professional technicians to fix customers' problems. You also get a lot of advantages with warranties such as affordable annual premiums, a wide range of plans to choose from to protect your devices, etc. This post helps you understand why you should use the services of a professional to repair the appliances in your home.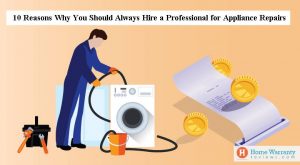 Let's Take a Look
(1) Trained Technicians are Better Equipped To Deal With The Problem
 Trained technicians come with experience and are better equipped to deal with different kinds of appliances and different problems. They will also know how to handle diverse types of repairs or replacements for your devices.
(2) You Save Time
Trained technicians are quicker in their work, and will not have to come over to repair or replace your devices time and again. Once the device is fixed you rest assured that it will last for a good amount of time.
(3) Saves You a Lot of Money 
Hiring a professional technician will help you save a lot of money. They do a good job with repairs and fix the problem once and for all. There is a lower chance that you will need to call them again.
(4) Optimal Efficiency
Qualified technicians do their very best at fixing your device's problem as efficiently as possible. Untrained technicians may not be as professional as licensed technicians, and may not know how to fix your devices in the correct manner. Home warranty companies make sure they send trained technicians to fix your problems    
(5) Your Power Bills Decrease
Let's say your refrigerator or oven is giving trouble, and you continue using them, they will sap a lot of power and increase your electricity bills. But if you call in a trained technician he/she will know exactly what to do to repair the problem, and will also help you save a lot of money on power bills.
(6) They Come With The Best Tools 
Any well-trained technician will bring the best tools to service your devices. They are aware of the different complexities of the problem and are qualified to handle different situations. Technicians who are not trained may not have access to these tools, and will not be able to repair your devices appropriately. 
(7) Your Devices Will Last Longer
If your devices breakdown and a professional technician repairs them, they will last for a longer period of time. Always get a licensed professional technician to come in and take a look at your faulty devices.
(8) Safety for Your Devices
When a trained technician comes in to repair or replace your device, you know your appliances are in good hands. Trained technicians know how to do a fine job and ensure the safety of your device while repairing them.  
(9) Extreme Convenience
The trained technician will make your life easier, by taking care of everything from start to finish. At times your device may need to be replaced, the technician will take care of it. You need not worry about anything, once your device is in the hands of a trained professional.
(10) Hiring a Trained Technician is Safer for You
For optimal safety, it's always better to hire trained technicians. They know how to handle your devices with care, and also make sure no damage takes place to you or your appliances while repairing them.  
Closing Words
It is always a good idea to get your appliances repaired by hiring a professional technician. They come with a lot of knowledge and experience in dealing with different problems related to your devices. You could also opt for a home warranty to protect your devices in the long run. Some of the top home warranty companies offering top-notch licensed and trained technicians are American Home Shield, The Home Service Club, Select Home Warranty, Choice Home Warranty, and ServicePlus Home Warranty, etc. Make sure to get your free home warranty quote from your favorite company today.