4 Questions Your Clients Should Ask Before Getting A Home Warranty
PUBLISHED: June 1, 2020
•
4 MINS READ
Being a real estate agent, you are bombarded with a lot of questions related to homes, and similar aspects. There are several facets that you must look into while helping your clients buy a  property. They include the price of the property, number of bedrooms, location, loan approval, and downpayment, etc. Homeowners nowadays are also aware of the rising prices on appliances repairs, due to this many people purchasing properties are opting for home warranties. You should be prepared for questions coming from the client's end about home warranties. 
Home warranties are service contracts generally for a period of one year, that assures to protect customer's systems and appliances if they need repairs. Be sure to note that home warranties cover damages only due to normal wear and tear.   
Since there are many top home warranty companies operating in the market today, it can get difficult to choose the perfect one. You must understand the client's requirements and then choose the perfect company for them. 
This detailed post will help understand some important questions that your client may ask you before purchasing a home warranty?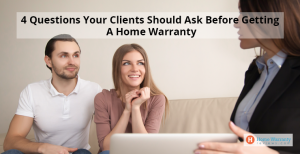 Let's Get Right to It 
1. Who Pays For A Home Warranty?
Usually, it is the buyer who pays for a home warranty when acquiring the new property. Sellers generally don't pay for the warranty plans, they only use them to market their property. But if you are lucky, the seller may just decide to pay for a certain period of time. However, there are types of warranties for both buyers and sellers. They are as follows:
Homebuyers Home Warranty
These home warranty plans are designed in such a way that they meet the requirements of new homeowners. These warranties only cover those devices that were fixed before the closing of the property deal. This warranty can only be bought if you are planning to buy a new home. 
Sellers Home Warranty
These warranties help sellers fix systems or appliances that were malfunctioning before the home inspection. This warranty minimizes the risk for sellers to lose customers due to faulty equipment. This warranty can only be bought by home sellers.
Home warranties will cost customers anywhere between $350-$700 annually, depending on which company they opt for. The service call fee ranges from $50-$100 depending on the company one chooses. 
2. What Systems And Appliances Do Home Warranties Cover?
Home Warranties cover the following systems and appliances:
| | |
| --- | --- |
| Systems | Appliances |
| Air Conditioning | Refrigerator |
| Water Heater | Built-in Microwave Oven  |
| Central Vacuum | Dishwasher  |
| Ceiling Fans | Trash Compactor |
| Doorbells | Freestanding Ice Maker |
| Smoke Detectors | Garage Door Opener |
| Garbage Disposal  | Dryers  |
| Rekey | Washers |
These are only some of the systems and appliances that home warranty companies cover. You must compare coverage from the top home warranty companies and then make your choice. 
3. How Are Technicians Assigned And Are They Experienced?
Once homeowners purchase warranty plans and a device starts malfunctioning they must call up the company and file a claim. The warranty company assigns a trained technician to fix the problem. These technicians come with a lot of experience and the best set of tools needed to fix the problem. 
Each time a technician visits your home to repair a device you will be needed to pay a fixed amount called a trade fee or a service call fee. This amount is stated in your home warranty contract. 
It is also important that you advise your clients to choose a home warranty plan with a large contractor network. Companies with larger contractor networks will have better-experienced technicians, who know how to fix different problems. 
4. Are Home Warranties Worth It?
 Home warranties are definitely worth it as they are not too expensive, and they protect your devices usually for a duration of one year. Many home warranty companies also offer attractive discounts which help you save money. Most home warranty companies also come with 24/7 customer service, which helps you connect with the company if you are facing any difficulties. 
Home Warranties are a very good idea if customers are buying older homes with devices that may need repairs or replacements very soon.  
Conclusion
The more you know about warranties, the easier it will be to help choose the perfect plan for your client. Conducting research and reading reviews online can also help you make the right decision.
Some of the top companies you could consider are American Home Shield, Total Home Protection, Choice Home Warranty, The Home Service Club, etc.