5 Ways to a Fun and Comfortable Christmas
PUBLISHED: December 24, 2019
•
4 MINS READ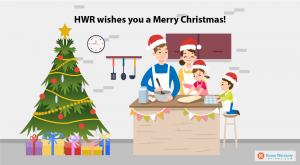 America's biggest holiday season is here and aren't we all excited? 'Tis the season for Christmas trees and the smell of fresh baking wafting through your home! 'Tis the only season for gathering your friends and family around yourself, no excuses allowed! Your Christmas should be merry and super fun!
Now is the time to strengthen the bonds between yourselves with some Christmas fun! There are plenty of things you can do indoors, especially if you live in places where the snow may lock you in. You can design your own Hallmark-style Christmas celebration!
Being cooped up indoors does not have to be scary! Your home warranty providers are just a call away if a breakdown ruins your party. Here are some ideas to quell those uncomfortable conversation lulls and keep people from getting bored. 
Decorating Trees
This is a classic bonding activity for a reason. Everyone gets to express themselves in picking tree ornaments and you all sit down to some quality time. For an even better experience, make your own ornaments! 
There are so many simple tutorials showing you how to reuse bits and bobs lying around in ways you never imagined. This gets rid of all those boxes, papers and hardboards you didn't know how to use but didn't want to toss. You can save so much money too. 
Any Christmas tree can be jazzed up to another level with fairy lights! Go sustainable with copper-wired lights which can be recycled. 
If your electrical wiring and lighting system give out during this festival, don't stress! Call your home warranty company to send over a technician. You don't have to go searching for one who is willing to come during the holiday season.
Watching Hallmark Christmas movies
Let's admit it. Cheesy as they are, a Christmas hallmark movie is everyone's guilty pleasure. Gather your loved ones around the idiot box for a good reason. At the very least you can laugh together at how silly and unbelievable the movie is.
Your home warranty techs are a call away if the TV and home theatre gives out.
Baking Parties
The infamous Christmas plum cake mixing is a great deal of fun for some families. Not so much to others not fond of Plum cake.
Thankfully family-friendly baking is ever-growing with tons of new chefs on the scene. With pudding recipes, cookie recipes and gingerbread houses to make, the kids will be entertained. 
Even adults can be engaged with make-your-own-crazy-dessert parties. With a home warranty backing you, you need not worry about the cooking range breaking down.
Playing Party Games
Another great way to spend a fun Christmas is by going analog. The adult board game space is expanding as much as the kids' segment so there are plenty of options. Be a memorable host by providing crowd-pleasers like Scrabble to newbies like Pandemic. 
You can also come up with your own games by spinning traditional favorites like Family Feud or Tossing Bells into Cups.
Take the party up a notch by running a barbecue on the side. Everyone loves a good charred, juicy rib or well, tofu if you're vegan. If your electric BBQ pit refuses to fire up, call a home warranty service provider to set it right. 
Volunteer at a Charity
Finally, one of the best ways to have a warm and merry Christmas is by giving to the less fortunate. There are plenty of charities which require volunteers especially during this time of the year. This is the perfect way to spend time if you find yourself alone and in need of some company.
Whether you were waiting for Christmas all year long or got into a frenzy at the end, the classic ways to spend time never get old. What matters is that we are grateful for the love and company we have during the holiday. There is nothing like a home filled with the warmth and comfort of knowing that you are cared for; whether by your family and friends or your home warranty.