Best Bathroom Countertop Materials for Your Home
PUBLISHED: March 28, 2018
•
6 MINS READ
Quite often the bathroom countertop takes a backseat while you're busy choosing the kitchen countertop. Countertops don't usually face the same amount of abuse as the ones in the kitchen (knives, hot pans, oven trays, etc). The battle to choose the perfect bathroom countertop typically lies among material, style, budget and the ease of maintenance. Even countertops face quite a bit of use and abuse whether it be from makeup or from the mess children make. You got to pick one that's functional and looks good. The countertop is the number 1 factor that contributes to the overall look and feel of the space.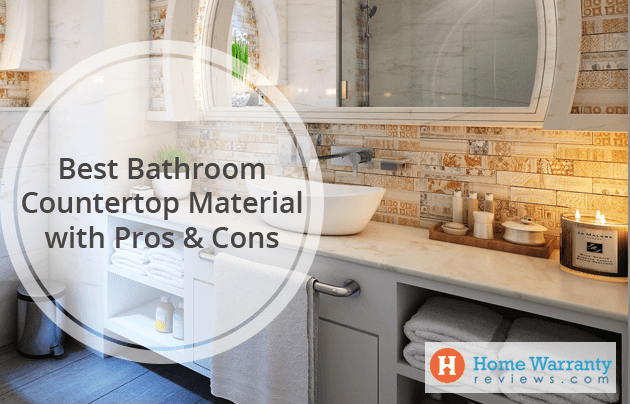 If you are pretty clueless about how to choose your bathroom countertop, you'll need to ask yourself certain questions to narrow down on the options. Once you do that, you can read through the different countertop materials that are available in the market and know the pros and cons of each material type. If you already have a rough idea of what kind of countertop you need, you can jump right to the part that talks about how to choose your bathroom countertop material. You can also look into these options of renovating your bathroom.

To pick the best bathroom countertop for your home, you need to consider factors like: how often the bathroom will be used, the number of people who will be using the bathroom, the amount of time you intend on living in the home, the purpose behind upgrading the countertop and a few other factors. Answer these questions and narrow down on your options before you begin to weigh out the pros and cons of each countertop.
A powder room doesn't typically experience the same kind of mess that a full bathroom does. A full bathroom is exposed to a range of personal care products like toothpaste, hairspray, makeup, creams, and many other products that are smeared across the countertop. And if you have little children then there are those sticky, syrupy, colored children's medicines that might also find their way to the countertop.
The secret to finding the best countertop for your home is to find one that is compatible with the room's use.
More people using the bathroom means a bigger mess. Small children to teenagers generally tend to be tough on the bathroom sink. It's advisable to go in for a durable and easily-maintainable surface if children are going to be using it.
If the upgrade is for you, then you don't need to hesitate about the splurge too much. If you're upgrading to sell the home, then choose something that looks good, keeping practicality in mind as well.
Bathrooms that have a lot of people using it, especially when it includes children usually means that the countertop and sink require cleaning more often. In such situations, installing a bathroom countertop that's easy to clean and not delicate makes more sense.
Another factor that you could consider while choosing your countertop material would be the type of sink.
The mount of your sink also plays a role in choosing your countertop decision. If you like an easy-to-clean integral sink then you're likely to prefer a concrete, solid surface or a glass countertop. If not, you need to choose between a drop-in, undermount, or vessel style sink. You'll need to know the type of sink to make sure that the countertop is fabricated correctly.
How to Choose Your Countertop Material w/ Pros and Cons
There are plenty of bathroom countertop materials that are available in the market. And your biggest struggle would be choosing one from the wide range of options that you have. To help you out with making this decision, we have also added the pros and cons of each countertop material. As much as the looks and feel of the countertop matter, remember to keep in mind that the ease of maintenance and the durability the of material.
Special Offer
Only On HomeWarrantyReviews.com
ServicePlus Home Warranty presents
$100 off
and
2 months free!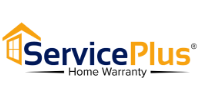 Most Common Countertop Materials
The most common bathroom countertop materials that are used in American homes are granite, marble, quartz, laminate, solid surface, concrete, and tile. Read on to know which countertop material will work well for your bathroom.
1. Granite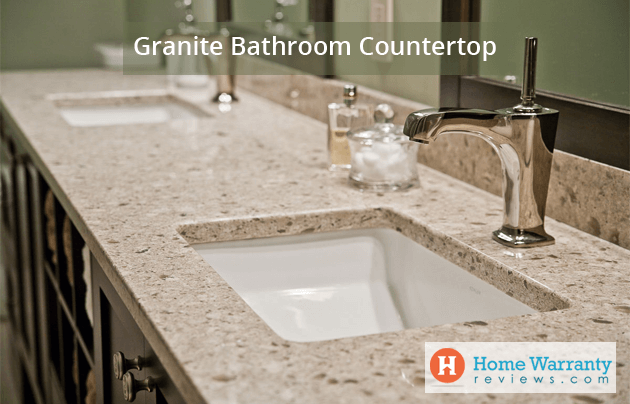 Granite is available in a wide range of patterns that go from subtle to bold. It is among the premier in the natural stone choices. It gives the bathroom an elegantly dramatic look and its beauty is likely to add resale value to your home. 
Pros
High-end designer look

Long lasting, water resistant, stain resistant, scratch resistant, and easy to clean

Superior durability and resistant to humidity and heat from a hot curling iron

When sealed properly requires minimal upkeep
Cons
It happens to be one of the most expensive countertop materials

The material has a high chance of getting damaged if not handled properly. It's advisable to hire a professional for the job
Cost: High (compared to other countertop materials)
Highlight: All granite countertops sold at The Home Depot are pre-sealed and come with a 15-year warranty.
Maintenance: Granite countertops required to be sealed every six to twelve months. They must be cleaned with warm water and liquid detergent. Harsh cleaners must be avoided as they stain they can cause scratches and dull the finish. If there are small scratches or chips, they can be removed by polishing.
2. Marble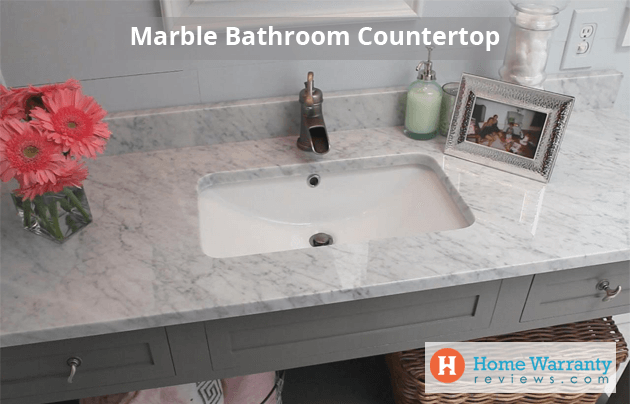 Over the centuries the gracefulness of marble has been associated with wealth and privilege. In time, with its improvements in production, this beautiful stone has become more affordable. It comes in many variants, although it is typically white with lines of gray. This is very different from the Ikea bathroom countertops, kohler sinks or the home depot vanity tops. This is why its important to choose your bathroom sinks.
Pros
Long lasting. It's strong and can resist most dents and chips

It can be polished if you prefer a high shine finish or it can also be given a casual matte finish

It goes with almost every style
Cons
It is on the expensive side

The porous nature of the stone makes it susceptible to scratches, stains and etching from acidic substances

Needs to be sealed periodically to preserve the finish
Cost: High
Maintenance: Don't use any cleaning solution that is acidic or contains lemon juice. Mix dish soap solution with water and spray over the marble countertop. Wipe the counter with a hot, wet, dishcloth.
3. Laminate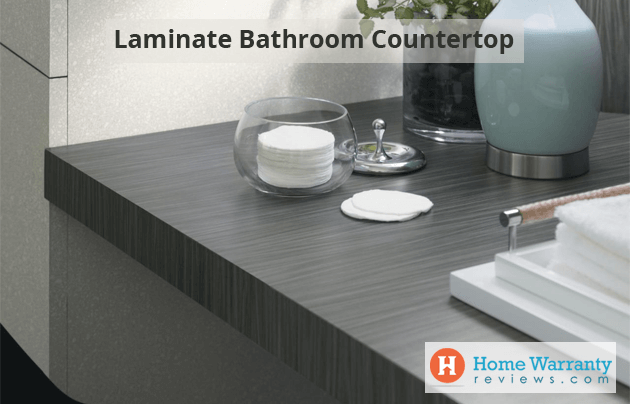 Laminate Bathroom Countertops or vanity tops are available in numerous colors and styles. The material is budget-friendly and is a very good option for a family bathrooms or teenagers' bathrooms. Laminate countertops are made from a thin plastic surface that is pressure bonded to a particleboard or a plywood base. The latest printing technologies are used for laminates these days to create realistic stonelike and woodlike finishes. Laminate countertops also work well for guest bathrooms, basements or other areas that aren't used too much.
Pros
Very affordable and economic

Available in a wide range of patterns and colors

Easy to clean, water resistant and it's low maintenance

Excellent stain resistance

Relatively easier to install
Cons
Laminate tends to thin and dull over time

Not immune to edge-chipping and scratches. Long-term exposure to high humidity and moisture may cause the material to peel or detach from the substance beneath

Damages cannot be repaired, the countertop will have to be replaced
Cost: Inexpensive
Highlight: Laminate can be formed into a seamless cover backsplash to prevent water from seeping into cracks.
Maintenance: Makeup spills or other spills should be cleaned immediately. For everyday cleaning, you can dip a soft cloth in mild liquid detergent or any other cleaning agent to wipe the countertop.
4. Quartz or Engineered Stone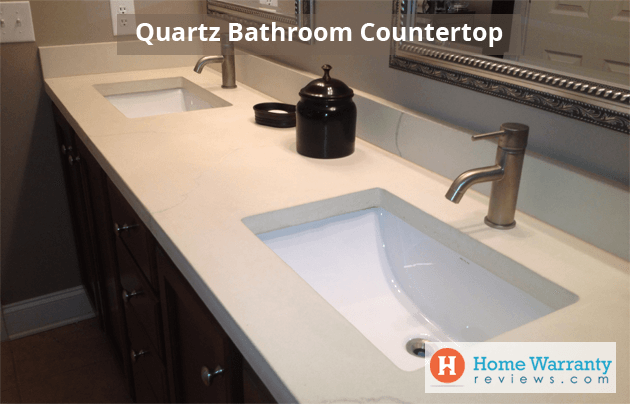 Quartz is one of the hardest and most bountiful minerals available in nature. As a matter of fact, almost every type of stone contains a small percentage of this material. Quartz countertops are made from over 90% organic quartz and the rest from pigments, resins, and recycled content. Some homeowners even feel that quartz looks better than granite.
Pros
Wide range of natural stone or vibrant tones are available

Never requires sealing or polishing

Stain, scratch, moisture, and bacteria resistant

Available with ready to install undermount sink
Cons
Quartz can sometimes cost higher that high-end granite and marble

Textured or honed finishes will show fingerprints and smudges, frequent wiping may be needed

Can get damaged by acidic or highly alkaline chemicals like solvents, bleach, and abrasive cleansers
Cost: Moderate (compared to the rest)
Highlight: Quartz has a built-in microban antimicrobial protection that improves the hygiene in busy bathrooms.
Maintenance: Take a soft cloth or a sponge and wipe the countertop with mild soap and warm water. Use a dry cloth to wipe it afterward.
5. Concrete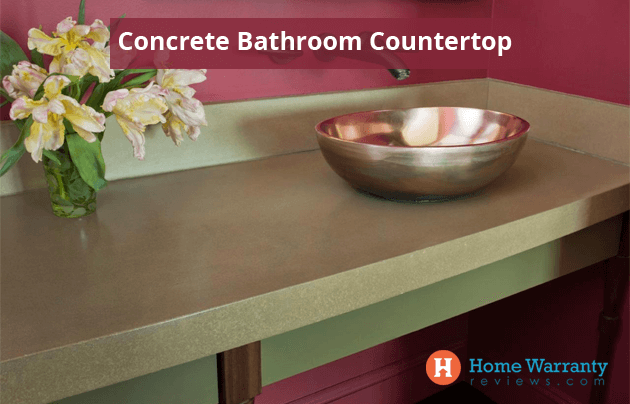 Concrete bathroom countertops are a good choice for inexpensive countertop options. They allow the flexibility to custom fabricate it to fit your bathroom as they can be made in any color of your choice. They are an attractive option and allow a huge space for creativity. Concrete being naturally porous requires sealing and periodic upkeep to maintain its shape. You could either have an integral concrete sink or team it with a different type of sink.
Pros
It's an organic material that can mimic the look of natural stone

Highly customizable in terms of shape, size, dimensions, colors, textures and decorative inlays

Extremely durable

Quite eco-friendly especially when recycled content is added
Cons
Requires professional fabrication and installation

Concrete countertops need to be waxed and sealed regularly to be protected against moisture and stains as they're naturally porous

Can get chipped and develop hairline cracks

They're heavy and hence require sufficient support from the vanity or base cabinets
Cost: Inexpensive
Maintenance: Use a pH-neutral cleaner and avoid using harsh scrubbers or cleaning solutions, these can erode the sealer.
6. Tile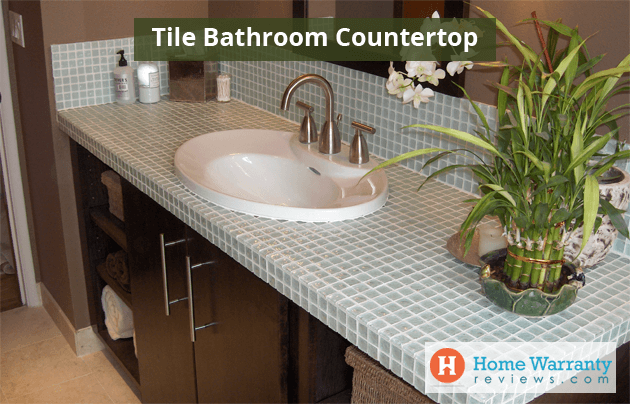 Tiles are another inexpensive bathroom countertop option when compared to solid stone or quartz. They usually can stand up to almost anything. But with a tiled countertop comes grout lines that can be hard to clean. Tiles come in different materials like stone tiles, ceramic tiles, and others. Ceramic tiles could add an informal charm to a Spanish colonial or beach cottage style bath. However, sometimes a tiled bathroom countertop could create a "tile overload" if tiles have been used in other places in the bathroom. If you're considering stone tiles, make sure to check whether it would require sealing.
Pros
Ceramic tiles are highly compatible with moist bathroom environments; which is why they're often chosen for flooring

They're available in a wide variety of styles and designs

Affordable (depending on the material of the tiles chosen)

Glazed ceramic tiles are heat, stain, moisture, and scratch resistant

Individual tiles can be replaced if they get damaged
Cons
Tiles are susceptible crack and chip

Not a very strong point when it comes to the resale value of the home

Grout can be difficult to clean and it also attracts stains and mildew

Stone tiles may require sealing
Cost: Inexpensive
Highlight:
Maintenance: Clean the tiles with warm water detergent and a soft cloth. For the grout, use a soft-bristled toothbrush.
Other Bathroom Countertop Options
Here are a few other materials that you can use for your countertop. These materials are less commonly used when compared to others mentioned above.
Travertine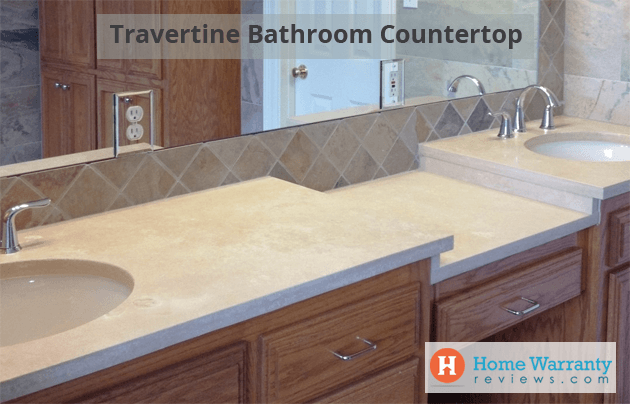 Travertine is a luxurious-looking natural stone that comes in wide range of colors and has decorative streaks that are similar to marble. It is inexpensive when compared to marble and granite. Just like other stones, travertine needs to be sealed. It is available in 4 finishes: polished, honed, brushed, and tumbled. The polished finish gives a shiny lustrous appearance and is the best option as long as it has been sealed.
Pros
Has a high-end designer look

Heat and moisture resistant

Travertine has a creamy appeal that gives the bathroom a warm feel

Available with integral sinks or with separate undermount sinks as well
Cons
Travertine is highly reactive to acids

They need to be polished and sealed from time-to-time

Any spillings must be cleaned immediately, if not they may cause stains
Cost: Moderate
Highlight: It looks a lot like marble but costs much lesser.
Maintenance: Clean up immediately after anything spills. Alkaline-based cleaning agents must be used to clean the counter.
Glass
A glass vanity countertop or a glass bathroom countertop gives the space a contemporary flair. Glass is stylish, durable and the surface is easy to clean. It doesn't have a porous surface which means it doesn't need sealing.
Pros
Sleek designer look

Stain resistant. It's easy to clean and maintain

Not sensitive to chemicals unlike other countertop materials

It can be customized to have tints and textures

Available with integrated sinks
Cons
Glass countertops can be more expensive than other countertop options depending on the style and level of customization

Fingerprints are easily visible

Despite being typically durable, it can chip and crack if there's a potential hazard

It's not scratch resistant
Cost: Inexpensive compared to other countertops
Highlight: It is extremely easy to clean.
Maintenance: Use either regular glass cleaner or vinegar and water and wipe the countertop with a soft cloth.
Recycled and Composite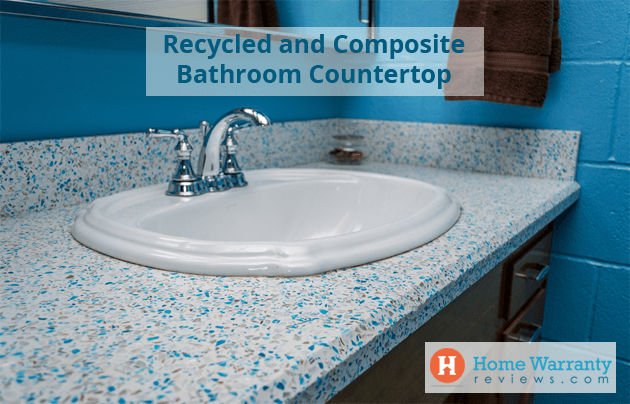 Composite and recycled countertops are made from re-used and recycled glass and paper that are mixed with resins or some form of cement. The materials are fused together to create sheets and slabs that can be cut into shapes. These countertops have a smooth, hard surface that are attractive and give your bathroom an eco-friendly vibe. Similarly, there is also vitreous china options that you can try.
Pros
The pros are very similar to quartz countertops

Hard, durable surface

Eco-friendly

Available in a wide range of colors and some fabrications also allow room for custom colors
Cons
Availability may be limited for specific materials

Certain cement-based composite materials need to  be sealed

Long-term durability is still unknown for some new materials as they have entered the market quite recently
Cost: Inexpensive when compared to other bathroom countertop materials
Highlight: A good and inexpensive way to make your bathroom contribute towards an eco-friendly home
Maintenance: Wipe the counter using a soft cloth or sponge with mild soap in warm water.
We hope that reading the pros and cons of each countertop material has helped you further narrow down on your options and brought you closer to making your decision. Also, ensure that you take time to review the best bathroom faucet brands.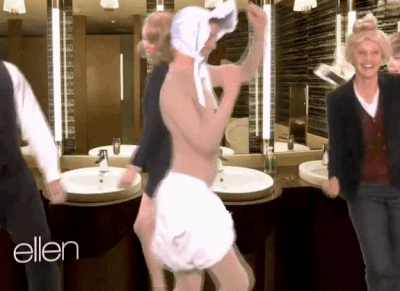 Why Does Your Home Need a Home Warranty?
As a homeowner, while you are busy saving up for a renovation or an upgrade, for example, if you're changing your bathroom countertop, you'll want to eliminate the possibility of extra expenses. Paying the full amount to replace a home system or appliance amidst a renovation can be hard on any homeowner's pocket. Sometimes, you would wonder why you want to reinvest in a bathroom sinks when you can go about deep cleaning your toilet and enjoying the results of your hard work.

A home warranty policy covers the cost of repairs and replacements of home systems and appliances that happen due to regular wear and tear. Say your covered dishwasher breaks down and it cannot be repaired, the home warranty company would replace the appliance. However, there are certain caps, so it's essential to know some things before you invest in a home warranty policy.
Apart from the cost of the policy, you are also required to pay a service call fee or the deductible. The deductible varies from $50 to $125 depending on the cost of the policy. If the premium paid is high, then the cost of the deductible is low and vice versa.
There are good home warranty policies that cost $350+ a year. However, your countertop is not something that's covered by a home warranty policy. If you aren't sure whether it is worth investing in a home warranty policy for your home, you can use the home maintenance calculator to help you with the decision.
The Home Maintenance Calculator requires you to enter some information like the age of the home, the age of the appliances, and the number of repairs per year. On the basis of this, it estimates the cost of repairs and maintenance of the home and accordingly suggests home warranty policies to match your expenses.