Can Your HVAC Catch Fire?
PUBLISHED: January 30, 2020
•
3 MINS READ
A lot of people ask if HVAC can catch fire, and the answer is yes !!! your HVAC can catch fire at any given point of time. The HVAC system is designed in such a way to make sure you get the best and only the best in terms of air quality and ventilation. But at times, things can go wrong.
If Your HVAC is old, lacks proper maintenance, and has not been properly installed, there is a good chance your HVAC may catch fire. Sometimes lousy luck may also be a reason your HVAC catches fire.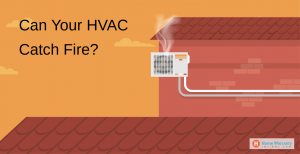 Reasons Why your HVAC May Catch Fire
Old Electrical Connections
If your electrical connections are old, they become wobbly due to the high power velocity, which in turn burns the wire. If you get the smell of smoke from your HVAC, this means your HVAC is about to catch fire. 
Your Fuel Line is Leaking 
It's not easy to spot a leaking fuel line. What you need to do is when you perform regular maintenance, ask the technician to locate a leaking fuel line. You should know heat and flammable substances may increase the chances of your HVAC catching fire.
The Furnace is Crowded
A crowded furnace means having items like boxes, brooms, crates, and other cleaning supplies around or resting on the furnace of your HVAC. This is not a very big problem; all you need to do is get rid of these items and store them somewhere else. It would help if you kept things at a distance of at least three feet from your furnace.
Your Heater Exchanger is Cracked
This is quite a severe issue, which can lead to a carbon monoxide leak. If a lot of carbon monoxide is present around your HVAC, it posses a high degree of risk of catching fire very quickly. With a lot of CO2 present in the air, it affects your breathing too.
Problems with Gas Pressure
If the gas pressure for your HVAC is too high, your heat exchanger can become extremely hot, which can cause your HVAC to catch fire. Similarily if the gas pressure is shallow, your heat exchanger will condense, which can damage your HVAC and even cause a fire. Your technician needs to check the gas pressure of HVAC during the routine maintenance of your HVAC.
What You Can Do To Prevent Your HVAC From Catching Fire
There are a lot of preventives you could adopt to protect your HVAC. One of the most important things you can do is maintain your HVAC regularly. Tell the technician who comes to service your HVAC to check for problems with the circuit and damage leaks. 
Installing HVAC Fire damper can also prevent the device from catching fire. Another thing you should do is if you smell gas-burning or oil is call a technician to fix the problem immediately.
Prevention is Better Than Cure
Fixing HVAC systems when it breaks down can burn a deep hole in your pocket. You would have to pay a lot of money to repair or replace the device. Here's where home warranties come into your rescue. Purchasing a home warranty plan will ensure your HVAC is repaired or replaced if such a scenario occurs at a very nominal rate. 
So what are you waiting for! Get your free home warranty quote from the company of your choice.