Ceiling Fan Vs The Air Conditioner! Which one should you go for?
PUBLISHED: January 24, 2020
•
3 MINS READ
It's the age-old battle between the ceiling fan and air conditioner. It's a known fact that the cost of running an air conditioner is far more than running a ceiling fan, whereas air conditioners tend to be effective in humid regions. 
Your geographical location plays a big part in determining which device will be beneficial. Along with this, your budget and home decor will also have an influence on your choice. Let's take a closer look at
What is the Cost of a Ceiling Fan and Air Conditioner?
The costs of ceiling fans on an average are anywhere between $20- $90 for a basic ceiling fan. If you would like to go for a better-designed ceiling fan, the cost can be anywhere between $200-$600. 
Air conditioners, on the other hand, are a pretty costly affair. A simple 1.5-ton unit will cost you a minimum of $1,235. If you would like a slightly bigger unit, a 2.5 unit will cost you $1,495, a 3.5-ton unit will set you back by $1850, and a sizeable 5-ton unit will cost you a whopping $2,625 respectively.
You should also know the installation costs for the air conditioners is also considerably higher than that of a ceiling fan.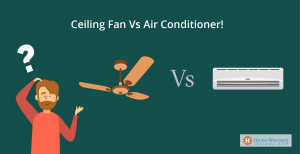 How temperature plays an important role?
While determining which device you should go for, make sure to take into consideration the place you reside in. If you live in New York, summer temperatures can range anywhere between 77°F to 86°F. 
On the other hand, if you live in Phoenix- Arizona, summer temperatures can range anywhere between 84.2°F to 102.2°F. The summers in San Francisco are incredibly cool, with temperatures at 61°F. Higher the temperature, the lower will be the effectiveness of a ceiling fan. Alternatively, in cooler places, the requirement for air conditioners will be negligible. 
How Ceiling Fans and Air Conditioners affect the environment?
Ceiling fans are very energy efficient as they do not release any harmful gases into the environment. All ceiling fans do is release fresh air with its blades. It is also more hygienic as they circulate air throughout the room which can eliminate bad smell.
Air conditioners, on the other hand, uses a lot of electricity which in turn release pollution. You should also know air conditioners release CFC and HCFC into the atmosphere, which are cooling agents located in air conditioners. These gases, when released, create holes in the ozone layer. 
While purchasing a ceiling fan is extremely eco-friendly in terms of cooling it may not really do the job as compared to an air conditioner in certain geographical locations experiencing extremely hot climate. If you would like to do your bit for the environment, it's highly advisable to go for a ceiling fan. It's cost-effective, and you are saving the environment.   
Final Thoughts
Ultimately the decision is up to you whether you need an air conditioner or you can manage with a simple ceiling fan. If you own any of these devices and they do need to be repaired or replaced, it can be costly. 
Here's where home warranty plans come into the picture. Purchasing a home warranty plan will protect all the systems and appliances in your home at not a high cost. Check out the popular home warranty companies out there today.