Keep Your Hardwood Floor Shining Like A Star!
PUBLISHED: July 26, 2013
•
4 MINS READ
Hardwood floors look remarkably stunning and add luxury appeal to your home. Brazilian Cherry, Exotic Acacia, Maple, Classic Oak are popular but you have  a wide variety to choose from. They compliment any kind of decor and keep your home warm in the winter.
Although stone and tile floors are significantly sterile and easy to maintain, they do not have the same warmth and feel as timber floors. Homes with wood flooring never go out of demand and sell faster comparatively.
You have a wide variety to choose from and some eco friendly options as these trees grow back faster.
Types of Flooring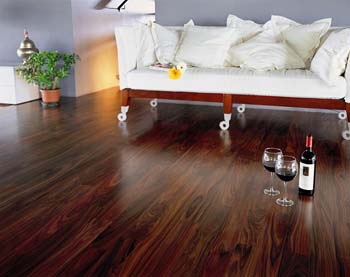 Types of flooring currently available in the market:
Engineered Wood Flooring
This is manufactured using three to nine layers of different wood veneers. Top layer consists of high quality wood and sub layers can be of same or different class.
These floors expand and contract less than solid wood flooring during changes in humidity and temperature, but cannot be sanded and polished as many times compared to the solid wood flooring.
Solid Wood flooring
These are thick and are composed of solid wood from top to bottom. The benefits of this kind of flooring is that it can be easily installed on any kind of surface and can be sanded and refinished umpteen times. Solid wood floors cost you little more than the engineered counterparts. Engineered floors are easy to maintain compared to solid wood floors.
So you have wooden floor? Or planning to get?  Wondering what it takes to clean and maintain them here is a piece of advice to help you.
Cleaning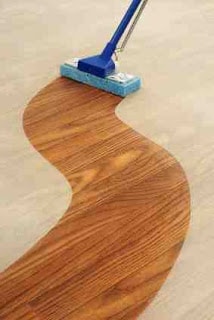 Cleaning your floor is important and it depends on the environment of your home. If you have kids and pets at home then you need to clean it more often to prevent scratches. Use a vacuum cleaner without a beater bar.
Water is an enemy of hard wood floors. Never put water directly on the floor instead use a damp mop if it is recommended by the professionals who installed your flooring or by the experts at the local hardware store.
Wipe away liquid spills immediately, else they penetrate and damage the flooring.
6 Quick Maintenance Tips
Well maintained flooring can give you comfort and last for decades. Here are some maintenance tips.
To minimize the dust and dirt at home, place floor mats at entrance.
Never use steam on wooden floors as it can lead to cupping.
Fix furniture pads under the legs of tables and chairs to avoid scratches. These pads can be found at any hardware store.
Heavy shoes and heels can create dents on the floor. You can leave the footwear outside and use light footwear at home.
If you have pets then clean up pet mess immediately and dry the area really good. Keep their food dishes on a mat and keep their nails trimmed.
In kitchens and bathrooms where sinks, refrigerators, dishwashers and other water based appliances are located, it is helpful to place area rugs in front of such appliances to prevent water from getting into your floor.
How to repair scratches?
Scratches ,wear and tear in hardwood flooring is a common occurrence. You tried your best to protect your flooring but somehow it did not work, worry not. Here are some quick fixes for those scratches.
Camouflage scratches
To hide minor scratches in wood floors rub wax sticks or markers which suit your floor color, these are great scratch busters because they include stain and urethane, which protects the floor's finish.
How To Make Homemade Polish?
Mix equal parts olive oil and vinegar, which work together to remove dirt, moisturize, and shine wood. Pour a little directly onto the scratch. Let the polish soak in for 24 hours, and then wipe off. Repeat until the scratch disappears.
Fix The Gaps In Floor
Do you see gaps in between your flooring ? Its a common phenomenon. You can fill the gaps with colored wood putty or if you have some leftover planks, rip a narrow band and glue it into the gap.
If your floors are aged and have undergone wear and tear beyond repair then it's time to consider replacing them. Well maintained floors can last longer and save you the cost of replacement. Therefore you have a reason to maintain your wooden floors to make them look new. Since home warranty does not cover your flooring, you might want to take extra care. Click here for a list of appliances which are covered in home warranty.