How Do Home Warranty Companies Decide Between Repairs Or Replacements?
PUBLISHED: July 13, 2020
•
6 MINS READ
Home warranty companies protect  the critical systems and appliances in your home. This helps homeowners protect their expensive devices for the future. When you file a home warranty claim the company either repairs or replaces the device. But how does a company decide between repairs or replacements?
This post will help customers understand how a home warranty company decides between repairs or replacements? But before that customers should understand a little more about home warranty claims.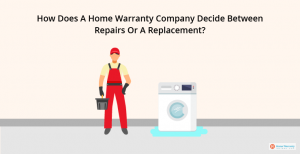 What are Home Warranty Claims?
 If a customer notices any of the covered devices giving trouble he/she must file a home warranty claim. Once a claim is filed the home warranty company assigns a technician, who diagnoses whether a device needs to be repaired or replaced. We've listed out the important pointers, customers should follow to file a claim.
If you notice any of your covered systems and appliances giving trouble file a claim ASAP.
You can file a claim online or through the telephone depending on your convenience.
Once a technician is assigned, schedule an appointment at a time convenient to you.
When the technician comes over he/she will diagnose the problem and decide the further course of action.
Your device will be back in working condition once the problem is fixed.
Depending on the problem in the device the duration of repairs or replacements may vary.
How Do Companies Decide Between Repairs or Replacements?
As per the condition of the device, the company takes a call on whether the device needs to be repaired or replaced. Many times devices are in irreparable condition, so the home warranty company may replace the device. We've listed down the important pointers to keep in mind when your appliances are getting fixed.
Home warranty companies will only fix your systems and appliances if they are damaged due to normal wear and tear.
Certain components of a device may not be covered under the home warranty policy, hence that particular component will not get fixed.
Depending on the company's policy pre-existing conditions may or may not be covered.
If an item is replaced, the new device will have similar features as the old appliance but may vary in size and color.
Qualified and well-experienced technicians will assess the issues in your devices.
Your critical systems and appliances are covered for a period of one year under standard home warranty contracts.
The deductible or service call fee to repair or replace your devices varies from company to company.
Not paying the service call fee may result in the cancellation of the policy depending on the company.
Only those devices are subject to repair or replacements that are mentioned in your contract.
At times home warranty companies may pay cash instead of fixing your devices. But customers should note this depends on the company and the nature of the problem.
What Items are Covered and Not Covered Under Home Warranties
Home warranty policies do not cover all your devices. We've listed out the critical devices covered and not covered under home warranty plans.
| Items covered | Items Not Covered |
| --- | --- |
| Refrigerators | Wet bar fridge |
| Clothes washers | Booster pump |
| Clothes dryers | Outdoor water system |
| Ceiling fans | Wine cooler |
| Garbage disposal | Sprinkler systems |
This table contains just some of the items covered, and not covered under home warranty plans. Customers must keep in mind coverage is subject to change, depending on the company's policy. Many home warranty companies also provide customers with add on coverage options that cover your well pump,septic pump, pool, and spa, etc. But customers should note add on coverage will be at an added cost.
While opting for coverage homeowners should choose a plan that only protects the necessary devices in one's home. If you own a home with many devices you could opt for comprehensive coverage. If you reside in a smaller property with a lesser number of devices you can select a basic coverage option.
If you would like to protect some devices of extra importance, you could opt for the Build Your Own Plan Provided by American Home Shield (AHS). This plan covers a range of systems and appliances of your choice.
When Do Your Devices Need Repairs or Replacements?
 Your systems and appliances can start malfunctioning at any given point in time. We've listed out a few points that help you understand when your critical devices need repairs or replacements.
If you notice your refrigerator overheating or a puddle around the fridge, there is a good chance that the device needs fixing ASAP.
If you notice excessive leaking, a funny noise, or the device vigorously shaking, it is time to get your clothes washer fixed.
Your clothes dryer usually lasts for a long period of time. But if you notice clogged vents, a bad thermal fuse, or broken belt you should get the device fixed.
To find out if your ceiling fan needs fixing, check its motor. If there is a problem with the motor you will hear a humming sound when the device is running. That's when you need to get this device fixed.
If you find your garbage disposal clogging, bad odor, and blades losing their tenacity, it's time to get this device fixed.
DIY Tips To Keep Your Systems and Appliances in Good Condition
Keeping your systems and appliances in good condition is vital for the smooth functioning of any household. But at times they start giving trouble due to excessive usage, wear, and tear, weather conditions, or breakages. Listed below are a few pointers that can help you keep your vital systems and appliances in good condition.
Overloading your refrigerator is a total no-no. Overloading puts a lot of pressure on the device's compressor which in turn can cause problems to the device. It is also very important that you place the correct food in the appropriate storage facility of the refrigerator.
Never wash too many clothes in one cycle of your clothes washer. Go for small loads of washing cycles. It is also important that homeowners never wash items like carpets or rubber mats.
Always make sure the clothes dryer filters are clean. Also, avoid overloading the device with too many clothes at a time. Once in two months spray the device with a disinfectant to avoid any bacteria build-up.
Wipe the dust off your ceiling fans every once in a while. This ensures the longevity of the device and also stops dust from spreading around your home. Once in six months check if all the nuts and bolts of the device are in place.
Never insert glass, paper, metal, cigarette buts, and fruit stickers in your garbage disposal. Once the garbage disposal cycle is complete, rinse the machine with hot water for 10 to 15 minutes, before powering off.
The Final Word
There are several top home warranty companies to repair your systems and appliances. Some of the top companies are:
You must check out what these companies offer before finalizing on one.