How to Reset Your Life and Home this New Year
PUBLISHED: January 1, 2020
•
4 MINS READ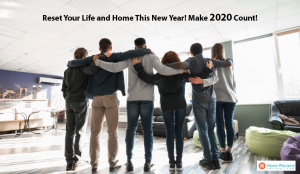 January is the month of new beginnings. It is the perfect time to let go of all the baggage and frustrations of the past and reset your life and home for the future. You can say goodbye to toxic things and people and clear your space for new opportunities and joys.
People make resolutions to improve their lives but come February and it all falls flat. Organizing and systematizing your life and space can help you establish a great foundation for New Years' Resolutions to work. These tips will help set the frame of mind you need to keep up your resolutions.
Declutter your Home and Declutter Your Life This New Year
Have you ever noticed your space getting increasingly untidy as your mind gets chaotic? It is a chicken and egg situation. As you declutter one area of your home or life you will notice the spillover effects on others.
If you have piles of junk lying around, clean them up. Donate items that can serve someone else and discard the broken down things you never got down to fixing. A simple rule of thumb can be "if you haven't thought of it in a year, it may be time for it to go".
Decluttering does not mean only getting rid of things that no longer serve you. You should also remove yourself from toxic situations and people who do you harm. Learn to say no to people and circumstances that are bad for your mental health. It may be hard but pruning dead branches makes you stronger.
Save Time with a Home Maintenance Spree
The last thing you want in the new year is an avoidable conk-out. Even if you have a home warranty covering your home systems and appliances, regular cleaning and maintenance can get the most out of your purchase. 
Devote an entire day to inspecting your home. Clean up your home appliances and check on all the electrical and plumbing systems. Fix leaks. If there are repairs and replacements to be made, contact your home warranty provider and get it over with.
You will have started the new year on a relaxed note, free from worries of your home giving out on you. We have several articles to help you maintain your home and different appliances. 
Set Some Money Aside for Emergencies
If you have not been investing wisely, the new year is the best time to start. Learn about the best options available to you and plan out your expenses for the foreseeable future. Make sure you maintain detailed records of all your expenses and income.
If you don't have a home warranty it would be ideal for you to have a household emergency fund into which you put in some money every month. This will be necessary to pay for the repairs. However, if you have a home warranty, you only have to pay a service call fee, a much smaller amount, resulting in bigger savings.
When you have a plan in place for emergencies, its a lot easier to remain focused on the things that really matter.
Reach out to Believers this New Year
This is a good time to reconnect with the old as well as the new. As you distance yourself from toxicity, make an effort to connect with those who are supportive. Reach out to old friends and family who have always had your back and believed in you. 
You can ring in the new year at home by inviting your new and old friends. All you need is a guest list. Host a barbecue party or a potluck. Service technicians are a call away for home warranty owners to keep heaters, cooking ranges and ovens in perfect order.
Most New Years' resolutions end up forgotten because we don't design our lives to support lasting change.  As long as we are bogged down by bad habits and poor attitudes, we find ourselves repeating the same complaint every December – this year was forgettable!
Begin 2020 with a mindset to capture new opportunities and let go of old traumas. As you align everything in your home and life to further your goals, you will see real change.