7 Natural Ways To Remove Black Mold
PUBLISHED: June 11, 2018
•
6 MINS READ
For all homeowners, black mold is that disgusting black stain that eats into surfaces in your home and affects all your senses. Not only does it smell bad but it looks terrible and can potentially make your entire household sick. Mold and mildew don't come off easily and we need to use bleach immediately to start removing it. There are several mold remedies that will allow you keep the problem in check and rid yourself of the issue.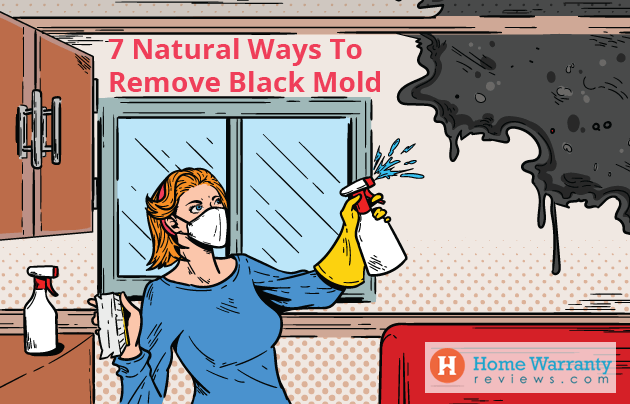 You should look at investing in a mold testing kit that will help you get rid of certain types of mold spores that lurk in your home. Mold spores grow unabated in dark regions in your basement.  They thrive in moist regions, on carpets and when something gets wet and isn't allowed to dry properly then a mold farm will follow.
You should be weary of the fact that it also affects the attic and HVAC systems where ventilation is at a minimum and the HVAC systems are not serviced or regularly cleaned. This is why it's important to invest in cutting-edge and expensive mold remediation methods that will include sand, walnut shells and ice pellets. This will help blast mold away from your basement walls and remove mold that hides in wood sheathing and overhead beams. The best products to get rid of this mold problem are undoubtedly ammonia and bleach products. They help clean hard  nonporous surfaces in well ventilated regions.
You do not necessarily need to use the strongest chemical that you can get your hands on to take on the mold but there are several green natural alternatives that can help you accomplish killing mold at the root level. There are several eco-greens that can keep mold spores away and stop them from growing back in the spots where the ammonia or bleach was applied. A combination of baking soda and vinegar can be a great way to get rid of mold on clothes. In places where the sitting area is dark and is poorly ventilated, these become the perfect conditions for mold and mildew to develop. Also, rain exposed decks which do not get enough sunlight develop mold. This means that you have to constantly fight with these fungi and now you can make sure that your next attack is done with a greener alternative.
Natural Methods to Take on Mold
Here are seven ways of killing mold without damaging the environment or putting your family in danger:
1. Black Mold Removal with Tea Tree Oil


You can remove black mold quite easily with tea tree oil and this has several advantages over corrosives like bleach and ammonia cleaning products. Though tea oil is costlier than bleach and ammonia, it is safer for your family. With a small amount of tea tree oil, you can effectively get rid of mold and your lungs will definitely thank you for this. Acting as a natural fungicide, tea tree oil is effective in killing black mold spores and getting rid of mildew in your home. This will work equally as a cleaner and a mold prevention agent.
The great thing is that it works as a non-cleaning agent because it has antibacterial and antiseptic properties. These tea tree oils are not packaged and hence you will have to check the label before you buy it. It is made from an Australian tree. Use only the amounts that are mentioned on the label and no more. Ensure that you do not ingest tea tree oil as it is toxic if swallowed. When you are working with it, ensure that you wear gloves as it can cause mild skin irritations if it comes in contact with your skin.
Instructions
Mix 1 teaspoon of tea tree oil and 1 cup of water

Shake or even stir it and then add this mixture to a spray bottle

Gently spray this on the areas that have mold and wipe it

If you don't have a spray bottle then you can dip a towel in it and apply it on the mould covered area

As an added precaution, you can add the tea tree oil to the tile grout and around faucets and spouts

Leave this to dry
2. Black Mold Removal with Vinegar


Try using white distilled vinegar to kill black mold. It is inexpensive and a great green alternative when you are working with cleaning small mold projects in your home. Though it can emit a distinct odour, it is very effective. Vinegar has mild acidic properties that are safe to use for everyday mold remediation cleaning. It also has an antibacterial agent that serves well to remove black mold from bathrooms and kitchen sinks. For a short period, you would have to bear with the unpleasant smell that vinegar emits when cleaning the mold. But, this gets dissipated in a few hours. Also, for low costs, vinegar is a fantastic green alternative.
Instructions
You can decide whether you would like to dilute the vinegar or use this white distilled vinegar, simply out of the bottle, to clean black molds

Spray the vinegar on mold stains or do this once you make a mixture of vinegar borax and water solution

If you don't have a spray then you can use a towel to wipe the area clean and allow it to dry

In case the stain does not easily go away when you add hydrogen peroxide or baking soda and vinegar combo. You could use an old toothbrush and some elbow grease to get rid of the problem
3.Black Mold Removal with Baking Soda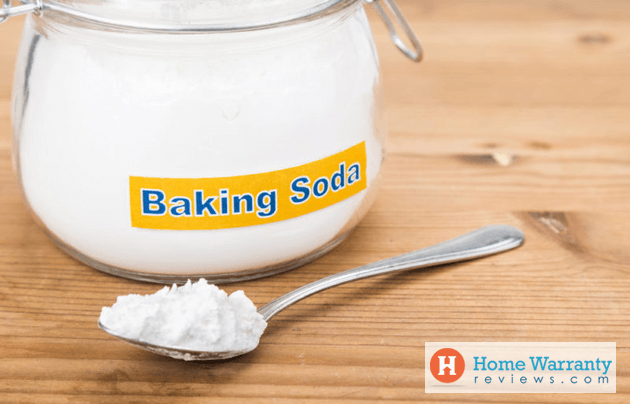 Another novel way is if you use baking soda as a great green cleaning agent. This is a fantastic alternative to using ammonia and bleach. Baking Soda does a great job of eliminating black mold and odors.
Apart from vinegar, baking soda is a great way to naturally clean your home and extremely safe to work with especially if you have pets and children in your home. Apart from removing odors from refrigerators, baking soda can be effectively used in basements, closets, and bathrooms to help prevent mold and mildew odors.
Instructions
Make a 50:50 ratio of baking soda and water to form a paste to fight mold stains and act as a form of prevention from it further cropping up

Apply the paste and let it dry. Here, the baking soda will bleach out the mold stains and dominant odors will be absorbed. This is similar to how it is used in your closet or refrigerator

Scrub all mold stains that remain with a small brush

Wipe away all the mold debris or the paste that still remains

Large areas will require vacuum cleaning with a HEPA filter

Add 2 tablespoons to 2 cups of water and mix well

Pour this into a spray bottle and shake the solution

Spray or wipe the solution of baking soda and water on the same area that was initially cleaned

Let it dry. You will not need to rinse further
You can get rid of small mold cleanups with no more than 1 to 2 tablespoons of baking soda. In case there still mold remaining after spraying the solution then you will have to scrape it off with a small brush or towel and rinse. After this let it dry and the solution once dry will leave a thin layer of protection to prevent this mold growth from recurring.
4. Black Mold Removal With Hydrogen Peroxide


Remove black mold with hydrogen peroxide, it works as a greener alternative to chlorinated bleach. It is not harmful to the environment. Also, since it it non-toxic, it will not leave a residue after use. The solution is inexpensive and produces no toxic fumes. This serves as a great way to fight with its antiviral, antifungal and antibacterial agents. The great thing is unlike bleach and ammonia, it can be used to remove mold from porous materials like walls and clothing.
However, hydrogen peroxide can be used as a mild bleaching agent and also used to spot test areas that need to be cleaned first with excessive bleaching.
Instructions
Make a solution that contains 2 parts of water and 1 part 3% hydrogen peroxide into a spray bottle

Quick apply it and spray it evenly

If you do not have a spray then you can soak it in a disposable towel with this mold killing solution on the mold area

Give the hydrogen peroxide 5 to 10 minutes to sit while it cleans and eats into the mold

With some gentle scrubbing you can remove any stains that remain

Wipe away all mold debris that remove

Allow it to dry
5. Black Mold Removal With Borax

Use Borax, a popular chemical used in household products, as a household cleaner. This has properties similar to fungicides and herbicides that fight mold. It can deodorize, disinfect and clean the mold area and completely fight off mold.
Borax should not be consumed as it is toxic. It does not release toxic fumes or gases that would make it mandatory for you to wear a mask. It is a non-carcinogenic agent that can be classified as a mild skin irritant and hence you should wear protective gloves when handling it.
Instructions
Add 1 cup of borax to 1 gallon of water and mix this solution

Spray or use a cloth to wipe the mold with it

Scrub this region thoroughly with a small brush

Wipe away or vacuum any mold left on the floor or any remnants

Do not rinse after you complete this

Let it air dry and if needed you can repeat the process
6. Black Mold Removal with Grapefruit Seed Extract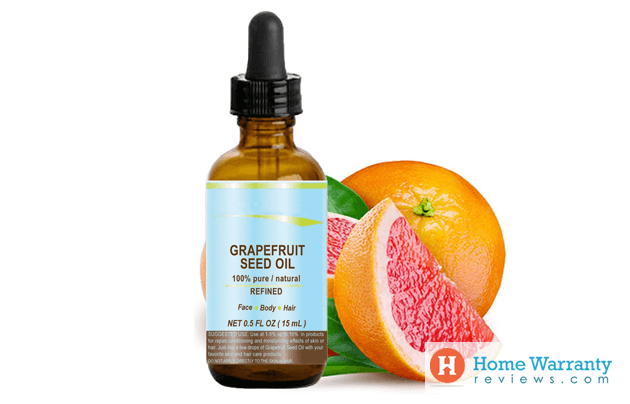 Another green method is by using grapefruit seed extract oil which is similar to tea tree oil. This is a non-toxic and natural green way to remove black mold that is spread across your home. It can be used everyday and works as a deodorizer and disinfectant. Since it is safe, it can be used extensively even in the presence of your family.
This grapefruit seed extract oil can help in black mold prevention. It is a tool that can remove odor. It can be used on a daily or weekly basis and does not have strong fumes. Though it costs more than bleach and ammonia, it can be stored easily and has a good shelf-life as long as it is kept in an air-tight container. After you work with small mold cleaning or prevention then you can even leave the bottle for a future date.
Instructions
Simply combine 10 drops of grapefruit seed extract oil with one cup of water. Then 1 drop of oil per tablespoon of water to maintain the baseline ratio

Pour the contents into the spray bottle and then evenly saturate it on the mold area

Allow this solution to work for at least 5 to 10 minutes and leave it to soak for nearly one hour based on persistent staining

Wipe away all remaining mold residue

Do not rinse or reapply the spray. The acids present in the grapefruit seed extract will penetrate mold growth and prevent mold spores from spreading
7. Black Mold Removal with Borax and Vinegar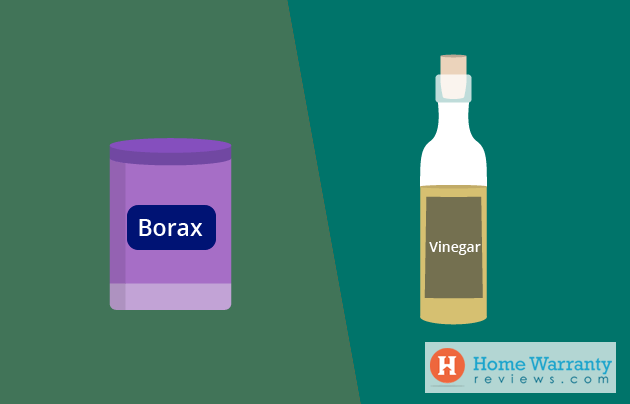 Borax and Vinegar have individual properties which are unique to each and this helps in fighting mold fungi. These mold killing attributes do not cancel each other other but work better when combined. Also, using Borax and Vinegar is environmental friendly and works as a natural mold killer. It does not emit toxic fumes or gases into the air and is great for the environment.
There are many accidents that occur when two or more cleaning agents are added together. This is usually because it works as a stronger cleaning agent but Borax and Vinegar are safe to mix in the right proportion.
Instructions
Add half cup of vinegar with quarter cup of borax and one quarter of warm water

Shake it well

Apply the mixture and scrub the affected areas that need to be treated

Wipe away all the mold debris

If stains persist then you can repeat the process till it all comes off

Leave it to dry
How Can HomeWarrantyReviews Help You?

These 7 natural ways are sure to get rid of all those annoying and harmful molds that are bad not only for your home but also for your health. You should try these green alternatives and choose to safeguard the environment and keep your family safe and out of harm's way. Apart from fighting mold, you should also look at getting a home warranty plan. You can figure out the best plan by looking at reviews and browsing through the award's page to know the industry leaders. These reviews and ratings are based on feedback given from people just like you. What's more is that on HomeWarrantyReviews.com, you can submit your issues with home warranty companies on the Complaint Resolution Program. Within a particular time period, companies will have to reply to your complaints and solve the problem before you go live with your issue. This gives the company and you a fair chance to resolve the issue and ensure that you get the service that you deserve.