Top 4 Tips To Cleaning Your Rooftop
PUBLISHED: November 16, 2016
•
6 MINS READ
Tired of seeing your roof green, stained and covered in leaves or in snow? Of all the home maintenance, spring cleaning, repairs and errands a homeowner is fated to, roof cleaning can be one of the most tiresome. Doing a balancing act on the shingles with a broom, a blower and a hose, scrubbing off algae and making sure you don't have rats and raccoons – it's not a particularly fun way to spend your Sunday mornings. Unfortunately, keeping your roof clean, damage free and well fitted is of utmost importance, especially when it comes to increasing the life of the tiles and shingles and preventing seepage.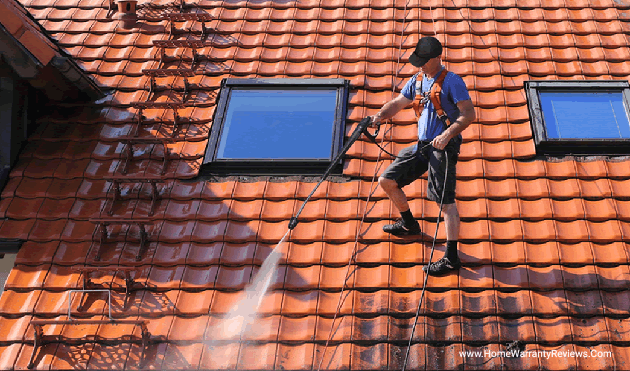 Aesthetics of a clean and shiny roof aside, roofs made of asphalt, wood, tiles or shingles all need to be kept dry and clean if you want them to last a good twenty years or so – and it is recommended to replace them altogether every few decades.
Dangerous Or Just An Eyesore?
For starters, one of the primary issues are algae, moss and other parasitic growths. Being exposed to the elements constantly, it is inevitable that the existence of air and water are more than enough to cause things to grow on your roof. Adding to that, limestone fillings and wood beams act as perfect hosts for mold.
Slowly eating into your fillers, wood and drains, the strength of your roof itself is at risk, not to mention the gaps that will appear and cause leaks and seepage issues for the inside of your home as well.
Identifying The Problem
There are three primary growths possible on the surface of roof – algae, moss and lichen.
If you have noticed streaks and stains of black on your roof, then algae is the issue you have to tackle. Reproducing rapidly as long as they get moisture and sun, they tend to fasten themselves to the shingles and feed on limestone, undoing the secured shingles from their place.
A growth that actually stems from the algae itself, lichen is light green and fundamentally a fungal growth. Though it doesn't hold much water, it does eat away at the top layer of the shingle with time because of its acidic nature.
Last we have moss, a much darker green and dense in appearance. Moss and lichen are much stronger than algae and aren't easily washed off, the former holding water and soil within its structure that may create an environment for even larger weeds to grow on the shingle surface.
How To Fix It
Roof cleaning can be done in one of three ways.
You can choose to go the complete replacement way – which can be expensive and sometimes unnecessary all together. Even if you have the money, know that replacement is not a permanent solution and the shingles will need maintaining whether they are old or new.
Next, you can hire a professional cleaning agency. Pros – it's easy, safety is not an issue as they know what they are doing, and technical expertise will help get rid of the problem for an extended period of time, if not permanently. Cons – of course, it is more expensive than doing it yourself and if you don't check up on how they clean, it is possible that you are being charged for more, or the cleaning is being done with chemicals which will later harm other parts of the house and garden.  
Lastly (and yes, we will tell you everything you need to know on how to do it!) you can choose to clean it yourself. Depending on how handy you are with basic tools, cleaning supplies and a little manual labor, DIY roof cleaning is really that extensive of a task, and it can easily be tackled on a free Sunday morning.
Dos & Don'ts Of DIY Roof Cleaning
Tip 1: The Right Time
Not humid and yet not too hot and sunny, pick the right day to climb up and scrub your roof clean. Humidity or a slight drizzle can make the roof slippery and unmanageable, simultaneously washing off the cleaning agent before it can work its magic. On the other hand, a hot and sunny afternoon can make the solution dry too fast, again not allowing it to act.
Tip 2: Safety Before All Else
If you haven't done it before, you should know that walking around on a sloped shingled surface can be an art in itself. Before you worry about the right cleaning agent and scrub to use, make sure you have a sturdy ladder and preferably someone to keep watch, non-slip boots with a good grip and maybe even knee pads.
Cover up to save yourself from unnecessary scrapes, cuts and insect bites, especially since the chances of rusted metal nails and clasps are rather high.
Tip 3: A Quick Sweep
Use a simple broom to clean off the leaves and large debris that has collected on the flat areas and in the drainage points of the roof, letting you get a better look at what's underneath. Don't try using a rake or any sharp implement as that can damage the shingles, and make sure to sweep in the same direction that the shingles are laid, so as to make sure you don't land up raising them in the process.
Next, get on work-gloves and clear off the drains, running water through them if necessary.
Tip 4: Choosing The Right Cleaning Solution
This will require a little bit of research, a knowledge of what material your roof is made of and filled in with, and what is causing the damage.
Not wanting to do this every few weeks and have the product at least last a year, it is a good idea to invest in a product that handles algae, moss, weather wear and tear, and damage because of the elements. Additionally, you can choose to coat your shingles or use zinc strips.
If the product sounds too good to be true, then it probably is – cleaning solutions and sprays that claim to solve all your roof damage problems with one swift coat for example are not an option. Pick a solution that is environmentally friendly and doesn't cause long term harm to the hard wood beams or plants in your garden.
Another way to go is make your own, saving you money and allowing you to control exactly what is going into the cleaning process. One recipe is a mixture of heavy duty bleach (not the one that is for domestic use, but instead the one that you'll find in a hardware or pool store), dish soap to thicken the bleach and act as a cleaning agent, and hot water to bind it all together. Use a simple garden spray tank to hose the roof with the solution, and wait for it to dry onto the shingles completely. Once dry, then hose it off with just water to make sure all the chemical is washed off.
Not All At Once
You'll have to be there in person for the entire process, and besides the fact that the roof is sloped and shingled, you are now adding a soapy solution to the mix – a recipe for disaster if you don't do it right!
Make sure you do one section of the roof at a time, allowing it to dry, be hosed off and dry again before you move to the next section, giving you dry ground to stand on as you move.
The Last Step
Once you're done, zinc strips can help keep the shingles clean and sparkly for extended amounts of time – some may even say forever! Cost efficient and not too difficult to install, zinc strips fitted to the top of your roof cause metal ions to flow down the surface of the shingles when it rains, killing the lichen and algae and keeping the roof damage free.
More Than Just Cleaning
DIY tips and tricks, maintenance dos and don'ts, and even hiring professionals are all well and good, but even so the bother of service and repair looms over our heads.
While smaller issues such as algae and lichen can be handled right at home, rooftop damage can be a painstaking thing to deal with. From termite infestation to seepage and material damage, one way to make sure you are secure when it comes to such repair costs is Home Warranty.
Functioning much like insurance but with a much wider range of coverage –appliances in your home as well as the structure of the building itself – Home Warranty takes responsibility for all your repair needs.
Get your own estimate using the Home Maintenance Calculator on the HomeWarrantyReviews.com website and get an approximation of how much your home will cost you in repairs, just by feeding in a few simple details. Giving you a comparison between the cost of Home Warranty and that of maintaining it yourself, warranty keeps you prepared for unexpected servicing costs and keeps you covered when it comes to tasks you cannot always do yourself.