Top Swimming Pool Remodel Ideas
PUBLISHED: November 21, 2018
•
6 MINS READ
In most homes, the swimming pool is the center of attraction for most backyards. But, in time, families can outgrow their pools. This would lead to extensive repairs and modifications. So instead of tearing down the pool and building a brand new one, you can choose to remodel it.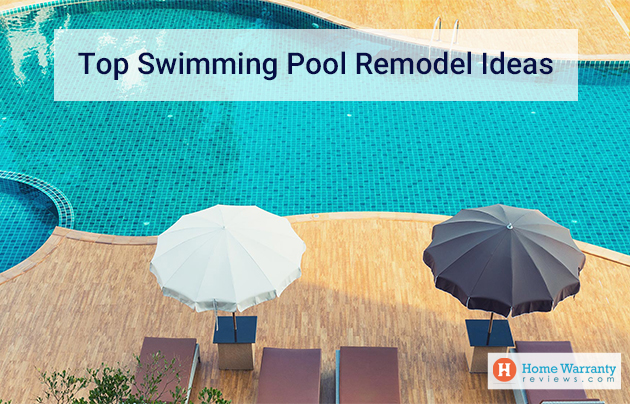 This would make sense to remodel rather than replace the entire pool. But there would be a lot of planning and work involved in the process. This makes it imperative that you hire a professional to do the expansion. But before you look at any major renovations, here are some remodeling ideas to make your pool look simply amazing:
1. Underwater LED Lights
With underwater LED lights, it can be programmed to match your mood. The best part is that they are energy efficient and the light is enough to light up a deep pool area. You can also install a logic controller to fine tune the color and intensity of the lights. Do some research and educate yourself about the installation.
2. Glow in the Dark Mosaic Surface Tiles
All you have to do is turn off the porch lights and enjoy a peaceful swim with glow in the dark surface tiles. After a full day of sunlight, tiles like these can give off up to 6 or 8 hours of glow! You would be surprised to find that these tiles are not expensive but you should resurface and replaster the pool during installation.
3. Gas Powered Fire Pots
When it comes to creating a welcoming outdoor living environment then it's all about the lighting. A few things like a metal bowl eternal flame style fire pots would be able to transform even the dullest setting into a beautiful place of refuge. In order to get the right effect, you might want to go with the proper placement.
4. Wood or Gas Fire Pits
If you do not like fire pots then you will love a fire pit. The main thing is that it is more practical and utilitarian in purpose. Unlike firepots, the size and location of the fire is suitable for socializing, roasting, and keeping warm. These fire pits are always lined in stone which makes it look really good.
5. Rockface Waterfalls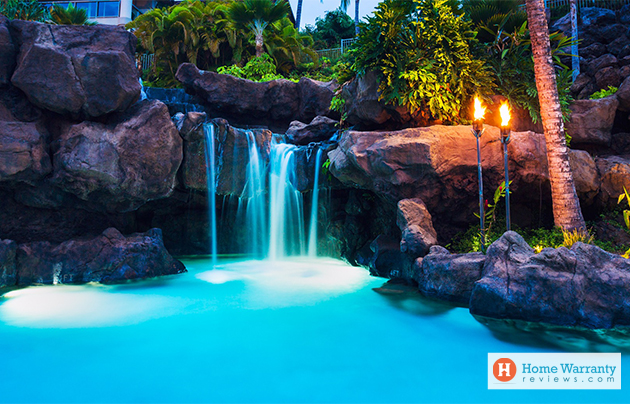 You can get that fresh outdoor feeling with a rock face waterfall. It depends on you whether you like still water or whether you would like to see some moving water. Fountains can be another option but we recommend waterfalls to keep a nice calm water cycling circle.
6. Stone Decking
When it comes to appearance, the most impactful thing would be to replace the decking. This is where a custom stone deck is worth the upgrade. Based on the layout of the pool, the stonework may go all the way around the pool or may taper off (less expensive) into just coping around the borders. Choose one that is most appealing and get the right professional to help set it up.
7. Pool Pavers Decking
A great decking option is used as an alternative to natural stone. You will discover several material options for pavers. Now you can choose large sizes available in the market instead of those houndstooth and herringbone patterned on walkways. This gives an upscale look with colors that come in all shades of neutral and even with natural patterns like sandstone swirls.
8. Beach Entries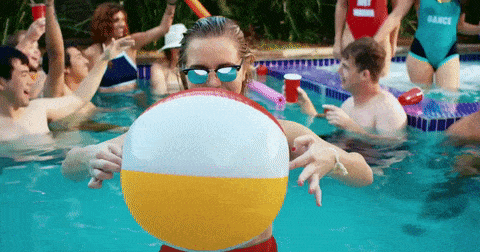 If you have a dream of slowly wading out of your pool then you should have a beach entry. This includes sloped walkways which make the perfect place to partially submerge a lounge chair. A beach entry is a prime renovation project to couple with other upgrades you've been thinking about like a new pool deck, resurfacing, or installing new coping and waterline tiles.
9. Glitter Grout
This is a metalized colored glitter that can be added to the grout prior to its application. With tasteful planning and moderation, it can add unique special effects to particular areas of your pool or spa. Connect with design consultants that can give you some ideas on how to go about this.
10. Pool Theatre
You can choose a pool renovation project but one mega-project that you cannot pass off is a pool movie theatre. Based on how you go about it, you can simply wall mount a flat screen under your patio, or go all out with a projector screen. The biggest issues with both are keeping electronics dry in damp environments. After adding the pool theatre, you could also add a gazebo.
Things to Know When Doing Swimming Pool Upgrades
Here we look into the individual items that you should review before you go ahead with a pool remodel overhaul. From choosing the tiles, paint, costs and the uses, you should know what you are getting yourself into before you head out for remodeling improvements.
Pool Deck Tile
The most crude looking swimming pools are concrete pool decks. A pool deck tile is a perfect way to cover up that terrible bit of concrete and give your backyard the sophisticated look and feel that you have always yearned for. With interlocking tiles, pool deck tiles are laid down on top of concrete, pea gravel, and other hard packed surfaces. As long as there are not many bumps in the ground, they can be laid even on the ground as well.
These pool decks come in a variety of colors and patterns. This includes hardwood patterns as well. Usually, the wood is affixed to a polymer base for stiffness and durability. To accommodate for the curvature for the pool, the square tiles are measured and cut with a jigsaw.
Pool Deck Paint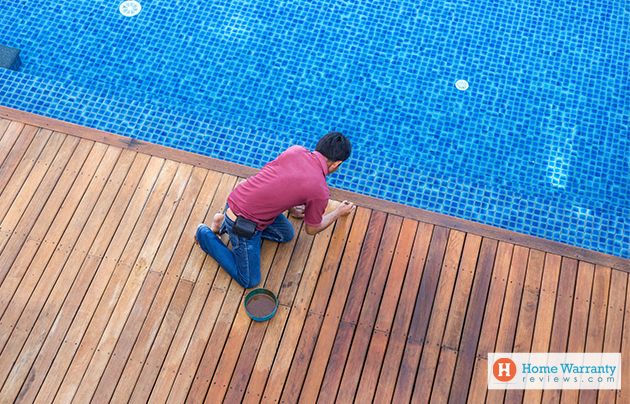 You can dress up your concrete pool deck with pool deck paint. There are several advantages that you will get using pool deck paint. The first is UV protection where the paint protects from the harsh rays of the sun and the damage that it causes over the years.
Weather protection is another where the pool deck is protected from harsh temperatures to the deck and by painting the surface, it will keep the elements away. The next is that they look really good and it can be customized to match the decor and your home colors. Finally, it has a non-slip surface which has non-skid properties and ensures that paint is mixed with sand and pumice before applying it.
Most pool deck paints are acrylic and clean up in the water. These solutions are cost-effective and durable and this can be an easy do-it-yourself project.
Labor Costs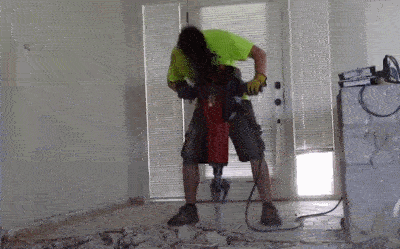 Well, at some point in time you would want to think about the costs involved. That's why the first thing that you should consider is how much it costs to hire a professional. There are several things to keep in mind when determining labor costs. You should know that an in-ground pool with a leak will need to be resurfaced. This would require excavating services that would be added to the cost of labor. While an entirely new and remodeled pool would have considerable labor costs as opposed to just replacing a liner or fixing cracks or breaks.
For a huge project, it would require a team of professionals and costs hundreds of dollars to the overall work order. In case the pool is in-ground or above ground and has a liner then the cost of the liner, as well as the additional features, will be added to the final cost.
Additional labor will likely have to be budgeted in as well. Also, landscaping would be part of the overall remodel project. Similarly, the cost of landscaping would increase the costs and preparing the ground for plants and trees will be a bottom-line factor of the final work order cost.
Materials and Cost
If there are materials involved to remodel a swimming pool then it can vary greatly based on the homeowner's vision. There are several times that there are simple pool resurface for in-ground pools or replacing old and worn out tiles and patio fixes with updates pieces.
Repairs involve patching holes or replacing broken or loose trims. At times, resurfacing would be a viable option. You would require re-grouting, repairing and polishing to complete work. This would give the pool an instant facelift.
While in an above ground pool, a remodel material would replace the old liner which is outdated. This could because of color fading or the risk of rips or tears. Additional remodel materials may require using natural stone to create a new surface area around the pool or to create a fountain or other centerpiece.
Again, some homemakers try to switch from standard concrete patios to travertine patios and paver bricks. You should know that the more natural and updated appearance would increase the overall home's value.
Advantages of Remodeling Your Swimming Pool
The main advantage is to revamp the look of the pool and backyard without replacing the entire pool. This cannot be the case with all pools but most homeowners would rather keep the project cost effective. While pool remodels can save homeowners thousands of dollars, it can also give them so many options to choose from instead of reconstructing a pool. They can choose to accessorize, cut costs and choose to spend more on things that will make the pool more aesthetically appealing. You should also consider changing or servicing the pool pump from time to time.
Disadvantages of Remodeling Your Swimming Pool
Pool remodeling is mostly labor intensive and it's important to hire skilled professionals that are qualified to make the right changes. A remodel would mean working with the existing structure and this would help identify the liner or the pool wall that needs to be identified when it is reused.
It is also important for them to note any problem with the mechanics of the pool and the surrounding structure. You should know that if the project fails with remodeling then you are back to square one. This can be a costly expense and can be avoided by hiring a professional with an excellent track record.
Uses
Pool remodels are recommended when the pool and structures are in good condition. On the contrary when remodeling turns into a replacement, then it could be extremely expensive. This is why contractors usually note what customers want from their remodeling project. Replacing the liner would change the look of the entire backyard. New designs and styles would alter the appearance and color of the pool. This would make it more attractive and polished space.
Additionals could include a hot tub, built-in swim bar, patio, waterfall, and other accessories. While cost is not just a number it should be considered when looking into a pool remodel. However, if the remodeling meets all the check-boxes in your design list then you should find a contractor and see if there is a company that will help create a new backyard space too.
Why You Need a Home Warranty?
Ever wonder what you would do if you had recurring pool problems? It would probably be a costly affair to fix and after doing a whole makeover, it would be unfortunate. This is when you should opt for a home warranty. It would help cover appliances and systems and things like your swimming pool from issues that could end up burning a hole in your pocket based on repairs. Also, you would be able to ensure that you could connect with the right technician who is just a call away.
However, what you need to keep in mind is that not all home warranty companies cover swimming pools. Companies like American Home Shield, Select Home Warranty, and Choice Home Warranty offer swimming pool coverage in their optional coverage. Ensure that you check which plan you are selecting and read the fine print before you invest in it.  
So, what do you gain with a home warranty?
You should know that 66% of all homeowners report at least two major items that breakdown in their home in the first year of ownership. Also, 90% of home sales have a home warranty included in states like California. For a home warranty that costs between $350 to $500 for a year, you could have several covered appliances and systems that can be repaired. Additionally, you will require to pay a flat service call fee for every repair. You should know that they charge you for every call so you should be careful. The best part is that you are just a call away from a service technician that will help repair your covered appliance. The most important reason why people get home warranties is to have peace of mind.