Why Your Garage Door Won't Open?
PUBLISHED: January 29, 2020
•
4 MINS READ
Your garage door opener is a device that controls the opening and closing of your garage door. If this device is damaged, it will affect the functioning of your garage door. With the winter season in full swing, there is a higher probability that your garage won't open due to the cold winds and snows.    
There could be several problems with your garage door, and the source of the problem could be in several areas of the device. Either your garage door won't open all the way, or maybe your garage door opener won't open manually.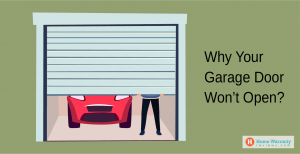 There could be a lot of reasons why your garage door won't open.
Let's take a closer look at these reasons
No Power In the Operator
If the operator of your garage door receives no power, it simply won't open. A lot of times, the operator is dysfunctional due to an unplugged power cord. There could also be severe problems with your operator when the fuse is blown, or the circuit breaker is not sending power to the operator.
Problems with your circuit breaker or fuse should be handled by a professional only

If you are facing any issue with your outlet, you should call a technician immediately
Blocked Photo Eye
The photo-eye of your garage door consists of two pieces that align each side of the garage door. If there is an obstruction, that the photo-eye detects your garage door won't open all the way, and it will also not close properly if there is any obstruction.
Even a thing like a pencil or rubber is considered an obstruction for photo-eye

All you need to do is get rid of the blockage for your photo-eye to function smoothly 
Damaged Springs
If you find that your garage door is not opening, but the motor is running, there is a problem with the springs. The springs on your garage door might be damaged, or dust may have accumulated on it. This is when it needs to be changed. 
Every spring on your garage door has a maximum number of cycles that it can function for. If the spring on your garage door has completed its cycles, it needs to be replaced.
If you notice a broken or damaged spring do not manually attempt to open your garage door

It's vital to contact a technician to help you deal with your problem of damaged springs
Remote Transmitter Batteries
The batteries in your remote transmitter may have expired. If the cells came pre-installed with your remote, all you need to do is replace these batteries with new batteries. 
Always make sure to align the batteries properly inside the remote

You may require a screwdriver to remove or put new batteries in the remote
Sensitivity Not Adjusted
A lot of times, your garage door won't open fully due to a problem with the sensitivity in your garage door opener. Make sure to adjust the sensitivity in your garage door opener at the time of installation.
Your limit settings make sure to include the height and size of variables for different garage door openers

If you are not sure how to adjust the sensitivity settings always call a technician
Save Yourself From Unexpected Breakdowns
A garage door opener is quite a delicate device, which can breakdown at any given point of time. Instead of spending several dollars on repeated repairs or a replacement, invest in a good home warranty that covers garage door openers thoroughly.  
The plan you choose will also protect other critical devices in your home, for the same premium. All you have to do when something stops working is call the home warranty company.
Get your free quote today and start saving tons of money.