American Home Shield vs Choice Home Warranty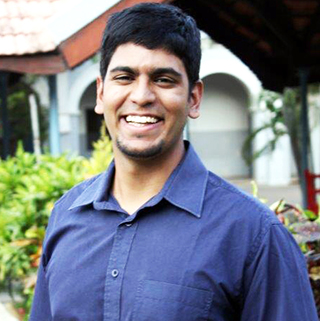 By Steven De Nazareth
Updated: October 29th, 2019
Choice Home Warranty and American Home Shield are home warranty companies that have national coverage. These companies are known for working with independent contractors all across the US and round-the-clock service. Read on to find out about all the best home warranty plans provided by these companies.
Comparison of AHS vs Choice Home Warranty
American Home Shield
Choice Home Warranty

Deductible

$75 – $125

$60

Plans available

Appliances Plan
Systems Plan
Combo Plan


Build-your-own plan

Basic Plan


Total Plan

Service recall period

60 Days

30 Days

Availability

All states except Alaska

All states except California and Washington

Support

A 24-hour online claim system

24-hour call center for claims

Customer satisfaction

American Home Shield reviews

Choice Home Warranty reviews
Compare Home Warranty Coverage – AHS vs Choice
Here, we will be comparing the best plans by American Home Shield and Choice Home Warranty. AHS has made $2 billion in claims paid since 2013.
Both the American Home Shield and Choice Home Warranty plans cover major systems and appliances. Home systems include heating and cooling, ductwork, electrical, and plumbing. While major appliances include refrigerators, dishwashers, microwaves, ranges, garbage disposals, washer/dryers, water heaters, garage door openers, and ceiling fans. Also, the optional coverage includes items like pools and spas, well pumps and septic systems.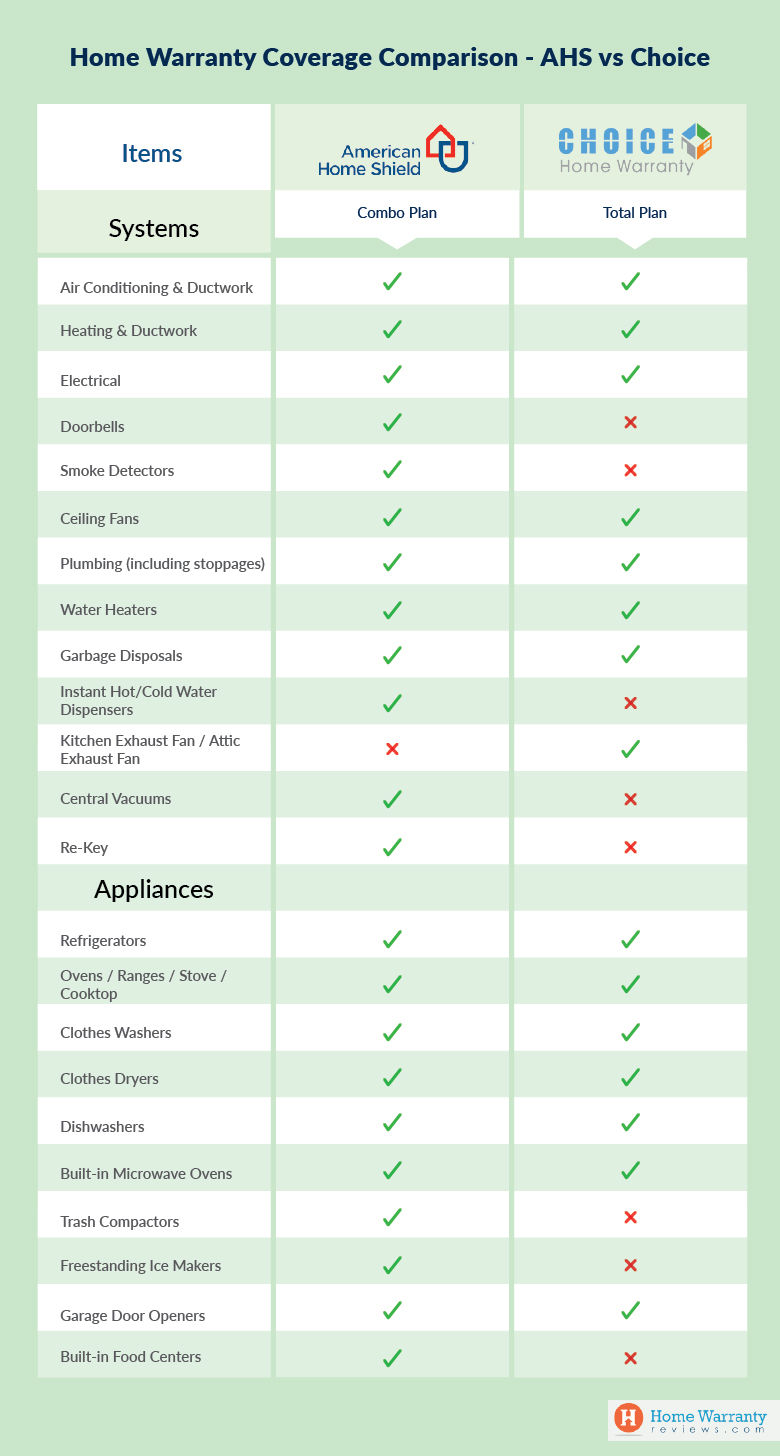 American Home Shield coverage: AHS covers more items than Choice Home Warranty. Items like smoke detectors, rekey services, doorbells, instant hot and cold water dispenser, built-in food centers and ice makers. Additionally, American Home Shield provides coverage for guest units under 750 square feet.
Choice Home Warranty coverage: Choice Home Warranty offers items like a whirlpool bath and exhaust fans which are not covered by American Home Shield. Additional coverage includes second refrigerators, limited roof leak coverage, and stand-alone freezers.
Compare Home Warranty Cost – Choice vs American Home Shield
Though yearly premiums vary based on plans, American Home Shield averages at $622.50 and Choice Home Warranty comes to about $586. The average deductible for AHS is $84.90, while for Choice Home Warranty, it's $51.27 based on insights from our website.
| | | |
| --- | --- | --- |
| | American Home Shield | Choice Home Warranty |
| Average yearly cost | $622.50 | $586 |
| Service call fees | $75 – $125 | $60 |
| Appliance benefit limit | $1.5 K to $3 K | Up to $1.5 K |
| Systems benefit limit | $1.5 K to $3 K | Up to $1.5 K |
Good vs Bad of Choice Home Warranty
Great Stuff
Minor Drawbacks

Reasonable deductible

Custom list of covered appliances and systems

Customer representative teams

No home inspection needed

Restrictive coverage at times

Full refund only within a 30-day limit

Cancellation charges of $50 as an administrative fee
Good vs Bad of American Home Shield
The Good
The Not So Good

Choose from several plans

24/7 customer support

Easy monthly pricing

Founded the home warranty industry

15,000 high-quality contractor network

Few contractors have serviced inadequately

Contractors work only within business hours

Trade call service fees needed

Certain contractors have negative reviews
Compare Home Warranty Companies
How Does American Home Shield Work?
American Home Shield has a 12-month contract and you start by choosing the plan and what service call fee you are willing to pay. Once you pay the first month's premium there would be a 30 day waiting period before the home warranty kicks in.
After the home warranty is active, if you have an appliance or system that breaks down, you then call or submit a claim online at any time. The contractor will only connect with you during business hours.
NOTE: AHS allows the policy to transfer to your new home once you move in.
Once the contractor arrives, you will have to pay the service fee on their arrival and this fee is based on what you agreed when you signed up. The contractor will diagnose the problem and they will have to contact AHS to verify that the policy covers the identified problem and only after this step gets approved will the contractor start working on it.
How Does Choice Home Warranty Work?
Once you sign up for Choice Home Warranty, you would have to determine the plan and whether you would want additional coverage. After deciding on the type of plan, you would pay your first month or year's premium.
You will have to wait for 30 days before the coverage starts for the policy to come into effect. If there is an issue with your appliances or systems then you would have to call Choice Home Warranty's 24/7 claims number to report it or submit the claim online. A technician will diagnose the problem, resolve it and ensure that if it is irreparable then Choice Home Warranty will arrange for a replacement or reimbursement. You would have to pay for the service call and everything else will be taken care of once the claims are accepted based on pre-existing conditions.
What Makes American Home Shield Stand Out?
Founded in 1971, American Home Shield is a pioneer in the home warranty industry. It is available in almost all states except Alaska and has a massive contractor and technician network. It has a short waiting period after the initial payment of the premium. There is no need of a home inspection before the policy is approved.
What Makes Choice Home Warranty Stand Out?
Choice Home Warranty has a great customer service team and they review complaints and negative reviews. This ensures that there is high customer satisfaction and that the service complaints are met.
Though they are quite the newbie to American Home Shield, Choice Home Warranty allows for additional coverage for selected items. Though there is a little flexibility in respective plans, the add-on capability for appliances and systems are excluded in most policies like roof leaks.
What Would You Choose? AHS or Choice Home Warranty
Both AHS and Choice Home Warranty providers offer comprehensive home warranty plans that aim to give you peace of mind for a majority of appliances and systems. Choice Home Warranty and American Home Shield are ranked as third and first on HomeWarrantyReviews.com based on the reviews that we get from customers just like you. So choose wisely!
Choice Home Warranty – Low Prices: Save up to $100 a year with the comprehensive Choice Home Warranty plans. These plans offer limited roof leak coverage which most plans do not offer.
American Home – Complete Package: Get more in-depth coverage that enables your home to be well protected. AHS covers almost all states in the US and has the unique plan of 'Build Your Own Plan' which really makes a difference for those that want more for their buck.
Did you find this article helpful? YES | NO
Thank you for your feedback!
Sponsor
Featured
Disclaimer : We get paid from our Advertising Partner for this listing.
Free one-month coverage on purchase of single payment plans
Over 11 years of experience in handling more than 250,000 service requests
One of the few companies that offer coverage for roof leakages
Covered over 1,000,000 homes across the country
---