How to be Smart When Choosing the Perfect Home Warranty?
PUBLISHED: April 28, 2020
•
4 MINS READ
It is economical to buy a home warranty, but, choosing the right one is not an easy decision. There are numerous players in the home warranty industry. Several companies offer competitive plans with amazing deals, which makes it difficult to choose the perfect home warranty. This detailed post will assist you in choosing the ideal warranty for your home. 
Before buying a warranty, you should know more about it. When your systems and appliances breakdown due to normal wear and tear, a home warranty protects them for a period of one year. All you have to do is call up customer care or file a claim online, and they will send a technician to repair or replace the device.
It is a good idea to purchase a warranty to protect your devices, as they can breakdown at any time, and getting hold of technicians can be difficult especially in circumstances like the COVID-19 pandemic. 
Now let's take a closer look at what's covered under a home warranty.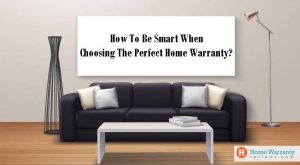 What is Covered Under a Home Warranty?
Regular devices such as your refrigerator, dishwasher, ceiling fans, garbage disposal, garage door opener, trash compactor, smoke detectors, etc, are covered by home warranties. It is advisable to always research thoroughly before choosing a home warranty.
How Much are Home Warranty Plans?
Warranties cost customers between $299- $500 per year depending on the company and plan one chooses. Customers are also required to pay a service call fee of $50- $100 based on the company they choose. This service call fee must be paid each time a technician visits. 
Here's How To Be Smart When Choosing a Warranty
Decide How Much Coverage You Need
While choosing a perfect home warranty plan, look at your home and decide what devices need to be protected. If you have recently bought a home, you can opt for a basic coverage plan. Older homes will require comprehensive coverage, and one should opt for a complete protection plan. Always asses your needs and then choose a plan. Warranty companies offer different plans for the varying needs of homeowners.
Check the Service Fee of Each Company 
Different companies offer deductibles and varied prices. Make sure to always check this fee before signing up for a contract. Choosing a company that charges a smaller deductible can save you money. 
Examine the Coverage Limits Amount
Warranty companies have an upper limit to the amount of coverage to repair or replace devices. If one exceeds this amount during the contract term, they are required to pay this amount when a device needs to be fixed. 
Read the Fine Print of a Contract 
Everything important about your warranty will be mentioned in your contract. Read the fine print to check for things like service call fee, coverage limits, annual cost, what's covered in your plan, etc.
Verify if your Devices Already Have Protection 
When you purchase a new device it comes with a manufacturer warranty. Check the duration of your warranty. Some credit cards offer warranties with device purchases. However, this protection will run out at some point in time. You must then assess whether you need to protect these devices for the future.
Lookout For Discounts 
Many companies offer discounts at different times. Always be on the lookout for this. Concessions may be available in different seasons or during various holidays. 
Warranties While Buying a Home
If you are planning to buy a new home, look out for free warranties. Several sellers offer free home warranties for one year to boost the market value of their properties. If you come across one of these deals, you should definitely consider it. 
Advantages of a Home Warranty
No Chasing Technicians

Saves Money in The Long Run

Additional Coverage Options

No Hidden Expenses 

Value of Property Increases
Final Words
Thoroughly analyze which devices need to be protected in your home. Once you have decided, choose a perfect home warranty plan that fits your needs. Some of the top companies offering coverage are American Home Shield, The Home Service Club, Select Home Warranty, Choice Home Warranty ServicePlus Home Warranty, etc. You can also get your free home warranty quote right here.