Review on PSE & G's WorryFree, NJ Service
PUBLISHED: April 27, 2014
•
3 MINS READ
Public Service Enterprise Group (PSE&G) is an energy company headquartered in New Jersey. They also have a host of products meant for homeowners across NJ. Here, we will be reviewing their appliance repair services.
WorryFree is an appliance protection plan covering a range of heating, cooling and appliance repair/replacement services. The protection plans are offered by PSE&G to New Jersey residents. The company claims that customers who move to PSEG Worry Free service, experience peace of mind and budget protection.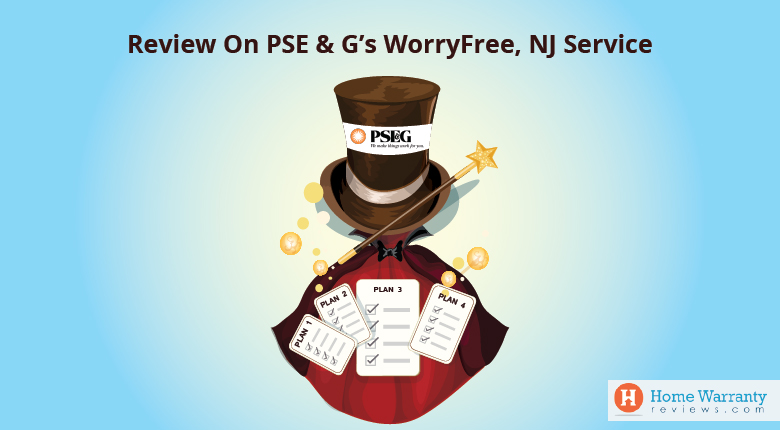 Services Included in the WorryFree Protection Plan
Repair services when an appliance breaks down.
Replacement services when it is time to buy a NEW heating, cooling or water heating equipment.
Contracts for household appliances when you wish to enhance your coverage.
Repair services
The company is said to have a large team of skilled contractors who provide efficient repair services. Here is the list of heating and cooling devices WorryFree PSEG plan repairs for you.
Gas Furnace/Boiler repairs
Central Air Conditioning repairs
Gas and Electric Water Heater repairs
Refrigerator repairs
Gas and Electric Range/Stove repairs
Dishwasher repairs
Washing Machine repairs
Gas and Electric Dryer repairs
Gas Grill repairs
Gas Pool Heater repairs
Gas Outdoor Lamp repairs
Gas Fireplace Log repairs
Gas Space Heater repairs
Heat Pump repairs
Ductless Heating and Cooling System repairs
To schedule a repair service, customers can simply visit their website and place a call to the customer service center number provided onsite. After providing all the relevant information, the representative will then schedule the appointment at the earliest.
Replacements services
All NJ customers receive replacement services when they sign up for the WorryFree plan. To avail this service, customers must call up the company to get a free estimate and information about the various replacement options. Customers may even qualify for N.J state pse rebates up to $900. For further details, readers are requested to visit their website.
Business protection services
PSE and G also offers business protection to N.J. business customers. A PSEG WorryFree Business Heating Protection Plan is said to be one that provides fast service when you are in need. It covers your water heater (gas) PLUS one gas boiler furnace OR one rooftop gas heating unit.
The company claims that you can avail additional benefits like the following:
Dependable coverage for repair service and certain parts that manufacturers' warranties often omit.
Zero deductible or labor charge to replace covered parts.
Zero price increases because your appliances are aging.
No exclusions based on make or model.
Fast response for repair work from New Jersey's largest fleet of appliance repair trucks.
Online account access and scheduling – 24/7!
PSEG Worry Free Review
Reviews and feedback reported about the WorryFree plans by PSE and G are mixed to positive, with positive reviews being reported more often. Like most companies that sell home warranty services and products, PSE and G too will have their own set of hurdles. On the whole, the plans seem to be as good as warranty plans provided by other reputable companies. However, since warranty needs vary from person to person, only a customer can make a choice on whether the plans are suited for his needs or not. We suggest that our readers visit the website of PSE and G to gather further information about their plans and services before you make a purchase
Contact PSE and G
Official website: pseg.com
PSEG worry free number: 800-4367734
Address:
35 Journal Square Suite #2, Jersey City, NJ 07306 (corner of Bergen and Newkirk St.)
317 George St. New Brunswick, NJ 08901