Should You Use A Service Like American Home Shield?
PUBLISHED: May 24, 2020
•
5 MINS READ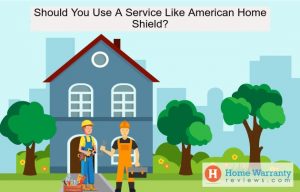 American Home Shield is the pioneering home warranty company in the business. They were established in 1971 and gradually spread their service coverage nationwide. They offer a variety of plans and services to suit all kinds of homeowners. When you think about whether you should use a service like American Home Shield, its a matter of wisely spending your hard-earned money. What can a service like American Home Shield do for you?
Here's Why You Should Use American Home Shield
The Benefits Of A Home Warranty
The prime reason for choosing home warranties from pioneering companies like AHS is that they help you save money. A home warranty is a service contract for discounted repairs and replacements in exchange for a nominal payment of a premium and deductible. It is meant to take care of the unexpected breakdowns of appliances as they undergo regular wear and tear.
You get the following benefits:
American Home Shield takes up the trouble of finding a reputed service contractor and scheduling a service visit to diagnose and repair your system component or appliance.

The trade service fee or deductible will cost much less than the price of parts replacement and a contractor-for-hire's fee.

If you are not satisfied with the service you can ask American home Shield for resolution.

American Home Shield has a Build-Your-Own-Plan option should you not find the other plans suitable. 

You can get your home covered if it is on the market looking for buyers. You will be relieved of the liability of paying for post-sale repairs and replacements.

You can choose the deductible amount you are comfortable with paying per service visit and the premium will be adjusted accordingly.

The company might enable a replacement of your device if it is deemed to be beyond repair. There is no bar on the age, make or model of your appliances.

AHS-Asurion Electronics Plan is an innovative offering that not many other competitors have. Extended warranty protection can be availed on TVs, laptops, home theatres, battery replacement, smart home devices etc.

American Home Shield adapts to the real-time needs of customers. During the COVID-19 pandemic, they took stringent measures to continue to provide safe services while also caring for the contractors.
Industry Experience From The Pioneer
Though American Home Shield is not the most affordable option out there, it offers some unmatched advantages as the company that started it all. American Home Shield services have been reviewed positively by the users on our platform time and again. Most reviewers praise the quick turnaround on claims requests and the quality of repairs by technicians. The customer support has been consistently rated as extremely approachable and reliable.
AHS has built up a superior network of service contractors over its vast existence. With over 16,000 contractors across 49 states, they are the brand to choose especially if you're moving to a new state, where you may not the regional specialists. They are one of the few companies allowing such a high degree of customization to home warranty plans. This explains why over 1.8 million customers bring business to them.
Their long experience in this market has helped American Home shield develop the smoothest processes for quickly settling customer requests. They have paid out the highest numbers and amounts of claims at nearly $2 billion. 
How To Avail Services From American Home Shield
When a covered system or appliance in your home breaks down, check if you can hazard a guess as to what has gone wrong. Do not try to open up the devices on your own. If you can, then check your contract carefully to see if the specific damage is included.
If you cannot figure it out, don't worry. The next step, in either case, is to call American Home Shield at their 24/7 helpline or file a claim through the login account on the website. The customer representative will schedule a service visit of the service contractor at a time of your convenience. 
You have to pay the deductible when you set the time and date of service visit. 
Keep These Points In Mind
An AHS home warranty brings you great peace of mind and can potentially save you thousands of dollars. However, they cannot cover any and every possible breakdown or malfunction; they specify this very clearly in the service contract. It is imperative that you read your American Home Shield home warranty contract thoroughly.
There are also upper limits to the maximum coverage amounts worth of repairs and replacements they pay for. Once the coverage limit has been reached the difference amount may have to paid by you, out-of-pocket. 
American Home Shield plans covers undetectable pre-existing conditions. Therefore you should properly maintain your appliances and get a home inspection (though its not mandatory) to derive optimum value from your purchase.
Read the American Home Shield reviews to learn more about how they fare with regards to managing consumer expectations. Whether you should use a service like American Home Shield will also depend largely upon the state of your home. If you are still covered by OEM warranty, you may not need a home warranty. But the older your home and its systems and appliances are, the more necessary it is to protect your budget from the unexpected hits. You can take advantage of HomeWarrantyReviews' free quotes to plan out your purchase.