California Fire Causes Significant Damage: 5 Tips To Stay Safe
PUBLISHED: October 31, 2019
•
3 MINS READ
Californians woke up to a fast-moving fire in the wee hours of Wednesday morning. The last week has seen more than 300 blazes break out in the sunny state. The California fire that broke out and forced thousands of citizens to evacuate their homes is called "Kincade Fire." Residents in Sonoma County, among others, were severely affected due to the fire.
The California Wildfire also caused significant damage to the Ronald Regan Presidential Libary and forced citizens to evacuate. As per media reports, high winds, low humidity, and dry vegetation can be a cause for the forest fires." The fire has stretched across 77,000 acres and has damaged more than 50 structures and destroyed more than 250 constructions in the state.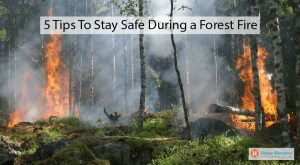 Eric Garcetti, the mayor of Los Angeles, warned residents to listen to evacuation warnings sent out by the fire department. He added, "Get your pets and loved ones and go somewhere safe." As of now, there were no reports of casualty due to the blaze, but more than 2 million people remain without electricity. Currently, more than a dozen fires are burning across the state, with more winds in the forecast. 
Twitter was abuzz with a lot of famous celebrities pledging their support to the people suffering due to the California fire. John Cena, a famous wrestler, shared a video of him pledging his support to all those people who risk their lives to protect people injured or suffering in the fire. 
I'm asking that today on #FirstRespondersDay we do everything we can to help those who risk their lives to protect us all. pic.twitter.com/aJOmO4hkCw

— John Cena (@JohnCena) October 28, 2019
How to Stay Safe During a Forest Fire 
Stay Notified – Check the weather forecast in the region or sector that you intend to go before planning any trip. 
Take Appropriate Precautions – Make sure you have an emergency kit in hand if you're venturing out into the forest.
Report a Forest Fire– If you see a forest fire in your vicinity, make sure to report the fire as soon as possible.
Evacuate Your Home – If the fire reaches your home, make sure to evacuate your home immediately and go to a safer place.
What To Do After a Wildfire – Report all relevant happenings that you have seen during your experience to the officials. 
Evacuation Centers in California
Thousand Oaks Community Center, 2525 N.Moorpark Road

Rancho Santa Susana Community Center, 5005 E. Los Angles Ave, Simi Valley
The Following Roads are closed in California 
The southbound 23 Freeway between Los Angeles Avenue and Tierra Rejada Road

The northbound 23 Freeway between Los Angeles Avenue and Olsen Road

Tierra Rejada Road between Moorpark and Simi Valley
Shelter For Animals 
Earl Warren Showgrounds, 3400 Calle Real in Santa Barbara

Ventura County Fairgrounds, 10 W. Harbor Blvd. in Ventura

Camarillo Adoption Center, 600 Aviation Drive in Camarillo
Wildfires have become a way of life for residents in California, just in 2017, there were 44 casualties due to a forest fire which took place in the state. 
Use of Home Insurance and Home Warranty Plans During Disasters 
A home insurance plan is extremely useful in any uncertain event like a fire, theft, or natural disaster. These insurances cover in case an event like this takes place in a home insurance plan. A home insurance plan also protects you from any lawsuit just in case a third party is involved. 
A home warranty plan, on the other hand, protects your systems and appliances, such as your plumbing and electricals. Home warranty plans also replace or repair major household appliances in case of a breakdown. Investing in a home warranty plan is a wise idea. We've made it easy for you with our free home warranty quote at HomewarrantyReviews.com.