How to Stay Safe in Hurricane Harvey
PUBLISHED: August 29, 2017
•
6 MINS READ
To ensure that the devastation of Hurricane Katrina in 2005 is not repeated, several search and rescue teams have been pressed into action in Texas. Houston has been advised not to evacuate as a state of disaster has been called upon in 30 counties. Residents have even been advised to climb to their roofs to avoid being trapped in their attics. Considering the scale at which Hurricane Harvey has escalated to, citizens are advised to carry enough supplies for the next couple of days. Additionally, you should ensure that downpipes and clogged areas are cleared to ensure that there is a safe passage of excess water. Dallas has opened a convention center to house over 5,000 people. The Texas Gulf Coast has requested its residents to stay protected and not to evacuate.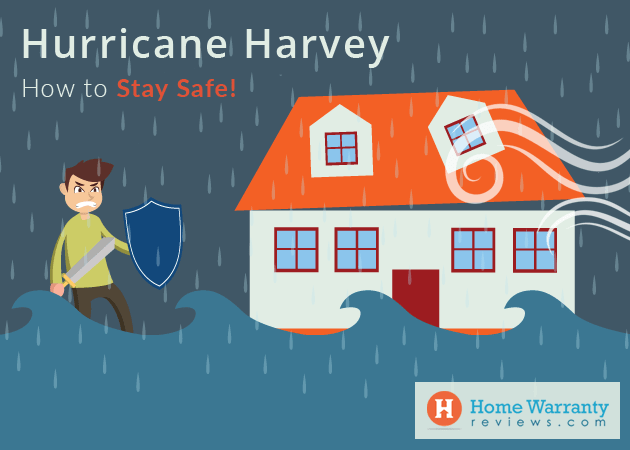 Also, consider the NOAA and FEMA resources to stay abreast with the happenings of Hurricane Harvey. It has strengthened into a class 3 hurricane and wind velocity has increased to over 120 mph as measured at Corpus Christi and Port Aransas.
Which areas are affected?
Click on the image below to review the affected region.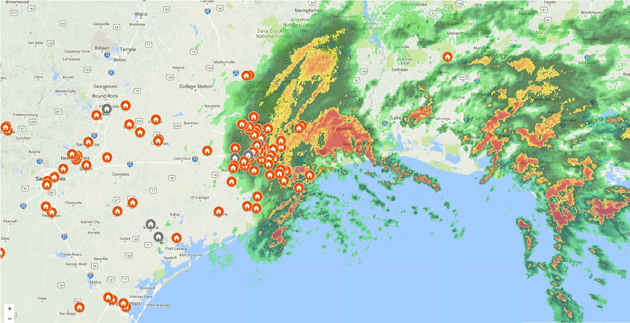 How to Prepare and Stay Safe from Hurricane Harvey –
1. Get Emergency Alerts: Stay equipped with all the information necessary based on date and time to brace the storm. Ensure that your phone receives Wireless Emergency Alerts (WEA) from FEMA through the IPAWS network. These free messages are driven by the local authorities to people in the region of cell towers that are in the affected region. You can also check with the local emergency management center and the public safety office to get clear indications of any warnings in the event of a turn for the worst. Similarly, you should ensure that everyone in your family receives these alerts.
2. Remain Calm: At times, it can be difficult and your nerves could play on you during a storm. You need to plan ahead and ensure that you can instill a sense of hope and understanding, especially with your family members. Make it a point to inform your loved ones on the telephone or online that you are safe and stay in touch with them to guide them through this troubled time. Usually, these hurricanes last a few hours to a few weeks and you should remain confident, calm and composed. This will help nurture a sense of positivity with your family members, especially among the children. A few games or story telling will go a long way in helping you and your family stay calm during this period.
3. Understanding Warnings: In the event of the storm getting murkier, you should know FEMA terminologies like Advisory, Watch, and Warning.
An advisory is issued by the National Weather Service (NWS) when a storm is expected to cause significant damage but it is not life threatening.
A watch is when the NWS issues that there is a possible hurricane within 48 hours on the TV, radio and other news sources to help you stay informed. This would mean that you should prepare to stay safe in a shelter or at home or evacuate the region.
A Warning is issued when the hurricane is ready to strike within the next 36 hours. Follow the instructions in the watch section to evacuate safely in case of an emergency.
4. Be Prepared to Evacuate: At a moment's notice, you will have to evacuate the region and leave for higher ground. Ensure that you have an evacuation plan in place and retrieve the suggested routes and safety fact checks from the Department of Transportation's office or from emergency websites. Review the FEMA mobile app and inform your friends where you are traveling to meet at a designated place so that no one gets separated. Fill up on gas, load your car with all the basic supplies before you are ready to head out and move away from the storm. Get ready to live out of a bag and keep it close to you at all times. Ensure that all your family members carry their own bag and if you don't have one, create a makeshift one to help carry your bare essentials. This will help you carry the necessary items needed to keep you alive and safe in times of need. Make sure you account for everyone and that no one is left behind and be prepared to leave when the authorities direct you to evacuate.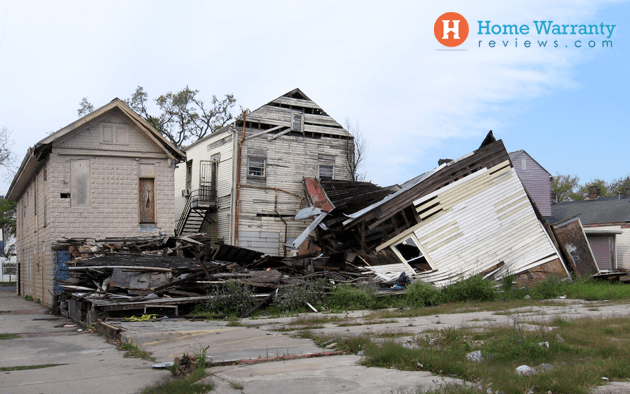 5. Safeguard your home: There maybe times when your home is battered by high winds, heavy rains, and debris. This would mean that your doors and windows need to be reinforced to ensure that they are not ripped off in the wind and make your walls capsize. Make sure that all the doors and windows are covered, especially the skylights and sliding doors. The best way to cover and wall up windows and doors is by installing plywood. Read more about how to stay safe during a hurricane.
6. Take Shelter: In case you decide that you would rather stay put and not evacuate, then you should stay indoors and get safe. You can gather all your supplies, fill your bathtub to ensure that you have water in case your electricity and water supply is cut and keep all your food and supplies at hand. Make sure that you stay away from the windows and doors as much as possible and have them boarded up. Go to the lowest part of the house and be patient and wait out the lull of the storm. This is a precautionary measure as you can never know when the storm would hit. Keep a track of your surroundings and gather all the news through traditional and social methods to ensure that you're high and dry. Check with your local authorities about whether it is safe to venture out and only do once you get the go-ahead.
You can find out about Hurricane Harvey here.
Home Warranty and Insurance
Home Warranty provides support only for natural wear and tear to your home's appliances and systems. Insurance, on the other hand, covers all damages and destruction that occurs during a natural calamity. You can only get your claim when your home warranty contract is:
Paid at its successive intervals and all installments are accounted for

Defined that your privileges cover natural disasters

Assigned to the repair person that you desire based on the contract and the type of company

Allotted to a product/s that are already damaged beyond repair

Deemed for a product that was damaged before the warranty period
You may have to anticipate these housing structural warranty conditions before taking up a home warranty to ensure that your home is secure. Know more about the State of Texas and get quotes on home warranties. Also, you should understand that once you choose an insurance policy, it should be sufficient to cover all damages irrespective of any eventuality. While insurance can help check if your home is prepared for any unanticipated condition, your home warranty can provide minimal repair and replacement as mentioned in your warranty deal. Get to know about comments of home warranty users through their reviews
Affected by Hurricane Harvey? Tell us your story
Hurricane Harvey has been quite devastating to families that reside in Texas and we would like to know how you are keeping safe and sound. So tell us, we're all ears!

Did you visit a shelter?

How are you doing in terms of food and essential supplies?

Are you in touch with your family members and local law enforcement agencies?
Share your experience in the comments and help others that are affected by the storm.