Five Kinds of Warranties that Cover Home Appliances
PUBLISHED: February 15, 2012
•
6 MINS READ
There are five types of warranties plans available such as manufacturer warranty, home warranty, seller's warranty, extended warranty, appliance service contract etc. All the above-mentioned terms are basically protection policies of your household appliances. All these warranty contracts are slightly different and we will get into them in just a moment.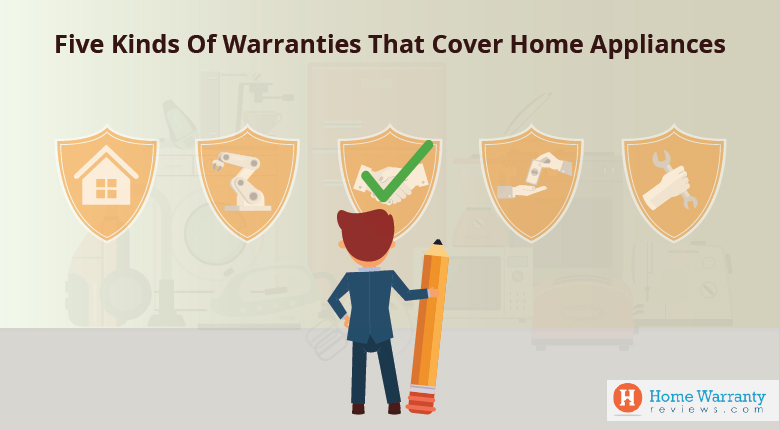 Home Warranty
Home warranty is a service contract on your home appliances and this home appliance covers repairs and maintenance of household machinery. Home warranty plan takes care of repair and replacement of all your insured appliances by the qualified service provider. This plan is also referred as:
Appliance Protection Plan
Appliance Service Contract
Home Maintenance Plan
Home Protection Plan
Household Appliance Warranty
Appliance Repair Service
Manufacturer's Warranty
One of the basic things people look for while purchasing any appliance or gadget is the warranty. A warranty is a kind of assurance provided by the manufacturer for the product and if the item does not meet the expectations then the insurance provider is bound to repair or replace the product within the stated warranty period. The standard coverage is generally for the period of one year. A warranty is a legal binding which means if the seller does not stick to their words, then you can legally file lawsuits against them.
These days all the online stores and offline stores are providing manufacturer's warranty and the original bill along with the purchased product. The products shipped are also completely sealed and as good as what you can get from retail stores. You can extend the warranty for additional years if you desire, although it is not necessary in most cases. Generally, big-ticket items such as HVAC units come with 5 years warranty, but the coverage will be limited to parts only from second year onwards. That means you will have to pay for the repair service.
Home appliance warranty companies generally do not cover equipment when it is under manufacturers warranty.
Seller's Warranty
Seller Warranty is also known as dealer warranty. The warranty is basically provided by the respective seller or the dealer of the products. Most of the seller warranties last for the period of 6 months. In case of any sort of defect of malfunction of the product, you have to take the product particularly to the seller from whom you bought it.
Extended Warranty
You have an option to extend the manufacturer's warranty when it expires. It is recommended only for those appliances that are not covered by home warranty, such as a laptop, PC, TV and other electronics which comes under electronics warranties. In this case, you need a warranty for electronics or electronics insurance to take care of these problems.
You can also extend the home warranty when your original plan expires. Usually, the breakdown period of appliances starts just before or after your warranty expires because of its usability. If you want to avoid such hassles of contacting repair services, extended warranty service just makes things easier
Home Service Contracts
Service contracts are also considered as agreement or protection agreements. Most of these are offered by vendors selling the appliance, a service company, or a third party service provider. Home service contractors are basically local, licensed, and insured team to provide service. The price, terms and coverage choices widely vary as these companies tend to be local service providers. The repair and customer service may also vary depending on the vendor. Make sure you thoroughly understand the contract before you sign it.
Do your homework before buying home warranties, extended warranties, or service contracts for your major appliance. Understand the "Terms and Conditions" of the contract, especially its limitations.
Make sure you know and understand the different types of home warranties:
The reputation of the selling agent or the service provider
If the agreement contains a service repair cost "deductible" clause
If you must get second opinions or price estimates before repair
If you renew annually and what is the cost to do so
Any repair not covered such as plastic, glass, rust, corrosion non-functional parts, and installation, wiring or plumbing corrections
Costs involved if you have to take the appliance to the repair shop (against being repaired in your home)
What happens when the necessary part is no longer available
Any other terms and conditions of the contract, especially its limitations
Asking the right questions BEFORE PURCHASING the different types of home warranties will prevent unwelcome surprises. This is why you need a warranty for home appliances.
Usually, home warranty costs are minimal compared to out of pocket costs. Basic home warranty coverage plan would cost about $350 to $600 per year. Extended coverage cost an additional $100 to $500 per year based on the number and types of appliances and systems added.
A home warranty plan helps cover the expenses of repairing or replacing appliances and systems that break down due to normal wear and tear or everyday use. A home warranty covers appliances, heating and cooling systems along with electrical and plumbing at a low monthly one-time price.
Different types of home warranties usually cost $400 and cover nearly $20,000 worth of items. These items include HVAC, electrical systems, plumbing and more. But you cannot expect a home warranty to give you a new heat pump if it can be repaired so that it continues to work.
The best home warranties based on over 70,000 reviews on our site are:
Based on the size of your home, American Home Shield will decide how much your home warranty would cost. Anything above 5,000 square feet would cost extra. Usually, you are quoted $45 per month with a $100 service call fee but the price could be different. You should choose the $125 service call as it gives you the best in service.