Common Reasons For Claim Denial
PUBLISHED: August 29, 2014
•
4 MINS READ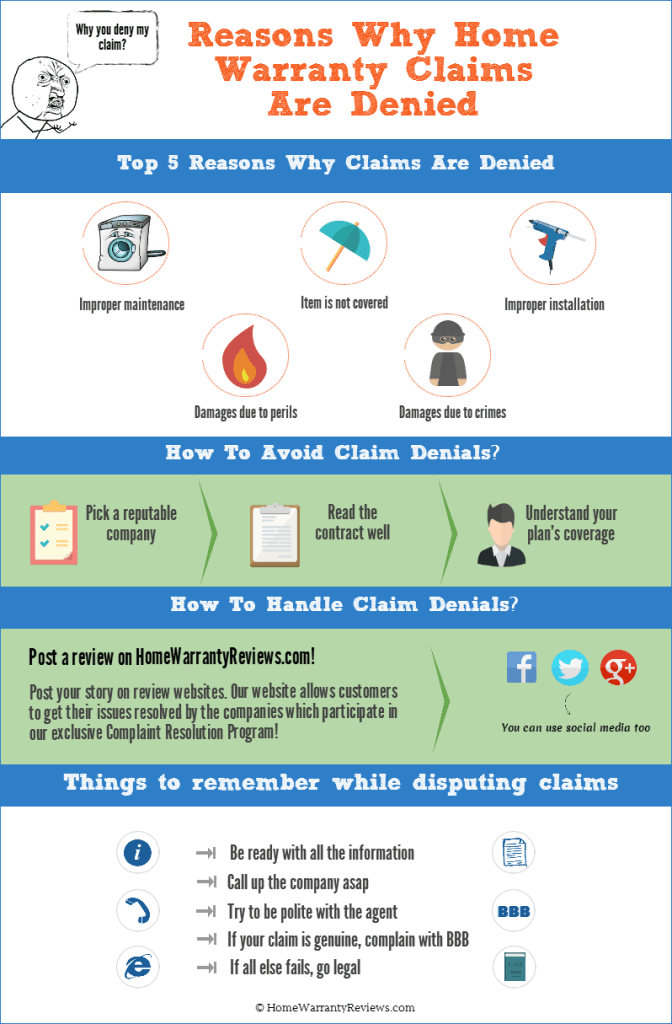 This infographic shows you details of why your home warranty claim is denied. In this manner, you should ensure that your appliances are maintained properly, understand if the item is covered, know if the installation was done properly among other things before you submit a claim.
Found this useful? Share this with your friends and family, hit the share button and help someone out. Cheers!
Share this Image On Your Site
Claim denials are often said to be the most annoying experience for home warranty customers. Although most cases happen due to misunderstandings, we do agree that some companies do deny claims on vague grounds for their profit. But a reputable company would never do that. Let's take a look at this infographic. It explains the
common reasons behind home warranty claim denials
and how a customer can verify if the grounds for denial are genuine or not. As shown in the infographic, the most common reasons for claim denial are:
Improper maintenance
Item not included in coverage
Improper installation
Damage resulted due to natural hazards
Damage resulted from crimes
Some of the above mentioned cases can be avoided, while some cannot be. In situations where the company says that the home warranty claim cannot be processed because the item is not covered or that the damage is due to improper maintenance, refer to your contract. If they say that the damage was pre-existing, there is hardly a way out unless you had a home inspection performed prior to purchasing the contract. Likewise for damages due to crimes and natural hazards, one needs a home insurance and not a home warranty. Which is one reason why you cannot replace a home appliance warranty with a home insurance or vice versa.
How to Minimize Your Chances for Claim Denials?
So now the question is, how do we avoid such incidents of claim denial? Simple, pick a great company. Like the infographic tells us, you have to do rigorous research before picking a warranty provider. This website could be a starting point for that. We have reviews of tens of thousands of customers which can help you choose a reputable company. Once that is done, review the contract or policy document thoroughly. Once you feel that the company is good and that the contract is drawn up pretty decently, you may proceed with the purchase.
How to Dispute Unfairly Denied Claims?
In spite of all the research that you did and picking a good company, if you still find that your claims are being denied unjustly, you can dispute the claim. This basically means to go behind them until they set things right and make amends. It's quite easy, follow the steps mentioned in the last section. Keep in mind that companies won't give up that easy, so you make have to make multiple calls to convey your point. While disputing claims, keep the following in mind:
Always be polite while speaking to the representative
Gather all the information required before making the call
If you are sure that your claims are being denied unfairly, inform the company that you will complain about them to concerned authorities like State Insurance Boards and small claims court.
You can also share your experience through review websites like HomeWarrantyReviews.com and through various social media pages.
Chances are high that the company will come around and accept you claim.