Rising Costs of Home Warranty
PUBLISHED: March 24, 2015
•
6 MINS READ
Do you worry about the Rising Costs of Home Warranty and insurance? You may be wondering why appliance warranty costs are always on the rise. We know that it is a huge financial strain to keep your expenses within your budget. It comes as no big surprise that the yearly increase in your annual premium or just the cost of procuring a home service contract makes you want to scream.
Naturally, you begin to wonder if it is a good idea to drop a home warranty. My dear friend, that may not be a very wise move. With the prices of everything around you skyrocketing, what makes you think that the prices for appliance repairs would drop? Labor charges, material charges and every other charge on the surface of Earth have gone up.
This means that if your appliances stop working, you will be paying quite a huge sum of money to get it repaired. And in another two years, the price may vary significantly. Now, if you had an appliance warranty, you wouldn't have to pay so much. We suggest that you keep your warranty.
Now we can't alter the prices for you, that would be difficult (read impossible). But we can explain why the prices have gone up over the years. Before that, let's tell you what an appliance warranty does.
How Does a Home Warranty Work?
Home service contracts are usually bought for a specific period of time during which expenses incurred for repairing your household devices will be covered.
How much does a home warranty insurance cost? The average cost of a home warranty is anywhere between $350 to $500. This should be the approximate cost of home warranty insurance.
As long as the damage occurs for a covered device in the designated time frame, your only expense will be a nominal service call fee while the expenses for the repairs will be paid by the warranty company.
Why Prices Rise?
So, with prices of materials and labor rising each year, is it not natural that the annual premium rises along with it? Yet another significant reason for an annual price hike goes like this. As each year passes, your house becomes older and so do the appliances in it. Which means that the chances of them breaking down are also increasing.  So you see, the risk of malfunctions and system damages increase with each passing year. Hence to keep up with things, the warranty companies often hike the rates by a certain percentage. Also, if you make a claim, the annual premium may hike by a small margin in the next year.
We don't have precise numbers from the appliance warranty industry, but we can get you a glimpse into the hikes in the homeowner's insurance industry. The figures are often comparable.
Let's take a look at the places where there is a high hike after a claim is made: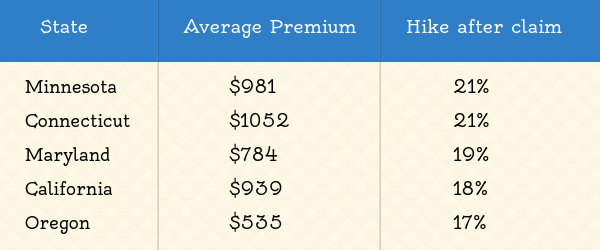 Now let's take a look at the places that have low hike following a claim: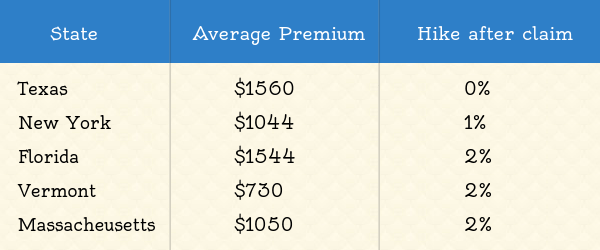 Source: insurancequotes.com
The reasons for these differences are many. The labor and material costs vary from one region to another and contribute to the premium.  The state regulatory requirements can also add to an increase in costs.
The average increase in annual premium varies from company to company and therefore you can get price quotes for home warranty companies and compare. Most companies determine the annual premiums based on your location and the age of your house. Sometimes it is also dependent on the number of service requests they take each year.
How to keep your premium low?
Make fewer claims. For smaller claims, get the repair done out of your pocket.
Get your appliances inspected regularly; especially the heating and cooling appliances should be professionally inspected once every year. This will improve life expectancy and reduce repair needs. Remember, issues caused due to lack of maintenance are not covered.
Do comparison shopping if the premium is excessively high. But make sure you stay with a reliable home warranty company
Numbers from the Industry
The appliance warranty providers industry has exhibited decent growth over the last few years. The industry revenue is expected to increase at an annual rate of 0.4% to $1.8 billion. Their profit stands at $197.4 million with wages amounting up to $176.1million. Over the years, a few providers were acquired or merged by/with their peers.
In the next five years, the industry is expected to show an annual growth rate of 1.8% to become a $2.0 billion industry. It is believed that the recovery of the housing market, home sales, and homeownership rates will increase. This may lead to an increased demand for appliance warranty. Also, as the economy improves, incomes and consumer confidences are expected to rise that lead to an increase in spending on home appliances and other fixtures.
The final word
We certainly hope that you found this article helpful!  We have presented a true description of the industry and its working in the most honest way possible.
Yet we have to say that besides all the costs, a home service contract is indeed a very wise purchase if any of the following are true. You can also read our Guide to Home Warranty buyers for further assistance.
As quick advice, if any of the following is true, it is recommended that you purchase an appliance warranty.
Your house is over 4 years old.
You don't have time for DIY repairs.
You don't wish to pay up for frequent and expensive repairs.
You don't have a trusted contractor.
Keep in mind that the policy booklet and the contract documents are vital documents. They have to be studied and preserved very carefully to avoid future conflicts and annoyances.
Home warranties cost around $300 to $600 a year for a basic plan and have a higher price for comprehensive plans or if your home is bigger than average. Home warranties can save you substantially on expensive home repair costs.
None of the Home Warranty Companies will cover KNOWN pre-existing conditions. In order to find out an UNKNOWN pre-existing coverage, a home inspection is needed. If a problem was prominent in the home inspection report and no action was taken, it would be considered as a KNOWN pre-existing condition.
Home warranties have a waiting period of 15 to 30 days before the coverage comes into effect. This can be waived if you have previous home insurance with no lapse in coverage. This won't be the case if you are buying a home that is covered.
If you are selling a home with a home warranty then you are better off selling the home at a higher price and faster. The average cost of home warranty is $300 to $500 and have a closing date. Home warranties should be bought when your home is on the market.