American Home Shield Introduces Electronics Plan as a New Add-on
PUBLISHED: May 31, 2019
•
3 MINS READ
American Home Shield (AHS) introduces a new item as part of its optional add-ons– Electronics Plan. The plan by Asurion that will be available from June 2nd provides protection for American Home Shield customers electronics and entertainment products. The features go beyond the individual extended warranty and manufacturer's warranty.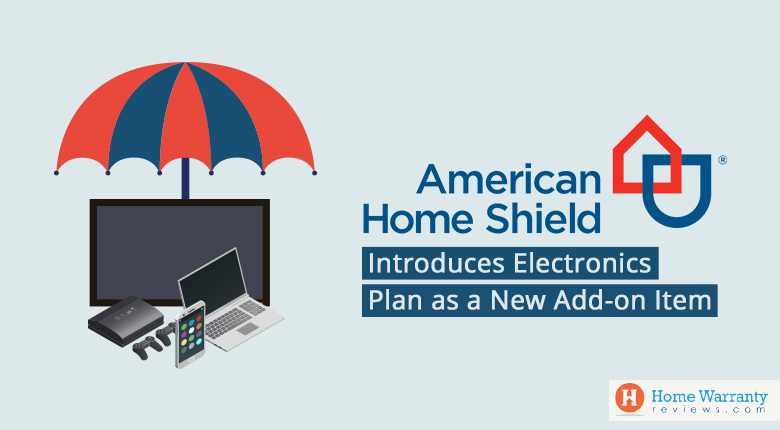 The Electronics Plan by Asurion covers the following items: LED/LCD televisions- flat panel/plasma, smart home products, laptops, and tablets. It also includes gaming systems, desktop speakers, home theatre systems, printers, desktops, home routers, keyboards and mouse, and many other items. If the covered products breakdown, it will either be repaired or replaced. If not, you will be reimbursed for it at a fair market price.
The Electronic Plan covers
Unlimited new and existing electronics

Mechanical and electrical failures due to normal wear & tear

Power surge protection

Defects in workmanship and materials

One laptop battery replacement annually
Read the fine print of the plan for homeowners here.
States in which the Electronic Plan by Asurion is offered
You can get request for the Electronic Plan by Asurion add-on if your home is located in the Dist. of Columbia or one of the following states: Arkansas, Colorado, Delaware, Florida, Idaho, Indiana, Kansas, Louisianna, Maine, Maryland, Massachusetts, Michigan, Minnesota, Mississippi, Missouri, Montana, Nebraska, New Hampshire, New Jersey, New Mexico, North Carolina, North Dakota, Ohio, Pennsylvania,, Rhode Island, South Dakota, Tennessee, Vermont, Washington, and West Virginia. It will soon be provided in the state of California and New York as well.
Other optional add-ons covered by American Home Shield include pool and spa, well pump,septic pump, and guest unit. These are available in all the states that AHS provides services.
About American Home Shield (AHS)
American Home Shield is the Top Rated home warranty company on Home WarrantyReviews.com. The company has won the Top Rated award for five consecutive years. It offers a wide range of home warranty plans to homeowners– Systems Plan, Appliances Plan, Combo Plan, and the Build-Your-Own Plan. The Combo Plan is the most popular plan among homeowners. AHS has an overall rating of 4.5/5 stars on HomeWarrantyReviews.com. Read what American Home Shield customers have to say about the company.