American Home Shield Appoints Mark Barry as New President
PUBLISHED: July 23, 2013
•
3 MINS READ
Mary was the American Home Shield President in 2010. American Home Shield (AHS), a leading home warranty company in the United States.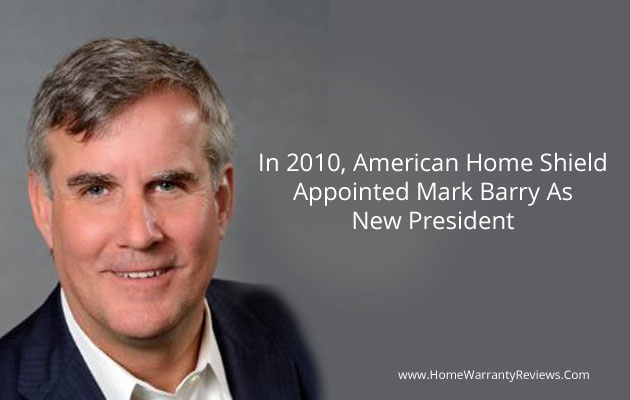 Barry most recently served as president of United Technologies Automation and Control Solutions, a $3.2 billion Hartford, Conn-based unit of UTC's climate, control and security business. He previously served as the president of GE Security-Americas before it was acquired by UTC in 2010.
The American Home Shield President spent seven years at Tyco International, including five years as the president of Tyco's fire and security services Asia division, based in Singapore. He led a multinational team of 11,000 employees in 12 countries, growing the division to $1 billion in annual sales of its electronic security systems, fire-protection, detection and suppressions systems, and related services.
Barry succeeds David Crawford, who is retiring from the post after more than 25 years with American Home Shield, a servicer of home warranties with more than 1.3 million customers in 49 states. Crawford has been AHS president since 2006.
American shield is a pioneer in the home warranty american industry, serving more than 1.4 million customers across 49 states of America, and is one of the best service provider in America.
The company offers home protection plan, a service contract which covers the repair or replacement of home appliances and components. It also offers home care advices in the areas of maintenance, tips and also guides towards aspects involved in buying and selling of homes, inspections etc.
It was founded in 1971 and is headquartered in Memphis, Tennessee with service centers in Georgia, Iowa, and Tennessee. American Home Shield Corporation operates as a subsidiary of The ServiceMaster Company. It employs 1,700 employees and has over 11,000 approved, independently insured service contractors nationwide.
The ServiceMaster Company is one of the world's largest and most versatile service networks. The company's network includes TruGreen, Trugreen Land Care, Terminix, AHS, ServiceMaster Clean, Merry Maids, Furniture Medic and AmeriSpec.
Barry said in a recent phone interview, in his career he saw the penetration of household-alarm systems jump from about just 2 percent in the early 1990s to close to 30 percent.
"The (home-warranty) industry has the same potential to do that," he says, "We are passionate about our commitment to grow in the real estate space, but we also know that we have the potential to grow beyond that niche and reach even more households."
"He says a key to growth is getting the message to prospective customers on the value of American Home Shield warranties.
Last month he visited Carroll, Iowa and received inputs from department representatives and also visited city mayor Adam Schweers and Area Development Corporation executive director Jim Gossett.
Barry says he's impressed that AHS's employees are "incredibly well-focused" and the business is a "well-operating organization."
The company has added more employees and with a promising president it is all set to grow and take the home warranty industry to a new level.
Rex Tibbens is the current Chief Executive Officer/American Home Shield CEO effective May 15, 2018.
You can connect with AHS at 888 429 8247 or email them.
Rex Tibbens, CEO
Pirasenna Thiyagarajan, CTO
Chelsea Sumrow, VP Marketing