Berkshire Hathaway HomeServices Alliance Real Estate Partners With 2-10 Home Buyers Warranty
PUBLISHED: December 20, 2017
•
4 MINS READ
On December 12, 2017, Berkshire Hathaway HomeServices Alliance Real Estate tied up with 2-10 Home Buyers Warranty to be their strategic partner for appliances and systems coverage. This partnership signifies that it will be another option added for home buyers that purchase a home through Alliance Real Estate. This will help in risk mitigation, protection against unexpected system and appliance breakdown and cost savings to home buyers.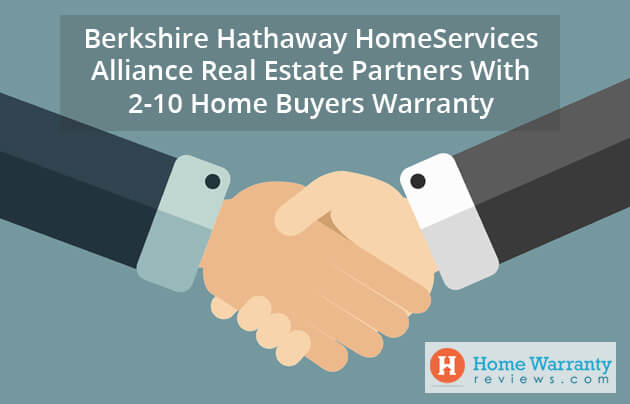 Berkshire Hathaway HomeServices Alliance Real Estate has served the Greater St. Louis metropolitan area for the last 40 years and continues to earn respect for its quality of service. It's reputation has grown over the years with its trust, state of the art technology and deep connection with the local community. Also the company has 8 offices in the region with over 450 agents working for St. Louis, St. Charles, Jefferson, Franklin and the surrounding counties, generating over $1 billion in annual sales. This makes Alliance the second largest residential real estate company in the St. Louis Metro region. The company offers several forms of services that complement their real estate services. This includes new home marketing and mortgage, corporate relocation and title and home warranty products.

2-10 Home Buyers Warranty has been one of the largest home warranty companies in the US for the last 37 years. This helps homeowners protect their homes from breakdowns. Thereby protecting one of their biggest investments. If you are looking for new construction structural warranties or appliances or systems warranties then you should choose a 2-10 Home Buyers Warranty. They have a list of comprehensive warranty programs and cover over 5.8 million homes with a range of warranties, service contracts and risk management products. 2-10 Home Buyers Warranty, founded in Denver, Colorado, now partners with thousands of the best real estate professionals, service contractors and home builders.
With this strategic partnership, Berkshire Hathaway HomeServices Alliance Real Estate looks to assist their clients with a deserving home warranty that will ensure that home buyers are well protected against appliance and system breakdowns. They are an energetic real estate company that maintain integrity, develop and nurture trust for long-term relationships. Alliance Real Estate ensures that all clients are treated as first priority, working hard to protect interests throughout the purchase and sale of homes. This customer-centric approach has enabled Alliance Real Estate reputation to be a premier agency in the St. Louis region. Therefore in addition to real estate and the addition services that they offer as options they allow their agents to extend their best to cater to buyers and sellers. By adding 2-10 Home Buyers Warranty it will help strengthen this suite of services offered and increase their strengths and the variety of other offerings to their clients. This allows 2-10 Home Buyers Warranty to protect home sellers while the home is on the market and ensures that there is complete protection for home buyers for an entire year. 2-10 Home Buyers Warranty is also the leader in structural home warranties. By this, one in seven new construction homes have entered into an agreement with 2-10 Home Buyer Warranty to be covered for a full 10 years. The partnership between the two organisations will ensure that the overall buying and selling experience is enhanced and boost the homeownership process. Both organisations have been excited with this new agreement and assure home buyers that they are not at risk. This will ensure that customers get a customised package and are protected with the best in industry-leading appliance and systems coverage.
HomeWarrantyReviews.Com And 2-10 Home Buyers Warranty
With over 80 companies listed and 50,000 reviews, HomeWarrantyReviews.com is the #1 consumer research site for home warranty companies for 11 years. You can compare between the best home warranties and determine the perfect home warranty for you.
For more than 30 years, 2-10 Home Buyers Warranty has helped homeowners and customers with a comprehensive warranty program. You can choose 2-10 Home Buyers Warranty offers a complete list of services like home warranty, service contracts and risk management products to more than 5.5 million new and pre-owned homes.
HomeWarrantyReviews.com helps its readers with acquiring the latest knowledge on home warranty information. You can also get a home warranty quote by providing your ZIP code and Email ID. Use the Home Maintenance Calculator to calculate the cost of maintenance for a home and check whether you can get other options for home warranty policies that are cheaper. You can also use FREE tools like the Mortgage Calculator, and the Complaint Resolution Program.