Buoy Labs Partners with CCHS for on-Demand Plumbing Services
PUBLISHED: January 11, 2018
•
6 MINS READ
Buoy Labs announced Cross Country Home Services (CCHS) as its partner starting from today. Buoy will offer a nationwide network of licensed plumbers on-demand, to install the Buoy smart home device for water, and also to repair or provide other plumbing services for queries related to Buoy insights. The nationwide on-demand services can be accessed by customers through the Buoy app.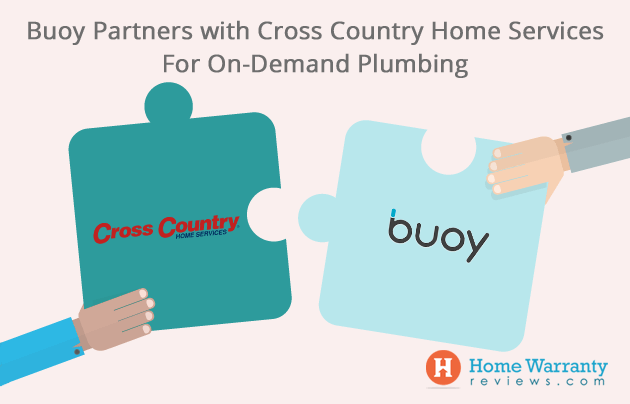 Leaders from both Buoy Labs and CCHS will be available to discuss the partnership at the Consumer Electronics Show 2018 that is happening at Las Vegas from Jan 9-12, at Booth #51529 in Sands Hall G (Eureka Park).
Buoy being a consumer IoT device that is fixed to the waterline of a home, it facilitates real-time and segmented data on water usage, notifies homeowners about costly leaks, and provides users with the option of shutting water off remotely. The Buoy-CCHS partnership further bolsters Buoy Labs strategic plan to provide smart home experience to its customers.
Keri Waters, the CEO, and Co-Founder of Buoy Labs explains, "Engaged, responsible homeowners are creating the need for smart homes." He further added, "Buoy is a sophisticated platform for managing their home water needs, from controlling their bill to making sure they are using water only where they want it. We provide real insights into how homeowners can live well in their homes, and help them take control of potentially wasteful and damaging water situations.
Every home leaks around 10% of its overall water consumption which costs homeowners money on their rapidly rising water bill and additionally costs homeowners insurance almost $9 billion annually from claims due to water damaged caused by leaks. US homeowners spend a record $361 billion on home repairs, remodeling and maintenance in 2016 (according to the Joint Center for Housing Studies of Harvard University), out of which only one-third of that amount is spent on discretionary projects. This increases the need for homeowners to have on-demand access to qualified repair professionals.
Inline with its goals to provide excellent, committed service delivery, CCHS maintains service-level agreements (SLAs) throughout 48 states and Washington, DC and secures the plumbing needs of homeowners who are in need of quality service uniformly across the network. The integration of the Buoy app with Cross Country Home Services creates a stable presence in the world of smart home technology and creates a sense of peace in the minds of customers.
Adding to this Waters remarked, "We looked at the nationwide plumbing networks, and we selected Cross Country Home Services to ensure every link in our value chain is as strong as the Buoy itself." He explained, "Buoy customers demand quality, and CCHS impressed us with their service commitment, the ability to meet aggressive service level agreements as well as assurance that service is provided by licensed professionals."
This partnership is an example of how CCHS continues to evolve as a data-driven and a digital-forward company that adds on to its stability and success of its deep-rooted presence in the home service industry.
CCHS CEO's Take on the Partnership
"Cross Country Home Services has been an extremely reliable partner for homeowners' installation, repair and maintenance needs for more than 40 years," said Steve Upshaw, CEO of Cross Country Home Services. "Partnerships with category leaders in the smart home space, like Buoy Labs, allow us to provide consumers with an even more robust suite of home services, from the initial alert through the successful completion of services by a licensed, qualified professional."
About Cross Country Home Services
Cross Country Home Services, Inc. (CCHS) was founded in 1978, since when it has been making dedicated home service repairs and making maintenance and repairs more affordable. CCHS consists of brands like Total Protect, Home Protect, Residential MD, HMS Home Warranty, and a few more.
The company is part of the Cross Country Group that is a leading privately owned home service program in the U.S. and is headquartered in Ft. Lauderdale, Florida. It has over 700 employees and a massive countryside network of contractors that includes more than 40,000 independent skilled service technicians.
About Buoy Labs
Buoy is a smart home device that is attached to the main water line and uses proprietary machine-learning algorithms to give out information about water usage segmented by usage type. Buoy notifies homeowners about leaks through the mobile app so that they can shut off water remotely and enjoy using water without worrying about the costs and other constraints.
Buoy Labs has won many awards like the 2017 Edison Design awards with a gold medal and received renowned mention for the 2017 Fast Company Design awards. Buoy has also won an Innovation Award for CES 2018, participated in the Highway 1 hardware accelerator program, and recently was awarded a grant from the Elementary Excelerator in Honolulu, Hawaii. Buoy's labs are based out of Santa Cruz, California and have investors and advisors like Highway 1 Accelerator, Mark Mitchell, Toby Corey, Ansy Smith, Jay Adelson, Wallace J. Nicholas, and other angel and corporate investors.
HomeWarrantyReviews.com and Cross Country Home Services
HomeWarrantyReviews.com is the number one consumer reviews site for home warranty on which Cross Country Home Services has been listed for the past few years. If you would like to invest in a home warranty from CCHS, it is advisable to check its rating and read reviews about it. HomeWarrantyReviews.com has developed a number of tools to help make homeowners lives easier. One such tool is the Complaint Resolution Program (CRP), in which Cross Country Home Services participates. In the CRP, if a customer gives a low review, HomeWarrantyReviews.com provides a platform where the home warranty company can directly contact the customer and resolve their issue. If the issues are not resolved within the stipulated time frame, the review is made public. There are other tools like the home maintenance calculator and the mortgage calculator as well which one can access on the website.
Since 2006, HomeWarrantyReviews.com has been helping homeowners research about home warranty companies in order to help them find the best the best home warranty service provider for their homes. At the end of each year, the website hands out awards to the companies that have provided outstanding services to their customers so as to encourage them. You can also find the list of top ten companies on the website and search for the top home warranty service providers in your state.