Genstar Capital Acquires 2-10 Home Buyers Warranty
PUBLISHED: November 5, 2018
•
4 MINS READ
Genstar Capital usually targets investments in financial services, industrial technology and healthcare industries. However, they have announced its acquisition of 2-10 Home Buyers Warranty, a home warranty provider.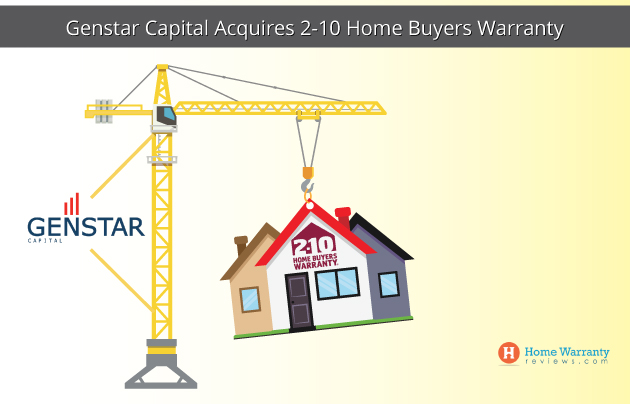 2-10 Home Buyers Warranty offers two warranty products namely, Home Service Contracts and New Home Structural Warranties. The home service contracts cover the repair or replacement costs on home appliances and systems that are sold to homeowners. This is done through a network of real estate partners at the point of transaction and rapidly growing direct-to-consumer channel.
The New Home Structural Warranty is an insurance-backed warranty that provides homeowners with 10 years of coverage for structural failures while transferring the home builder's legal obligations to repair structural issues. 2-10 HBW covers homes in 48 states across the United States. This makes the company the #1 provider of new home structural warranties and the #2 independent provider of home service contracts. It is headquartered in Aurora, Colorado.

Speaking on this development, Ryan Clark, President and Managing Director at Genstar said, "2-10 HBW has built a great competitive position in its core markets and we are very excited to invest in growing this business whose products are highly valued in the marketplace by builders, consumers, real estate professionals and contractors.  We are excited to enable the management team with growth capital to invest in new marketing channels and explore strategic acquisitions that will broaden the company's distribution footprint."

Talking about the partnership with Genstar, Scott Cromie, Chief Executive Officer of 2-10 HBW, said, "We look forward to our partnership with Genstar whose professionals have extensive experience in the insurance sector. Our strong industry platform combined with the full support and resources of our new partners will enable us to quickly activate a number of levers to help drive growth. We are unified in our strategy which will allow us to add real estate and builder partners, expand into new geographies with targeted acquisitions, and enter the direct-to-consumer market which represents a new and rapidly growing channel."
About 2-10 Home Buyers Warranty
2-10 Home Buyers Warranty is a market leader for the last 38 years in helping people protect their homes from appliance and system breakdowns as well as new construction structural warranties. It is founded and based in Colorado and covers over 5.8 million homes. It is also partners with the nation's finest real estate professionals, home builders and service contractors to help home buyers, sellers and owners to mitigate risk, save money and have protection from the unexpected.
About Genstar Capital
Genstar Capital is a leading private equity firm which has been investing in high-quality companies for 30 years. They are based in San Francisco and work in partnership with management teams and a network of strategic advisors to transform its portfolio companies into industry-leading businesses. Currently, Genstar has $10 billion worth of assets under its management and targets segments of the financial services, software, industrial technology, and healthcare industries.
HomeWarrantyReviews.com and 2-10 Home Buyers Warranty
With over 80 companies listed and over 67,000 reviews, HomeWarrantyReviews.com is the #1 consumer research site for home warranty companies for 11 years. Choose to compare between the best home warranties and thereby you can figure out what is the best home warranty for you. 2-10 HBW has been helping homeowners and customers for the last 38 years with its comprehensive warranty program. With 2-10 Home Buyers Warranty, you get a complete list of services like home warranty, service contracts and risk management products to more than 5.5 million new and pre-owned homes.

HomeWarrantyReviews.com assists homeowners with getting the latest information on home warranties. Get a FREE home warranty quote by simply sharing your ZIP Code. There are several tools that you can try like the Home Maintenance Calculator to calculate the cost of maintenance for a home with vs without a home warranty and tools like the Mortgage Calculator, and the Complaint Resolution Program.