Broad Outlook of the Home Warranty Industry
PUBLISHED: July 19, 2018
•
6 MINS READ
There has been a large flood of capital that has entered the home warranty industry. Investors have brought in more than $2.3 billion into this market. This is based on the high demand that is continually met by the home warranty industry. Also, you need to weigh the pros and the several million customers that have joint the fray of being a part of the much larger home warranty family.  Here are some indicators that show that this industry looks to rake in the money and ensure that home warranty industries continue on a stronger projectile.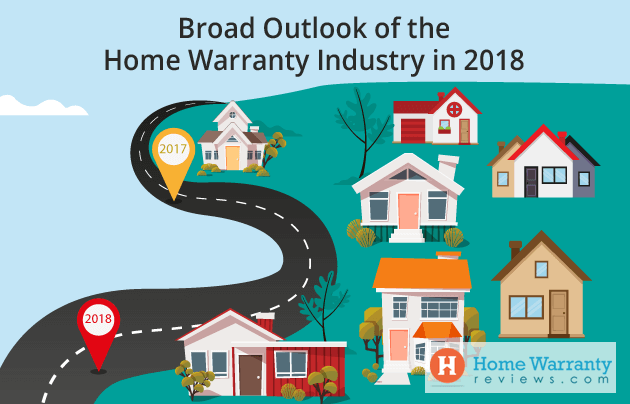 It was during the mid-2000's that VSC retail prices doubled from $1500 when there were more vehicle sales per area. This has doubled more than 40% and this can be seen among those used vehicles that have exploded with the high growth of direct to consumer channels. This is due to the modes of payment plans that are determined by a high volume of customer purchases.
The reason for this is that product innovation, capital and marketing has seen it grow by leaps and bounds. Low penetration rates have helped characterize this growing home warranty market based on innovation and marketing.
This ensures that you receive consolidation based on a logical and ready-exit path. Here, you can see interest among financial sponsors with the increase in industry in the next three to five years.
Among the top covered appliances covered, these include electrical, heating, air-conditioning (HVAC) systems, dishwashers, refrigerators, and cooktops. The other major source of home warranty sales is through real estate brokers. This gives the sellers, buyers and the real estate agents the satisfaction that they require to ensure that the sale goes through without a glitch. The largest provider, AHS has seen an excess of 50% retention with their customer all across America. The National Association of Realtors expresses that home resales per unit have increased by nearly 3% since 2016.
Here, rates have increased over an excess of 75% with two-thirds of its revenue which is derived from the existing contract renewals. Also, there are some key in-network service providers that help promote home warranties to existing customers and this helps to ensure that it helps protect homeowners as against a future expense. With the pace at which the home warranty industry has grown, this has helped industries grow online and the direct connection with the customer through call centers.
Home Warranty Market Size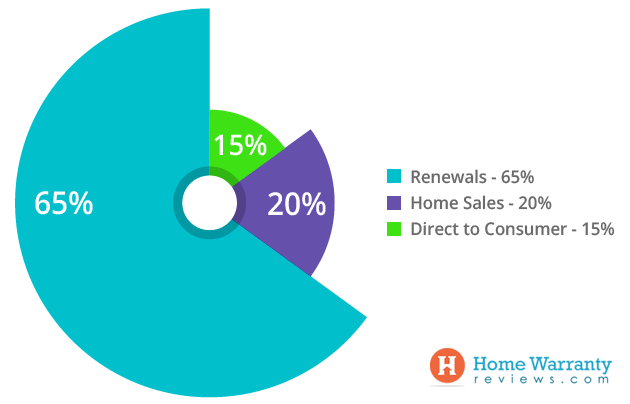 The humble home warranty, also known as the home service contract, was an estimated $2.3 billion in 2016. This market is estimated to grow at 5% yearly and have an average retail price of $500 and $750 per home warranty. AHS is the market's largest participant and it has grown in revenue from 5% to 10% annually between 2009 and 2016. Based on this, you can determine the warranty percentage of sales.

The industry standard has seen a large number of homes take to home warranties as they have felt the immense benefit that they derive. This is based on the 10% increase in the overall industry's trade based on National Home Service Contract Association claims.
California has seen a considerable amount of demand for AHS with an estimate of nearly 30% of all home resales. This includes a home warranty that provides increased awareness and penetration among homeowners that have a significant growth opportunity for providers.
Mergers and Acquisitions Over the Years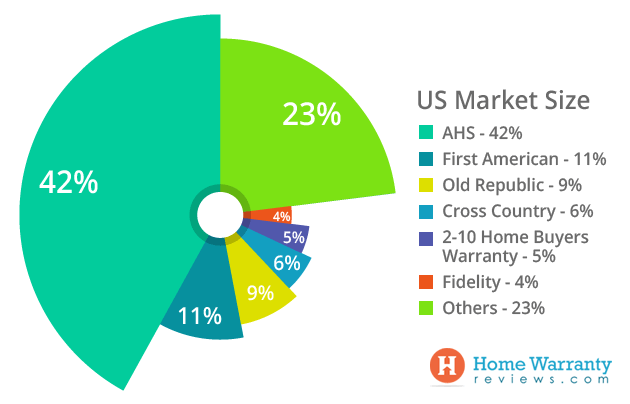 Cross Country Home Services (CCHS) has being providing home warranties and maintenance plans nationally since the 1980s. 2-10 Home Buyers Warranty was acquired by Brera Capital Partners in 2002. 2-10 Home Buyers Warranty provides structural warranties, system and appliance warranties and primarily sells its product through realtors. Fidelity National Home Warranty, a unit of Fidelity National Financial was born from the merger of Alliance Home Warranty and Chicago Home Warranty. Fidelity operates across the Western coast from Sunny California, Arizona, Nevada, Texas, Washington, Oregon to Colorado. This ensures that there are several utilities that sell protection plans which cover appliance repairs. Another home warranty company that provides home warranty services in the Mid-Atlantic and Northeast US is Dominion Products and Services.
Recent Transactions That Made the Headlines
Here are the following home warranty companies that have made the headlines. These include significant home warranty industry transactions over the last 20 years which are listed below:
| | | |
| --- | --- | --- |
| Year | Buyer | Seller |
| 2017 | Kingsway Financial / 1347 | Professional Warranty Service Corp |
| 2016 | American Home Shield | Landmark Home Warranty |
| 2016 | American Home Shield | OneGuard Home Warranties |
| 2015 | Fidelity National | BPG Home Warranty |
| 2014 | American Home Shield | HSA Home Warranty |
| 2013 | NRG Energy | Allied Warranty |
| 2012 | Direct Energy | Home Warranty of America |
| 2002 | Brera Capital Partners   | 2- 10 Home Buyers Warranty |
| 2000 | Fidelity National   | Chicago Title / Chicago Home Warranty |
| 1998 | Fidelity National | Alliance Home Warranty |
Television has worked as the front-runner when it comes to spreading the message of buying home warranties. This makes the home warranty segment a natural market to attract institutional investor's interest. When you come to think of it, television is usually the go-to medium regardless of how many units are finally sold. Plus, you can determine whether it provides you with the estimated costs which make up the warranty costs.
Single-family homes measure warranty accruals based on every dollar of their total revenue for each unit sold. This makes it clear that companies have mastered their warranty cost estimations based on the percentage of sales that falls and this remains stable but predictable. What this means is that the home warranty industry bases its rates on the ROI over actual work delivered. However, if a problem arises, you can always write share these details on our Complaint Resolution Program.

But this doesn't stop there car manufacturers, homebuilders and several numbers of units sold their units based on the counting of house sales. Here, car units range from the low end to the high end which varies from the size, features, and price. This is based on whether the home is sold and there are several sold when it generates claims costs.
Average Home Warranty Accruals Outlook
Usually, once a product is sold, the manufacturer sets aside the amount of money that is sufficient for it to pay the warranty costs. Similarly, the industry average is around $2,500 with every home being sold, the builder would have to put aside $2,500. Also, some builders look to provide their clients with the best in facilities and amenities and hence this average pushes higher to $3,000. Also, this moves closer to $1,000 and this amount is set aside after each closing. This is their best guess as the accrual rate per home would cost them as much as $15,000. At this rate, you can determine that the number of home warranties that are sold based on the rate of homes and establishments that are traded and built in this period.
Also, real estate agencies would sell as much as 173,000 homes that represent around 31% of the 561,000 sold in 2016, which is an increase of 30% of the 501,000 new homes sold. Additionally, it enables them to have $520 million in warranty accruals of $433 million per year.
Increase in Home Sales
There are several builders in the market and this has lead to a huge increase in sales and ultimately with home warranty purchases in the process. The homebuilders like D.R. Horton, Shea Homes, Meritage, William Lyon Homes, PulteGroup, Beazer Homes, Ryland Group and Lennar Group have ensured that there are several new homes that are delivered. Some of the more common terms used to phrase this increase in home sales are referred to homes closed, deliveries and settlements.
This means that there are several homes that have come in place that have ensured that there are based on the accrual rate per dollar of sales based on the right-hand scale. Rates are based on the 57 quarters which are done based on long-term averages which are closest to the 0.8% of dollar sales and $2,500 for every home sold. While this means that since 2007, 8132 homes were sold based on the quarterly increase in homes that were sold with a $929,000 of net loss for the company which reports to the cut in expenses. Homes that cost $250,000 have a 1% accrual rate, $325,000 home produces only 0.8% accrual rate and this is how prices rise faster than expenses.
In order to further understand this, you should review the company and the cost of warranty per unit and whether this accrues over the quarter and other factors that finally determine it. There are several other factors that can help mold and moisture problems that have been encountered and odor-emit drywalls that increase over a decade ago. While the ideal has would be a simple count based on closings and multiples of the average based on each company.
There are several factors that plague builders which include mold and moisture problems that have recently encountered an odor-emitting drywall import. The ideal is simply counting the closing and the multiple of the average to calculate the accruals for each quarter. This is not the way that some warranty finance teams work towards. This has lead to a lot of stability and predictability in the market with a long-term accrual rate of $2,200 which is based on the pattern seen by D.R Horton which at a higher level per unit.
List of Top 10 Home Warranty Companies
The following is the list of the top home warranty companies that have made it to the HomeWarrantyReviews.com list of top 10 companies. Similarly, this is based on the rating, reviews and the awards that they have won based on their commitment over the years to their loyal customers.
Founded in 1971, American Home Shield is the industry leader and the pioneer of the home warranty industry. It has over 47 years of experience in the field with 14,000 contractors and 47,000 technicians in 49 states in the United States.
With a home warranty from AHS, you have a shield of protection against all covered home appliances and systems. As the single largest home warranty firm in America, they are among the best in the industry and they know how to get things done.
The Home Service Club is considered as one of the most prominent innovators in this industry. They learn from customer feedback and serve as many as 48 states in the US.  With a large network of contractors, they hand pick the best contractors and ensure that your appliance and systems are kept in optimal condition.

How do they do this? Well, this is done through frequent surveys and analysis that ensures that each customer remains are happy with their work.
Select Home Warranty offers plans which allow you to get even the most expensive repairs and replacements covered with your customized home warranty. This is through the list of national networks which include pre-approved, licensed and certified contractors.
Whether it's condos, rental properties, mobile homes and single units, all of these can be covered based on your service agreement. This company is headquartered in New Jersey.
APHW opened its doors to the world in 1999. As a Christian-based organization, they are one of the fastest growing home warranty companies in America.

APHW offers homeowners the opportunity to choose their own contractors based on covered repairs. This helps them ensure that they get a wide variety of items which includes HVAC, air-conditioners, and furnaces. This is based on the pricing options and also on the deductible amount.
First American Home Buyers was founded in 1984 and is among the top 5 home warranty companies based on the ranking and ratings on our website, HomeWarrantyReviews.com. They offer coverage in 38 states and additionally provide their service to the District of Columbia.

When it comes to their coverage, they help in ensuring that you would not have to pay for costly mistakes. With their repairs and replacements, you are sure to enjoy a series of large networks based on qualified technicians and independent prescreened contractors.
Landmark Home Warranty specializes in cities like Arizona, Idaho, Utah, Texas, and Oregon. With more than 60 employees on their payrolls, they work with contractors, property managers, escrow officers, and realtors.
Their goal is to ensure that you get the best customer service every single time you connect with Landmark Home Warranty. This has helped them win several awards and accolades that have added to their list of achievements.
Choice Home Warranty provides several comprehensive home protection plans that help in repair and replacement of appliances and systems. When you buy a home warranty with Choice then you are sure to have a knowledgeable team that will look after all your issues.
The best way to ensure that the appliance does not break down is to simply call your real estate professionals and take pride in getting your home prepped and kept as good as new. This helps realtors in selling their homes faster and giving the buyers and sellers the best in home warranties solutions.
HSA Home Warranty provides you with the best in class services along with specific warranty products for more than 30 years. Their goal is to ensure that you get the best in service and that the prices remain low.
This company is headquartered in Cross Plains, Wisconsin and it provides you with the best in industry standards. At HSA Home Warranty, they take pride in ensuring that their executives are provided with the best in problem-solving capabilities to get the best for their business.
Home Warranty of America provides home warranties to their customers all across the country. Their company claims that they have built their businesses with the idea of simplifying their lives of their customers and ensuring that all solutions are provided with a quick turnaround time. This is primarily done in your hour of need to ensure that you are always well protected all year round.
Connect with 2-10 Home Buyers Warranty for one of the best home warranties in the market. They provide unique offerings for homeowners, real estate agents, builders, and sellers. This company provides more than 2.5 million American homes with a home warranty solution. They have spent more than $250 million in repairs and they have a network of 10,000 pre-approved, licensed and bonded contractors that can help with immaculate customer service. This has helped them have a good ranking even on similar rating sites like BBB.

Choosing a Home Warranty With HomeWarrantyReviews.com
When it comes to you determining which is the best home warranty in the market for your home, you might need to do some homework. This could be based on some of our free calculators like the Home Maintenance Calculator, Mortgage Calculator and the Complaint Resolution Program. In this manner, you will be able to choose the best for your home based on actuals.
As previously mentioned, you should opt for these top ten home warranties as they are localized and ensure that they have the know-how. This helps them get the best for your home and ensure that you can connect with the best in the business. Choose wisely, the home warranty industry is growing by leaps and bounds and you should cash in on this opportunity.