How Homeowners Should Prepare For Hurricane Sally 
PUBLISHED: September 17, 2020
•
6 MINS READ
Hurricane Sally has hit the Gulf Coast, threatening to impact several homes, with the strong winds intensifying. Alabama, Louisiana, Mississippi, and Florida are already witnessing heavy showers across their landfall due to the super storm. According to weather officials, the cyclone will yield rain up to 2ft and produce strong winds close to 85mph in the next few days. The severity of this storm can damage important elements of your home and can cause long power outages.  
Homeowners in the affected states must take extra precautions to stay safe and ensure not to venture out. This detailed post will help you understand what you could do to stay safe, and if affected by the cyclone, the emergency evacuations steps you need to follow.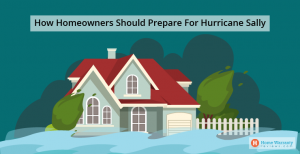 How to Stay Safe During Hurricane Sally?
These are challenging times for homeowners as the cyclone is set only to intensify very soon. It is of utmost importance that you take care of your loved ones to ensure their safety throughout the storm. The pointers mentioned below will help you understand what measures you need to take so that your family stays safe.
Ensure your home's windows are covered with hardwood or storm shutters so that rain or unnecessary materials don't enter. 

Your emergency medical kit should be stocked up with all the necessary medicines in case someone gets injured or falls sick.

Any furniture outside must be moved inside so that the high-intensity winds do not cause the items to fly, which can damage your home or loved ones.

If you have pets, move them indoors to make sure they don't get injured or fall sick during the cyclone.

Power cuts are very prominent during a storm, so keep a couple of flashlights in hand to make sure you can move around your home comfortably. 

Avoid lighting candles if the power goes off, as fire can cause unnecessary problems during a rainstorm.

Keep a power bank in hand and charge your mobile devices so that you can speak to your relatives, friends, or emergency assistance if necessary.  

Stock up on the essential food items for a couple of weeks. The chances of your neighbourhood store remaining shut for a few days during the cyclone are high. 

Just in case the water supply stops, keep toiletries and sanitation equipment at hand.  

Don't venture out unless it is an emergency or an inevitable situation that requires you to step outdoors. 
Important Evacuation Tips in Case of an Emergency
No one knows the outcome of a super storm. However, it would be best if you are prepared for the worst. To make sure you evacuate safely and swiftly, we have listed some crucial pointers that you must keep in mind for a smooth escape.   
Your vehicles' gas tank should be topped up if you are asked to relocate by the authorities.

For a smooth evacuation, know the vital escape routes as alerted by the authorities. Also, make sure your car's GPS is in good condition. 

Download and install the Federal Emergency Management Agency (FEMA) application on your mobile phone to be aware of the important places you can move into for shelter.  

Identify important shelter points like a friend's residence, relative's home, or a motel if all the FEMA shelter options are taken.

Keep all your essential identification documents in hand, such as your social security card, birth certificate, driver's license, etc.

You will need to show some of these documents to enter government-run shelter homes.

Always carry an emergency first aid kit, water, and a few imperishable food items when you are on the move. You never know how long you will be on the road. 

Disconnect all your devices connected to power outlets to be safe from water hazards, in case rainwater enters your home when you are away.

Keep a ton of extra face masks and gloves at bay as you and your loved ones will be outdoors and contact many different people. 

Just in case your family gets separated, don't panic. Get in touch with emergency assistance officials for further help. 
The Areas Affected in Hurricane Sally
Several areas are affected due to the pouring rain that the hurricane caused. Due to the flooding, many people needed to get evacuated near the Florida-Alabama border. The west most city of Florida, Pensacola, witnessed 30 inches of rain in the last few days. 
As the lashing rain continues, the cyclone is set to move further northeast into Alabama's deeper pockets and continue spiralling towards Georgia and South Carolina. People that are affected due to Hurricane Sally and need emergency assistance must get in touch with the concerned authorities. Read our section below to get in touch with the emergency assistance teams in your state.   
Emergency Phone Numbers for Your Assistance
Due to the current situation, you may need to get in touch with emergency services in case of a crisis within your family or vicinity. The list below will help you get in touch with your local authorities ASAP.
 Alabama Emergency Management Agency – 1 (205) 280-2200

 The Governor's Office of Homeland Security and Emergency Preparedness (GOHSEP) (Louisiana) – (225) 925 -7500
Mississippi Emergency Management Agency – 866-519 (6362)
State Assistance Information Line (Florida) – 1-800-342-3557
How Government Interventions will Help The Affected?
President Trump quickly intervened by authorizing emergency assistance for the affected with FEMA's help in Alabama, Florida, Louisiana, and Mississippi. FEMA teams have been deployed on-site and are ready to help people facing difficulties due to the cyclone. 
Social media was also abuzz with a lot of activity initiated by state officials. The Governor of Florida, Ron DeSantis, recently held a press conference regarding the situation and how the state is coping with it. Check out the full press conference below. 
Home Warranties are an Important Resource
While a home warranty policy will not cover your devices if damaged due to natural disasters, they offer coverage for damages due to normal wear and tear. In these uncertain times of the pandemic and hurricanes across the country, protecting your home's devices at affordable cost becomes all the more critical. With a home warranty plan in place, all your systems and appliances get covered at affordable rates.
 Also, you don't need to worry about looking for a technician as the company sends an authorized technician as soon as you file a claim. Plus, homeowners get a range of other benefits with warranties such as the option to Build-Your-Own-Plan option, speaking to customer care representatives if there's a problem, and many more benefits. You can read thousands of reviews of warranties on homewarrantyreviews.com and pick the ideal company of your choice.  
Conclusion
You and your loved ones must stay safe in these difficult times. Don't hesitate to call emergency assistance if you find yourself in a difficult situation. Also, if you are safe at home, avoid venturing out for the next few days until the storm passes.