Persson Appointed to Lead American Home Shield Spin-off
PUBLISHED: October 4, 2017
•
5 MINS READ
ServiceMaster Global Holdings, Inc, the leading residential and commercial services provider, has announced that it would be spinning off the American Home Shield (AHS) business into a new public company in 2018. Dion Persson has been appointed the Senior Vice President of Business Development on October 2, 2017 and reports directly to the CEO, Nik Varty. Persson would be responsible for executing a well-structured process in taking this business forward and making it a new entity.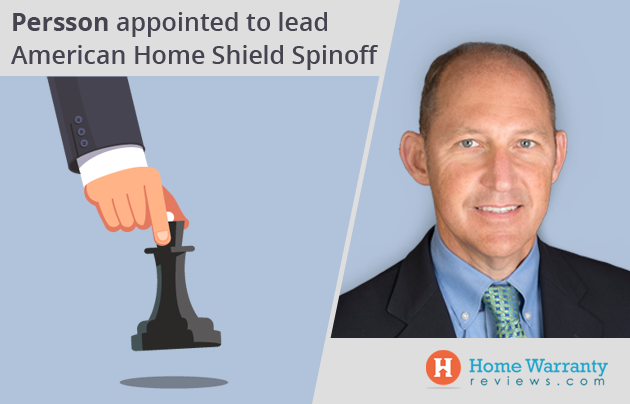 Dion Persson 
In his new responsibility, Persson would have to spin off the AHS business unit by the third quarter of 2018. Additionally, he will be responsible for growing the business development activities at ServiceMaster.

Prior to ServiceMaster, Persson worked at Ingersoll Rand where he lead the Automation division. He was instrumental in spinning off the Allegion PLC Mechanical Security division into a public company in 2013. Persson was the Vice President of Strategy and Analytics for Ingersoll Rand, a leading provider of products, solutions, and services. He joined the company in 2011 and worked for the residential solutions sector as the Vice President, Strategy and Business Development. Here he worked with Trane heating and cooling and Schlage security businesses. Additionally, he also worked as the business leader for Ingersoll Rand home automation business before working on the Allegion PLC spinoff.
Post Spin-off
Once the spin-off comes into effect, American Home Shield (AHS) will be at the top of the table and the national leader in home warranties. AHS will continue to have its headquarters in Memphis, Tennessee. The company will continue to offer services in terms of repair and replacement of home systems, appliances, and components across the US. With its home service professionals, AHS services homeowners. In this fragmented market, AHS still has significant brand recognition and scale with close to 2 million paying customers across all 50 states and a national network of over 14,000 pre-qualified contractors.

ServiceMaster would continue to be a leading provider of residential and commercial services across the US. This company would have more than 75,000 homes and business which are extensively serviced by professionals.

This transaction will allow ServiceMaster and American Home Shield (AHS) to go ahead with their individual growth strategy and get a clear picture of the market and positioning.The spin-off will allow both companies to independently have access to capital markets and focus on profitability and long-term growth.

There is no need of a shareholders vote to complete the spin-off. The company will file the initial Form-10 in the months that follow and is expected to be tax-free. Nikhil Varty, CEO and Board Member will replace Rob Gillette immediately as the transition of the company comes into place.
Gillette oversaw the spinoff of TruGreen from ServiceMaster in 2014 with the realignment of the company into five different franchising operations and brands. These brands came under the umbrella of the Franchise Services Group. This group will continue to work as a trusted partner to drive growth on a customer level for the company.

Varty and Persson
Nik Varty, ServiceMaster CEO remarked that Dion was a strong leader with a sound experience in spin-offs and business development. His guidance would be instrumental in ensuring that ServiceMaster and AHS realise their growth potential and continue to deliver on long-term value for the shareholders. In terms of how they will work towards the enhancement and building shareholder value, Varty explained that they would stay committed to their expectations. Further, he expresses that Dion's leadership and track record in the space of business development will help the company grow and maximize shareholder value. Under Varty, ServiceMaster's Terminix division has been struggling and he expressed that fixing Terminix would be his first priority after the results of the first earnings call was disclosed with investors and analysts. But in the same earnings report there was an 8% growth in revenue reported by ServiceMaster and 15% growth by AHS.
American Home Shield and ServiceMaster
American Home Shield (AHS) has a strong customer base and has been continually growing its customer base and market share in the home warranty industry. This transaction would allow greater flexibility in terms of operation, capital utilization, marketing, customer service and lead generation. This will help AHS grow as a brand and in scale as the preferred home warrantor and to continue to create value for its investors.

ServiceMaster solves every homeowner's problem as they service 75,000 homes and businesses with their extensive network on a daily basis. Their technology helps trusted experts engage with clients that order, purchase and receive services at a time and place of convenience. Some of their brands include American Home Shield (home warranties), AmeriSpec (home inspections), Furniture Medic (furniture repair), Merry Maids (residential cleaning), ServiceMaster Clean (janitorial and residential floor cleaning), ServiceMaster Restore (disaster restoration), and Terminix (termite and pest control).
HomeWarrantyReviews.com and American Home Shield 
HomesWarrantyReviews.com is the #1 consumer research site for home warranty reviews and research. Compare and determine the best home warranty company among the 80+ companies that are listed on the site. Homeowners can use this platform to compare different home warranty policies and check the reliability of companies. The website also recognizes the best home warranty companies based on various parameters to make it simpler for readers to make their buying decision. American Home Shield was awarded the 2017 Top Rated Company based on the customer reviews we received in 2016. The website also offers different tools like the Home Maintenance Calculator, Complaint Resolution Program (CRP) and the Mortgage Calculator.