ServiceMaster Completes Spin-off of Frontdoor
PUBLISHED: August 30, 2018
•
4 MINS READ
American Home Shield (AHS) now has a new parent, Frontdoor Inc. Front door, Memphis, TN would be a new public company in Memphis. It was in July 2017 that ServiceMaster Global Holdings Inc. (SERV) announced that they would spin-off American Home Shield into a separately traded public company.

The latest news is that Frontdoor Inc. will be the corporate name for AHS's parent company. Frontdoor is applied to have its stock listed on Nasdaq under the FTDR ticker symbol. 
Based on the recent SEC filing, ServiceMaster will have equity ownership of both ServiceMaster and Front door Home Warranty. HSA, OneGuard, Landmark, and AHS will all be under the umbrella of Frontdoor.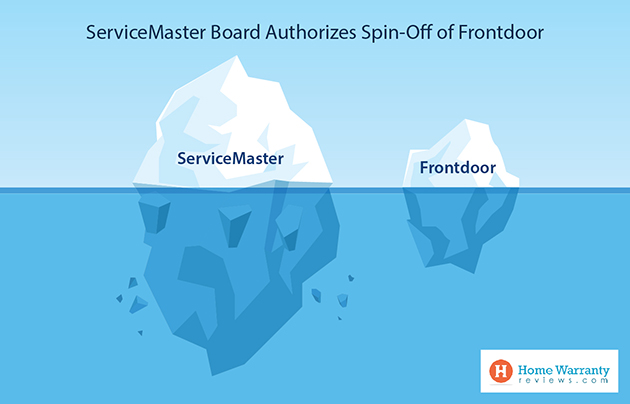 Front door company will have an established record date on September 14, 2018 and the shares of Frontdoor home warranty, parent of American Home Shield will be traded under the symbol FTDR as on October 1, 2018.

ServiceMaster Global Holdings, Inc., a leading provider of essential residential and commercial services, announced that its Board of Directors approved the separation of its American Home Shield business through the distribution of at least 80.1% of the outstanding shares of common stock of its wholly-owned subsidiary, Frontdoor, to holders of ServiceMaster's common stock.
This means with the effective time of separation, ServiceMaster's shareholders will own more than 80% of the outstanding shares of Frontdoor's common stock. Each shareholder will receive one share of Frontdoor common stock for every two shares of ServiceMaster common stock held by such shareholder on the record date.

Based on these developments, Nik Varty, CEO of ServiceMaster said, "Today's announcement is a major milestone for our businesses and shareholders. As two independent, publicly traded companies, ServiceMaster and Frontdoor each benefit from increased focus and flexibility to better serve customers, drive organic growth and unlock significant long-term value for our shareholders. We look forward to the successful completion of the spin-off and to the opportunities ahead for both companies."

Adding to this Rex Tibbens, President and CEO of Frontdoor said, "We are the leader in the home service plan industry, and we have tremendous opportunities to grow in the broader $400 billion home services market."
He added, "Our team is obsessed with taking the hassle out of owning a home, and being the first choice when it comes to home repairs, maintenance, and improvements. As a stand-alone company, we'll be fully focused on delivering a great customer experience and delivering long-term shareholder value."
Frontdoor Board of Directors
Peter L. Cella will resign from ServiceMaster's Board of Directors to serve as Chairman of Frontdoor's Board of Directors. Current ServiceMaster directors Richard P. Fox and William C. Cobb also will resign from the ServiceMaster Board to serve as directors of Frontdoor. In addition, Liane J. Pelletier, Anna C. Catalano and President and CEO Rexford J. Tibbens, will serve as directors of Frontdoor.
About ServiceMaster
ServiceMaster Global Holdings, Inc is the leader in assisting an essential residential and commercial services. They are headquartered in Memphis, Tennessee. It operates through a large service network of more than 8,000 company-owned locations and franchise and license agreements.
The company's portfolio includes AmeriSpec (home inspections), Furniture Medic (cabinet and furniture repair), Merry Maids (residential cleaning), ServiceMaster Clean (janitorial), ServiceMaster Restore (disaster restoration), Terminix (residential termite and pest control), and Terminix Commercial (commercial termite and pest control).
About Frontdoor
Frontdoor looks to takes out the hassle out of owning a home. With services powered by people and technology. It is the parent company of four home warranty companies: American Home Shield, HSA, Landmark, and OneGuard.
The company's customizable home service plans help customers protect and maintain their homes from costly and unplanned breakdowns of essential home systems and appliances. It has an experience of more than 45 years and the company responds to over 4 million service requests annually.
About HomeWarrantyReviews.com
HomeWarrantyReviews.com provides a platform to assist common man in comparing and selecting the best home warranty policy for their home. This company has been collecting reviews from home warranty users from across the United States for the last 11 years. Choose the best policy in your city based on the reviews on our website. You can also get a free home warranty quote and have a home warranty company get in touch with you.