Staying Safe in The Times Of Coronavirus
PUBLISHED: March 13, 2020
•
4 MINS READ
The spread of Coronavirus across the United States has shaken the entire country. WHO has declared COVID-19 as a pandemic due to the exponential rise in the number of cases. It is important to not give in to panic. Experts suggest most of the individuals that catch the virus do not become seriously ill. Only a few of the severely affected with weakened immune systems are facing risk to their lives. 
The virus has forged a sense of fear into ordinary citizens. Normal law-abiding citizens are doing irrational things such as stealing N95 masks that are actually needed by those who are infected. Hospitals across the country have become overcrowded with families getting paranoid over a sniffle. 
While you need to protect your family, pets, and loved ones from this pandemic, don't take drastic measures such as hoarding food, water, or stealing N95 masks. All you need to do is follow these simple steps that will protect you, your loved ones, and the community.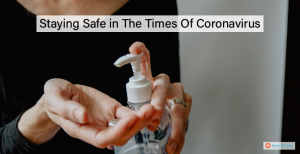 (1) Keep Your Hands Clean 
This is the most essential step you and your family should follow. Make sure to let water flow over your hands thoroughly, use warm water, as it cleans germs faster. scrub your hands with soap for a minute or so making sure it spreads well over your hands and fingernails. Once you have rinsed your hands, dry them nicely with a towel. keep a hand sanitizer if you are traveling and do not have access to a washbasin.
 It's recommended that you do not touch your nose, eyes, or mouth without washing your hands or using a sanitizer. To protect others in these times, avoid shaking hands or hugging. 
(2) Wear a Mask Only If Necessary  
Since there is a shortage of masks globally, it makes sense to wear a mask only if you're infected. The C.D.C clearly states that if you wear a mask unnecessarily, it won't stop the spread of any infection. Wearing a mask is only useful if you actually have the disease. Only the N95 mask, can block small infectious particles from spreading. If you are a healthcare worker or someone who is in frequent contact with the sick, be sure to wear a mask.
(3) Understand The Situation at Your Workplace Or School 
The disease has created a lot of fear among people, leading companies to mandate remote work. Schools have closed temporarily because Children are at a higher risk of acquiring the infection. To keep yourselves from getting frustrated at home indulge in activities such as reading a book or spending time with your loved ones. Learn about the virus only from reliable sources to get a better understanding of the disease.  
(4) Make a Contingency Plan 
If you have little children or elderly folks at home, chances of them getting infected increase. Discuss with your family members your plan of action if one of you contracts an infection. The key is not to panic or spread fear among the family and community. Keep in touch with your family doctor if there is an emergency, and you need immediate care. 
(5) Prepare Yourself Psychologically
The media has a strange way of getting into your head and creating a sense of fear. Don't believe everything you see on social media and only rely on facts and numbers. The only necessary precaution you should take is postponing your vacation for a bit. As airports have a lot of people packed into a section, this only increases you and your family members' chance of catching the infection. 
 Go out, have fun, do the things you love,  and keep the morale high at home. 
Learn Rather Than Panic
This is a  situation to learn about this pandemic and be prepared for the future. While it is important to take the necessary steps to keep you your family and home safe, it's not a good idea to spread fear among the community. Don't unnecessarily isolate an infected person; a simple mask and no physical contact can save you from the disease.