Super Raises $20 Million in its Series B Funding
PUBLISHED: April 19, 2019
•
3 MINS READ
Super, a home maintenance startup headquartered in California, announced that it raised $20 million in the venture funding on April 17th. Its Series B round of funding was led by Aquiline Technology Growth (ATG) which is an early and growth stage fund that is managed by Aquiline Capital Partners.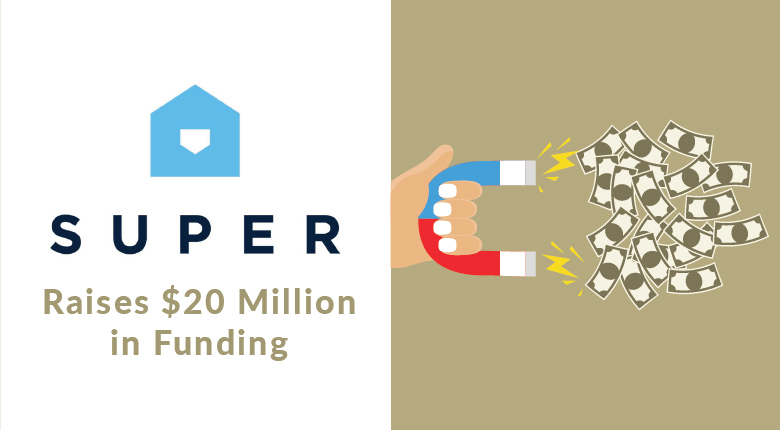 Other investors like Munich Re Ventures, Liberty Mutual Strategic Ventures, Moderne Ventures, 8VC, QIA and Solon Mack Capital also participated in the venture funding. Munich Re Ventures also led the Series A round of funding for the startup.
Funds raised are expected to be used to penetrate new markets, hire more staff and develop the technology used. Since its launch in 2015, Super has raised a total of $30 million. The company offers its home maintenance plans in Austin, Chicago, Houston, Dallas, Phoenix, San Anotnio and the Washington D.C. metro area.
"Super has developed an effective, convenient platform to provide premium care and repair services for homeowners," said Max Chee of ATG in the press release. He also added that Super is tackling an industry that is ripe for innovation with a smart, technology-forward approach, and that they are excited to work with Jorey Ramer and the rest of the team at Super to help continue the exciting trajectory.
Super aims to address a problem plaguing numerous homeowners across the nation. A recent survey by Bankrate inferred that many homeowners regret their home purchase decision because they didn't realize the maintenance and hidden costs involved that would be involved with owning a home.
Super is striving to overhaul the home warranty market by utilizing technology and practicing a customer-centric approach. Its app allows homeowners to get appliances fixed and order concierge service to manage the logistics of their customers' needs. Super additionally offers a maintenance schedule to prevent major repairs and handle the upkeep of the home to their customer base.
"Our vision is to help homeowners own like a renter, by ensuring more of the risks associated with owning a home," Jorey Ramer, CEO, and Founder of Super. He added saying that he realized that homeownership was a lot more stressful due to the lack of insight and visibility into unforeseen home-related expenses.
About Super
Super is a new and upcoming home warranty company that was founded in 2015. It claims to be the only technology home services company that pays for the costs that homeowners normally pay. It aspires to create a system that not only fixes home related problems but also anticipates the need for preventive measures in-home services, covered or uncovered.
Super and Home WarrantyReviews.com
Super was listed on HomeWarrantyReviews.com in 2017. It has an overall rating of 4.2 stars based on 9 reviews. HomeWarrantyReviews.com is the #1 research site for home warranty. Established in 2006, it was the first website that was created dedicated to home warranty reviews.