Can A Home Warranty Be Extended?
PUBLISHED: June 26, 2020
•
4 MINS READ
Home warranty plans can be beneficial in protecting the crucial systems and appliances in your residence. These policies last for a set period of time as determined by the company, and are developed to ease system and appliance repair. But you must be wondering, once the contract gets over, can a home warranty be extended?
This post will help you understand how you can extend your policy and shield your essential devices for the future.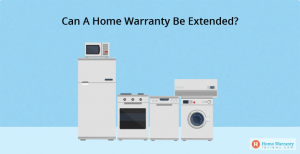 How Long Does A Home Warranty Policy Last?
Home warranties usually last for a set duration of one year. We have listed out the terms of popular home warranty companies in the country.
Now that you know the duration of the popular home warranties in America, you should know whether they can be extended.
Can I Extend my Home Warranty Policy After a Year?
Yes, you can extend your home warranty contract after a year. As per your needs, you could opt for comprehensive coverage or basic protection. Depending on the company's contract, the 30-day waiting period may be waived off if you extend your policy.
It is important to review and examine whether you were happy with the services of the company. Contemplate the technicians' work, the responsiveness of customer service, price, and the process of repairing or replacing devices.
To extend your policy, all you need to do is get in touch with the warranty company. They will reach out to you and help you through the entire process as efficiently as possible.
If owners of older homes are happy with the services of the company, they can consider extending their policy.
Can One Switch To Another Home Warranty Company After A Year?
Yes, customers do have the option of switching home warranty companies. You can opt for the services of another company which you consider worthy. If you are thinking of switching companies, you must thoroughly research what the new prospect offers.
Reading reviews of other customer's experiences can also help you make the right decision. These reviews contain details about the services of different organizations, which reveal the actual quality of the company's service.
 Benefits of Extending Your Home Warranty Policy
There are several advantages if homeowners opt to extend their home warranty policy. We have listed the essential benefits right here.
1. Saves you Money
It is a known fact that repairing devices can get expensive in the long run. If you extend your policy, fixing your essential systems and appliances is relatively cheaper than without a warranty. Plus, you benefit from licensed technicians who are always well equipped with the best set of tools available in the market.
2. Diverse Plans
Today home warranty companies offer different kinds of plans to suit the varying needs of customers. As the years go by, if you are not happy with a particular plan's coverage, you could opt for a different one. You also can customize your own plan and select the critical devices that you want coverage for in your extended policy.
3. You Know Your Devices are Protected
Extending your contract guarantees you peace of mind. You don't have to look out for a technician to repair or replace your vital appliances. Once you file your claim, it is the trained professional's responsibility to take care of your devices.
4. Transfer Your Contract Anytime
Due to a sudden requirement such as a change of job, or a family problem you may need to relocate immediately. In such situations, you can transfer your contract (depending on the company) to anyone. Make sure to check in with customer care, as they will guide you through the entire process as smooth as possible.
5. Increases Your Property Value
Home warranty extensions plans are beneficial and may also increase your property value if you are preparing to sell. They help you market your property for a higher price since all the home's critical devices are protected.
The Final Word
The points mentioned above are the reasons why you should consider extending your home warranty package. The entire process is straightforward, but it will also make sure all your essential devices are secured for the years to come.