Home Warranty Plans – Can One Benefit You As An Airbnb Host?
PUBLISHED: June 22, 2020
•
4 MINS READ
Being an Airbnb host comes with a lot of responsibilities. You have to make sure the guest is comfortable in your property, all the systems and appliances are running smoothly, payments are made on time, and so on. Making sure your systems and appliances are in good condition improves the chance of the guest dropping a good rating online after their stay is over. To facilitate the smooth operation of the critical devices in your property, home warranty plans can benefit you as an Airbnb host.
HomeWarrantyReviews.com will help you understand the benefits of the perfect home warranty plan, to assure you peace of mind, and also make sure you don't burn a deep hole in your pocket.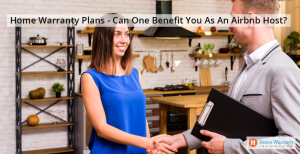 But First, Let's Understand A Little More About Home Warranty Plans.
What are Home Warranty Plans?
Home warranty plans cover your home's systems and appliances for a set period of time, usually one year. As a customer, it is important to know that different plans offer varying coverage for your devices, you must choose a plan that suits your needs and budget.
Today there are several companies in the market offering warranty plans to customers, which makes it tough to choose the ideal plan. You must compare and analyze plans before selecting the right one. Reading reviews online can also help you understand what other customers have experienced with warranty plans, and help you in your pursuit of selecting the right one.
How To Choose The Perfect Home Warranty Plan?
To make sure you choose the ideal home warranty plan it is important that you understand a few aspects before going ahead:
Price- Home warranty plans usually cost customers $300-$600 annually, and each time a technician comes into repair or replace a device, a deductible ranging from $50-$125 is charged. It is important to note that the price of the premium and deductible varies from company to company, but should not exceed the amount mentioned.
Company's Reputation – Always check out the reputation and reviews before going ahead with the services of any particular company.
Contract- Read the fine print of your home warranty contract, to understand intricate details about the plan.
Coverage- Choose a coverage plan that fits all your home systems and appliance requirements only. Also, Make sure the coverage you selected fits your budget.
Now that you know more about home warranty plans, and how to select the ideal one. Let's take a look at its advantages for you as an Airbnb host.
Benefits of Home Warranty Plans
All Your Devices are Protected
Being an Airbnb host, a lot of your guests may overuse your devices causing them to malfunction. But if you are protected with a home warranty plan, your devices will either be repaired or replaced depending on its condition. You should also know only qualified technicians are assigned by warranty companies, to take care of your systems and appliances.
Flexible Policies
Home warranty plans are flexible, which means you can cancel, transfer, or get a refund depending on your need. This is especially beneficial to Airbnb hosts as they look for the best when it comes to pricing and quality of service offered by the company.
Customer Support
Being an Airbnb host there is a good chance your devices can start malfunctioning at odd hours, due to different guests using them. With a warranty plan in place, you can reach out to the company's customer support and get your issue resolved ASAP.
Customizable Plans
Airbnb hosts do have certain devices to suit their guest's needs. You can opt to protect only these devices with build-your-own plans. This is a highly effective way of saving money and protecting only those that you deem important.
No Added Expenses
You only pay for what's mentioned in your home warranty contract. There are no hidden expenses when it comes to home warranty plans. Usually, you need to pay the premium, monthly or annually, and deductible each time a technician comes in to inspect your devices.
Conclusion
Home warranty plans can benefit you as an Airbnb host, making it a valuable buy. So don't wait any longer, go ahead and get your free home warranty quote today.