Lots More About Landmark Home Warranty Coverage
PUBLISHED: July 31, 2020
•
6 MINS READ
Today, there are many top home warranty companies offering services to protect your critical devices. One such prominent company is Landmark Home Warranty (LHW). LHW is known for offering quality warranty plans at affordable prices. This detailed post will help customers understand more about Landmark Home Warranty Coverage and its other prominent aspects.
But before that, let's learn a bit more about the company.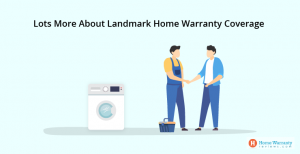 More About LHW
Since its inception, Landmark Home Warranty has served thousands of customers. Today, it employs a team of more than 200 employees who aim at delivering niche support. LHW also has a set of local and licensed contractors who offer unmatched services. 
Currently, LHW provides warranty services in Utah, Texas, Oregon, Nevada, Idaho, and Arizona. However, the company is planning to extend its services nationwide very soon. 
Now that you are better informed about the company, let's take a closer look at LHW's coverage aspects.
What Does Landmark Home Warranty Cover?
The company covers several of your home's critical systems and appliances. LHW offers its customers two plans in the states it offers coverage. Let us take a better look at what these plans offer. 
Total Protection Plan- This plan offers coverage for a wide range of systems and appliances. Your air conditioner, heating system, built-in microwave, central vacuum, dishwasher, and garbage disposal are covered under this plan. 
This plan also protects your refrigerator, oven/range/cooktop, washer, dryer, and electrical system. It extends coverage to your garage door opener, plumbing, (no-fault coverage), plumbing system (services), air conditioning tune-up, and heating tune-up. 
Added coverage of this plan includes protection for pest control, re-key service, and subterranean termite treatment.
Home Systems Plan- Protects your air conditioner, heating system, electrical system, and plumbing (no-fault coverage). The additional services included in this plan are pest control, re-key service, and subterranean termite treatment. 
Customers should note the coverage may vary depending on the state you reside in, but most of the items mentioned above are covered under LHW plans. All customers opting for any of the company's plans must read the fine print of the contract thoroughly before signing up. The agreement contains intricate details about your coverage. Once you have carefully read the agreement, go ahead and sign up with your chosen plan. 
More About Landmark Home Warranty Coverage
The company also offers its customers the option to opt for add on coverage if needed. Let's take a closer look at what this option is all about.
Add Ons- Under this option, customers can pick any of the following items:
Booster and well pump

Built-in microwave

Dishwasher

Exterior pipe leak repair

Freestanding ice maker

Stand-alone freezer

Garage door opener

Grinder pump

Guesthouse

Refrigerator

Oven/range/cooktop

Pool and hot tub(Chlorine)

Pool and hot tub (Saltwater)

Roof leak repair

Septic system

Washers

Dryers

Water softener

Well pump

Wet bar refrigerator
Depending on your requirements, you can pick and choose the items and get them covered. The add on coverage option is beneficial to protect just the devices you deem necessary, resulting in helping you save money also and have your peace of mind. 
Landmark Home Warranty Cost
The cost of LHW plans varies from state to state, but it could cost you $420 annually ($35 monthly) for the Home Systems Plan. The Total Protection Plan costs an average of $670 annually ($55 monthly). Your service contract contains the exact cost of the plan you opt for in your state of residence.
If you are opting for add on coverage, the cost of each item may differ. You must know the price of each device before proceeding with the coverage. The cost and other aspects will be mentioned in your policy, and therefore, make sure you read the policy before proceeding further.
Why Landmark Coverage Beats Its Competition
Landmark home warranty has been providing services for quite a while now. We've listed out some unique points about this company's coverage that you must check out.  
The company offers coverage for nine thousand mechanical components of your devices. LHW replaced over five thousand parts of systems and appliances last year.

All Landmark customers get access to a homeowner's dashboard. Customers can check their status, file a claim, renew the home warranty policy, and lots more on this dashboard.

The company also provides exceptional service to all its customers. A technician is assigned within twenty-four hours of a claim getting filed.  

Customers using the services of Landmark save about $200 per item on repair or replacements.

Any customer using the services of LHW receives help from a dedicated customer support team. Be it filing a claim or something about repairs or replacements; customer support will always be by your side.
The Landmark Advantage
All customers using the services of LHW receive a lot of advantages. We've noted down these benefits for you.
The company provides coverage options for real estate professionals

LHW has been in the business for 16 years

Pest control coverage included in plans

The option to add on coverage for specific items
Homeowners opting for LHW plans also receive services from top-class technicians. If you would like to obtain top class service and several other benefits, get your free home warranty quote from Landmark Home Warranty.
Landmark Home Warranty Reviews
Several of the company's happy customers have written a positive review of LHW services. These reviews contain essential and specific details about the company's coverage, services, and more.
Before buying a warranty plan, read reviews written by other customers. These reviews help you understand the benefits of the company and how you can use its services better. If you are an existing LHW customer, we recommend you write your review and share your experiences to help prospective buyers. 
Conclusion
A lot of other top home warranty companies also offer great coverage for your essential systems and appliances. These companies are highly rated among customers who used their services. But you must check out what these companies offer before making your decision. You must compare the premiums, plans, service call fee, and contractor network before making your choice.