When Is A Home Warranty A Good Deal?
PUBLISHED: June 16, 2020
•
4 MINS READ
Home warranty plans are very useful when it comes to protecting your systems and appliances, especially your older devices. Not only do they offer you peace of mind, but they also come with several other amazing benefits. But due to a surge in the number of home warranty companies operating today, it becomes really difficult to know which home warranty provides a really good deal.
Ultimately, it is up to you to make that choice, thorough research, and understanding your needs can make your search much easier in pinpointing the perfect deal. This post will list out important factors to help you with your exploration in finding that perfect home warranty deal.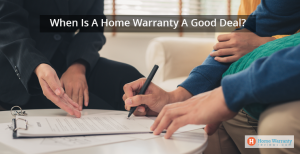 What Does the Perfect Home Warranty Deal Consist off
It is not at all easy to pick the right home warranty company. HomeWarrantyReviews.com has listed out the factors which will help pick the perfect home warranty deal.
1. Comprehensive Coverage
There are several home warranty plans that offer coverage today. But the perfect plan will be broad and cover a larger amount of systems and appliances at an affordable price. You must check out these plans and only choose one that offers complete coverage for most of your home's devices.
2. Broad Network of Contractors
Always pick a home warranty company that offers a large network of contractors. This is important because the more contractors the company has a tie-up with, the better the chances of your devices getting repaired or replaced faster. Also, the more extensive the contractor network, the chances of the technicians being better experienced are higher.
3. Affordability
The perfect home warranty deal should fit your budget. Home warranty companies usually charge customers anywhere between $300-$600 annually and a service call fee of $50-$125. If the home warranty company is charging more than this, it is a rip-off, and you should not opt for that particular company.
4. Adjustable Policies
A home warranty plan is only worth it if you are able to adjust your policy. This simply means that you have the option to cancel, transfer, or refund your policy. Adjustable policies are very useful in times when you may be wanting to sell your property or you're not too happy with the services of the company.
5. Customer Support
A home warranty is only a good deal if it comes with 24/7 customer support. This means you can reach out to the company at any given point in time and get all your queries clarified. You can also use customer service to file a claim for any of your systems or appliances.
If you are not satisfied with the repair or replacement conducted by the technician, customer care is your best bet to sort out the issue.
6. No Hidden Charges
Make sure the warranty that the company you choose does not come with any hidden charges. Customers are only required to pay the annual premium and deductibles, that are mentioned in the contract.
7. Coverage for Existing Conditions
The best home warranty package will also cover pre-existing conditions. This means the warranty company will cover any pre-existing malfunctions prior to you signing the home warranty contract. Not all companies cover pre-existing conditions. Try choosing a company that covers pre-existing conditions to get the best deal possible.
Top Home Warranties That Provide a Good Deal
Many home warranty companies do provide some good deals to their customers. We have listed out important points from the top companies to make sure you have a good deal and value for your money.
AHS is the pioneering company in the industry
it offers its customers comprehensive coverage plans at affordable rates
The company also has a contractor network of 15,000 licensed professionals
CHW comes with 11+ years of industry experience
The company provides 24/7 customer support
All major systems and appliances are covered in CHW plans
SPHW offers its customers very affordable plans and overall coverage
The company charges a very low trade service call fee
Top class technicians and a large contractor network
Conclusion
To help you further on in securing the perfect deal, you can read about other people's experiences with these companies. This will help you understand what other people have gone through with warranty companies, and also help you get some important tips on how to deal with the different intricacies of home warranty companies.
Now that you know about the important factors that make a good home warranty deal and the top companies that do so, go ahead and get your free quote.