Will a Home Warranty Save You Money?
PUBLISHED: May 19, 2020
•
4 MINS READ
It is a tremendous financial expensive to own a home, as there are a lot of payments that one needs to take care of. These payments include property tax, mortgage, and HOA, etc. It is also important to note that home system and appliance breakdowns can cost you a lot of money, even to repair a single piece. Let alone the hassle of finding a professional technician to repair the device which comes at a high cost. But if you invest in a home warranty plan you save a lot of money and don't have to bother finding a technician.
So if you are keen on protecting the devices in your home, at cheaper rates, home warranties are your best bet. This detailed post will analyze how a home warranty saves you money. We have listed out a few factors you should consider.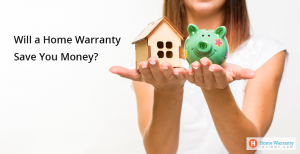 Here They Are: 
(1) Affordable Repairs
Home warranties cost customers $300-$600 annually depending on the company and plan they choose. Customers are also required to pay a trade service call of $50- $100 as per company guidelines. This fee must be paid each time a technician comes into your home to repair or replace a device.  The prices that warranties offer are extremely nominal, as repairing a single appliance without a warranty can cost you up to thousands of dollars at times.
(2) No Hidden Expenses
If you call in a technician to repair your devices he/she may quote a certain amount to repair it. Late on the technician can call up and say, a particular part is not available. This will cost you more money to repair the device, as the technician may have to buy the part. Such is not the case with home warranties, customers only pay for what is mentioned in the contract, and there are no hidden charges applicable. 
(3) Maximum Coverage at Economical Rates
 The maximum coverage plans are a great option for any homeowner looking to protect all there devices. Several top home warranty companies like American Home Shield, Choice Home Warranty, The Home Service Club, Total Home Protection, etc offer comprehensive coverage at extremely affordable rates. Customers can repair or replace many devices in their homes at affordable rates with the maximum coverage option.
(4) Older Homes Save More With Warranties
Any homeowner who lives in a home that is more than seven years old should be aware that their appliances have a higher likelihood of breaking down. Since the appliances are older, they are subject to much more wear and tear at quicker time periods. Protecting these older appliances with warranty plans is not only economical but also assures you peace of mind. All homeowners living in older homes should definitely consider purchasing a warranty, as repairing older appliances can cost you a lot more money just for a single item. 
(5) Home Warranties Offer Discounts
Many top warranty companies offer customers a lot of discounts throughout the year. If you buy a warranty with a discount you are saving a lot of money annually on the plan, and at times get free coverage for a few months. American Home Shield, for instance, offers customers the Appliance Discount Program, which lets customers enjoy several discounts on name-brands.   
 Keep looking out for discounts in the holiday season. 
Not that you know how home warranties save you money, here are some important aspects about them.
What is Covered Under a Home Warranty?
 All regular systems and appliances such as your refrigerator, washers, dryers, doorbells, microwave-oven, air conditioners, garage door openers, etc are covered under a warranty. Customers can opt for different plans that cover different devices as per there requirements. 
How to Choose a Home Warranty? 
Choosing a home warranty requires a lot of research. Customers can read other people's experiences online. Anyone wanting to buy a warranty should also asses their own needs before choosing a plan. Consider the age of your home, your budget, the number of devices you own, before choosing a home warranty. 
Closing Thoughts
Home warranties are a good affordable option for anyone looking to protect themselves from expensive repairs or replacements of their appliances. Invest in a home warranty plan and you save a lot of money. Not only are customers spoilt for choice with so many companies operating, but they also receive top-notch service from the technicians. So don't wait any longer, go ahead and get your free home warranty quote today.