Sell Your House in New York Faster Using a Home Warranty Plan
PUBLISHED: May 11, 2020
•
4 MINS READ
In a city that is as populated, expensive, and competitive as New York, selling a house, (or for that matter, buying one) is no cakewalk. The challenges that sellers face may range from small living spaces with big price tags that may discourage a lot of potential buyers from investing in real estate in the City. In such a scenario, additional marketable offers that are useful to potential buyers can bolster your chances to sell your house. Addressing one such marketable offer in this article, we'll tell you how you can sell your house in New York faster, by offering a home warranty plan.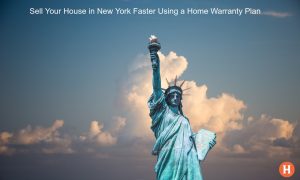 Do People Care For Home Warranty Plans in New York?
As a home seller, you may probably wonder if most people living in small apartments with relatively lesser home appliances care for home warranty plans while buying a new home in New York. The good news is home warranty plans are a great addition to your offers' catalog while selling your house. 
Both, the volume of sales and the price of houses have seen a decline since the 3rd quarter of 2019, and with the emergence of the new pandemic challenges in 2020, home sellers are finding it increasingly difficult to sell, while the buyers are reluctant to invest. In what most experts are referring to as a 'buyer's market' due to the sharply dropping prices of real estate, a home warranty plan can add value to your home, over those that don't offer one.
 Providing a home warranty to prospective buyers in New York will help you on two counts- first-up, it adds value to your offer for buyers by assuring them of systems and appliances' coverage. Any such systems and appliance complaints in New York City can turn out to be an expensive affair more than any other place in the country. Therefore a home warranty plan offers a great financial prospect for prospective buyers to save some cost in the long run. Not to mention, the people in NYC are known to be in a hurry at all times. In an event of any equipment breakdown, with a home warranty, a potential investor will be sure to save plenty of time by just ringing up the home warranty company to get the issue resolved without any hassles of having to reach out to innumerable technicians and service-companies.   
The second point being, it provides your property listing a competitive advantage over other listings. It simply shows that the owner of the place has treated the property-on-sale with care by making such prudent investments to safeguard his/her property. This could re-assure the buyer that he/she is making the right choice by investing in a worthwhile property.
How Much Does a Home Warranty Plan Cost in NYC?
The cost of home warranty plans is slightly higher compared to other parts of the country. The average premium may cost you anywhere from $300-$350, and the average deductible or service call fee could be in the range of $40-$50. 
Some of the top home warranty companies offering services in the city include American Home Shield, the Home Service Club, and Choice Home Warranty company. American Home Shield is one of the most popular choices in the city due to its promising customer service and competitive pricing. 
Conclusion
New York is among the most expensive real estate markets in the world and any decision of selling and buying a home is, therefore, a big one. As a seller, you would want to add all the competitive advantages you can to your offer to make it attractive to buyers. Home warranty plans surely add that extra bit of value to your offer and it will make a tangible difference to them even after the purchase. So, what are you waiting for? Buy a warranty plan and sell your house in New York faster.