The Top 5 Real Estate Agents in Phoenix
PUBLISHED: September 26, 2016
•
6 MINS READ
Whether you are seeking to buy a home in the Phoenix area or sell one, you definitely need a real estate professional that you can trust. Some real estate agents perform better than others with regards to a number of homes sold but there are plenty of other factors such as good knowledge of the city of Phoenix, an established professional reputation with former clients to look for while choosing a trustworthy real estate professional. The leading Arizona real estate agents continue finding unique ways of marketing home listings and work diligently to educate homebuyers and sellers.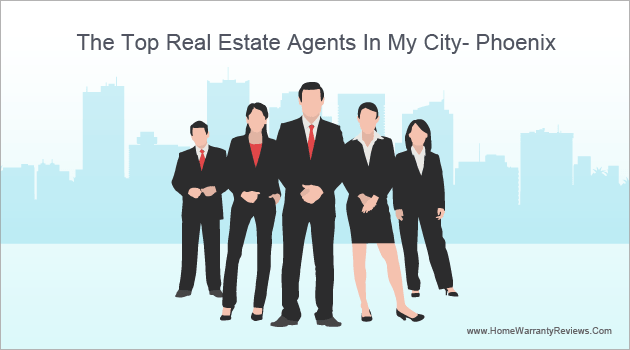 Below is the list of top 5 real estate agents in Phoenix who can assist you with their innovation, their sales production and their proficiency in short sales, investment properties, relocation, second homes and/or vacation homes and much more!

With more than 38 years of experience as an Arizona realtor in the greater metro Phoenix/Scottsdale area, Joani Frankel has watched the neighborhood grow from almost a million people to over 4 million people. Frankel moved to Arizona to escape the cold of the Northeast and was lucky to have a realtor who excelled in "people" services. This know-how framed her skills and values as a Real Estate professional. As a proficient realtor, Frankel is empowered to research solutions and is backed by two skilled assistants to provide supportive, informative and resourceful information. Over the years, Frankel has been active and successful and have acquired a strong network of experts that support her services and help treat each new client with respect and courtesy. Frankel says, "I love life and try to live each day with care, courtesy and consideration for all I meet and all I do."
As a graduate of Syracuse University, Frankel puts her degree and business background to work for you each and every day. Frankel is a Buyer Broker Specialist at Realty One Group and has consistently listed and sold multiple millions of dollars of property each year. Whether you need a home inspector, a lender, an interior design consultant, a cleaning service or personal concierge, you can avail the best support team to work for you! Since 1978, Frankel has been serving as a dedicated Buyer's broker and is well versed in problem-solving, contract negotiation and above all, fair, ethical and caring client support and service. Frankel says, "My career goals are only met if YOU are satisfied as I serve as your Buyer's Representative. You may be looking for your 1st home or your 10th! It might be a condo or a mansion. If you are an investor I'll help you increase your bottom line!"
Frankel operates mainly in neighborhoods such as Cave Creek, Chandler, Fountain Hills, Glendale, Goodyear, Litchfield Park, Paradise Valley, Peoria, Phoenix, Mesa, Scottsdale, Sun City, Surprise, and Tempe. She is a Senior Real Estate Specialist (SRES) and her specialties include:
Representing Buyers

Representing Sellers

First-Time Buyers

Relocations

Luxury Properties

Senior Housing
Frankel is knowledgeable on reverse mortgages, real estate planning, 1031 exchanges, and housing options and has also been educated on all aspects of 50+ buying and selling.

A native to Phoenix, Jacqueline Moore is ardent about everything in business, from marketing products to streamlining processes and evolving technology. With a strong eye for detail, Moore knows how to drive initiatives for both the organization and the management team contributing to long-lasting operational brilliance. Her commitment to charitable organizations and the community stem from her background in education. Whether it is monetary support through each real estate transaction, events, and awareness, or daily help involving contact and participation, Moore has become prominent by identifying the communities that support and need support too.
Moore has lately taken the position of leading the Phoenix Operations for Opendoor. Recently listed on the front page of The Wall Street Journal Business section, Opendoor is changing the way homes are bought and sold by bringing top class software, data science and design to an old industry. Based in Silicon Valley, Opendoor is on a mission to help alleviate some of the pain points of one of the more complex, hectic processes; the residential real estate transaction. Every decision in Opendoor is led with honesty, certainly impacting one of the greatest assets around; homeownership.
Before Opendoor, Moore was the Vice President of HomeSmart managing 20,000+ transactions and $4.2 billion in sales volume yearly. Over the years, Moore has been helping her clients through the entire buying process and with the professional standards that her customers expect while selling their homes. Passionate about helping house hunters, Moore is devoted to delivering quality homes to the market. A proud graduate of the Grand Canyon University, Moore enjoys traveling, cooking, and creating the next best finger painting!

Over the past 30 years, Harrison has been committed to bringing happy buyers and sellers together. Whether it's buying or selling, she ensures to make the process as stress-free and enjoyable as possible! A full-time Associate Broker, Harrison dedicatedly helps her clients by the implementation of effective sales strategies and marketing tools to best market their homes. Harrison has expertise in relocation services (Small or Large Corporate moves), pre-owned, luxury, vacation, and new construction residential homes and is also experienced in real estate investments and 1031 tax deferred exchanges. She has even had the honor of being a pre-licensing Real Estate Instructor for the State of Arizona for almost a decade. Besides, Harrison assisted Bank United of Miami Florida with their REO properties for 2.5 years before their FDIC closure. She has also successfully owned and operated her own real estate company in Texas. As a reliable multi-million producer, Harrison approaches her business with determination, enthusiasm, and passion.
Harrison moved to East Valley in 1998 and concentrates her practice in cities such as Chandler, Phoenix, Gilbert, Queen Creek, Sun Lakes, Mesa, Tempe, Gold Canyon, San Tan Valley, Ahwatukee, and Maricopa. An Alumna from The University of Texas at El Paso, Harrison is proud to hold the following designations sponsored by the National Association of Realtors (NAR):
Certified Residential Specialist (CRS)

– a designation held by less than 5% of the Realtor population.

E-Pro –

E-Pro recognizes that the newest commodity in the real estate business is information. By obtaining the E-Pro designation, Harrison now has the internet skills to boost your transactions faster with more efficient technology.

Accredited Buyer Representative (ABR)

– Harrison meets strict educational and practical necessities set by the Real Estate Buyer's Agent Council (REBAC)

Short Sale & Foreclosure Resource Agent (SFR)

– Harrison knows how to help sellers maneuver the intricacies of short sales and also help buyers pursue short sale and foreclosure opportunities

MRE –

Masters of Real Estate Society 2007-2010 (Arizona Designation)
Harrison is well aware of the latest real estate developments and knows how to discover the finest properties and negotiate the best deals. She embraces strategies to identify desirable properties for buyers and implements innovative marketing techniques for the sellers. As a Licensed Arizona Real Estate Agent, Harrison skillfully manages clients' transaction details to include inspections, deadlines, title work, loan procedures, and professional recommendations. Harrison's awards include:
International Diamond Society – 2013, 2012, 2011, 2009, 2008

International Sterling Society – 2014, 2010

Bronze Circle – 2006, 2007, 2015

Customer Satisfaction Award 2012
She has the following relocation certifications:
Cartus Affinity Specialist

Cartus Network Inventory Specialist

Cartus Network Referral Specialist

Cendant Mobility Referral Specialist

USAA Mover's Advantage "A" Team Certified

NFCU Certified Specialist

SIRVA RELOCATION – Certified Agent Advantage Specialist

ALTAIR Relocation Specialist
Harrison's interests include football, cooking, gardening, and movies.

Liz Harris has a true passion for real estate. Whether working with Arizona first-time buyers, new home buyers, short sales, luxury home buyers, Harris guides her clients through every step of the real estate process. Harris is one of the highly respected agents and keeps her updated with the newest trends to impart the necessary real estate information to her clients in this rapidly changing industry. Founder of Liz Harris realty, based in Chandler, Arizona, Harris is an 11 year veteran of buying and selling six and seven figure properties in the Phoenix metro area.
A resident of Maricopa County, Arizona since 1999, Harris always goes the extra mile whether it is finding buyers for her listing or placing a buyer in a dream home. She has carved a niche for herself in the Phoenix Metro real estate by specializing areas such as Chandler, Gilbert, Mesa, Paradise Valley, Phoenix, Queen Creek, Scottsdale, and Tempe. As a Certified New Home Buying Specialist, she expertly negotiates with new home builders to get the terms and conditions they want. Harris employs knowledgeable marketers who use cutting-edge marketing tactics to get maximum exposure and increase online presence in minimum time using Facebook, YouTube, Google and more!
Harris symbolizes the perfect blend of positive energy, integrity, and vision while maintaining a strong determination to get the result you want. This has helped her acquire the professional designations such as Certified Short Sale Negotiator (CSSN), Certified Distressed Property Expert (CDPE) and the following:
Accredited Buyer's Representative (ABR)

– Harris has met strict educational and practical requirements set by the Real Estate Buyer's Agent Council (REBAC)

Certified International Property Specialist (CIPS) –

Harris demonstrates her international experience and participates in international programs offered by National Association of Realtors

Short Sales and Foreclosure Resource (SFR) –

Harris knows how to help sellers maneuver the complexities of short sales as well as assist buyers pursue short sale and foreclosure opportunities

Seller Representative Specialist (SRS) –

Harris meets specific educational and practical experience criteria in representing sellers and can guide you through a successful transaction
As a proud wife and grateful mother of 3, Harris finds fulfillment both in her personal life and her business life. She enjoys roller coasters, hot bubble bath and roller skating. Consistently ranked in the top 2% of producing agents, Harris would love to hear from you!

With over 25 years of experience in the real estate industry, Janssen's goal is to help her clients in every phase of buying, selling or investing in real estate. Her experience with RE/MAX, one of the world's prominent franchisors of real estate brokerage services, help provide the most powerful real estate brand, recognition, and resources to the clients. As a resident of the Valley of the Sun for the past decade, Janssen relocated to Arizona from Park Ridge, Illinois, where she held a Broker's license and was a legal assistant in a law practice focusing on real estate. Bi-lingual in Spanish, Janssen also holds Florida's broker license. "My pledge is to provide superb professional services and an exceptional experience!" says Janssen.
Janssen is a very detailed and studies properties thoroughly to obtain the best selling price possible. She is a delight to work with and mainly active in areas such as Apache Junction, Carefree, Fountain Hills, Paradise Valley, Cave Creek, Chandler, Gilbert, Mesa, Phoenix, Queen Creek , Rio Verde, Scottsdale, and Tempe. Her professional designations and certifications include the following:
At Home with Diversity (AHWD)

– Janssen adapts to increasing cultural diversity in the real estate market and prudently plans to meet the requirements of varied clients, gain a competitive edge, and expand opportunities

NAR's e-PRO

– Janssen is dedicated to making the most of today's technology to help clients with their real estate needs

Graduate, Realtor Institute (GRI) –

Janssen has an increased knowledge and skills in a broad array of technical subjects and the fundamentals of real estate

Short Sales & Foreclosure Resource (SFR) –

Janssen knows how to help sellers maneuver the complexities of short sales as well as assist buyers pursue short sales and foreclosure opportunities

Seniors Real Estate Specialist (SRES) –

Janssen is knowledgeable on reverse mortgages, real estate planning, 1031 exchanges, and housing options and has been educated on all phases of 50+ buying and selling

Seller Representative Specialist (SRS) –

Janssen has met specific educational and practical standards in representing sellers and can guide you through a successful transaction
Additionally, Janssen has earned the Certified Negotiation Expert (CNE) designation and the Green Certification. She was recently acknowledged into to the Master of Real Estate (MRE) Society by demonstrating her commitment to excellence through professional education and practices. Less than 1% of REALTORS in Arizona belong to this elite Society.
Janssen along with her husband Sascha, an expert helicopter pilot and also multilingual in German and Dutch are active in local organizations including Christ Church of Fountain Hills and Fountain Hills Sister Cities. She enjoys the outdoors and spending time with family, friends, and her two sons. "I look forward to meeting and working with you, and welcome the opportunity to demonstrate professional services that get results!"